One Heart Worldwide (OHW) is an International Non-Governmental Organization that has been working in the area of Maternal and Neonatal Health (MNH) since 2011. OHW works with local communities and local health service providers to develop a culturally appropriate Network of Safety around mothers and infants, by raising awareness, teaching good practices, and distributing essential equipment to ensure that mothers and infants survive delivery and first months of life. OHW is currently working in 12 (Okhaldhunga, Sankhuwasabha, Ilam, Solukhumbu, Ramechhap, Nuwakot, Kavre, Dolakha, Udayapur, Myagdi, Parbat and Sarlahi) districts of Nepal.
Position: MNH Technical Specialist
Line management report to: Program Manager
Technical report to: None
Supervision: None.
Level: 6
Duty station: One Heart Worldwide (OHW) Kathmandu with minimum 30% field trips
Purpose of the position:
Under the direct supervision of Program Manager, the MNH Technical Specialist is responsible to provide comprehensive leadership to design, implement and strengthen the technical aspects of the OHW's program activities. Additionally, Technical MNH specialist is responsible to build the sound relationship with MoHP, DoHS and Provincial Health Offices in order to run the program activities smoothly.
Major Duties and Responsibilities: 
Technical Program Support (60%)
Develop annual work plan and implementation plan in line with project agreement and OHW mission, vision and objectives and ensure the proper implementation of the planned activities 
Ensure that the program implementation team has a clear understanding of the technical design, including its focus on improving access to and utilization of MNH services
Work with technical divisions under MoHP, DoHS and Provincial health offices, local municipalities, community members and the project team members to identify clinical and community health system issues that impede access to quality care and uptake of services
Backstop and provide technical support to the management team 
Lead the design of the technical content of clinical program activities, materials, briefs, papers and other knowledge management materials
Support to prepare monthly, quarterly, and annual reports for timely submission
Ensure all technical standards are captured, documented, and shared and all other staff are updated on the recent technical and programmatic strategies/protocols 
Work as technical point person to provide technical input to OHW team.
Any assignment given by the supervisor that is related to business
Coordination, Liaison and Advocacy (20%)
Represent in designated technical working groups and forums at national and provincial level in coordination with program team and other SMT members
Collaborate and work with line agencies including MoHP, DoHS, provincial health offices, other implementing partners and donors for smooth operations 
Work with government partners and stakeholders to develop and implement health policies, negotiate collaboration on programs
Identify and develop collaborative relationships with key stakeholders including government and civil society, who are working for, or supportive of, change in the area of MNH work in Nepal, in close collaboration and coordination with program staff.
Plans, design and implement advocacy strategy of organizational learnings, best practices to the government and civil society.
Capacity building and Reporting (20%)
Identify the technical gaps of the project staff, health service providers and stakeholders in project areas
Develop and prepare technical capacity building plan and execute effectively through the hands-on trainings, mentoring, workshops etc.
Job Specifications (minimum job requirements):
Academic qualification and work experience: 
Master's degree public health with MBBS/BN/B.Sc. Nursing with clinical experience focusing maternal, newborn and child health sector or related field
Minimum of seven years of professional experience after Bachelor degree or five years of professional experience after Master's degree
Three years of experience working on MNH programs in Nepal's public health care delivery system
Skills and abilities
A good understanding of Nepal's health care delivery systems and programs.
Demonstrated experience with progressively increasing responsibility for designing, managing, and implementing complex health activities, with a focus on MNH program involving multiple stakeholders and implementing partners; direct experience with quality of care 
Demonstrated hands-on experience working with governments, professional associations, health care professionals and communities to prioritize and address MNH issues.
Considerable experience with and capacity to collaborate with partners at multiple levels, including government officials, NGOs, professional associations, civil society, and other partners working in the health sector.
Proven capacity to effectively manage and mentor staff with varying levels of experience. 
Application Procedures: Interested candidates who meet the above requirements are requested to visit the link at https://forms.gle/azYUjq6mvDiBsVHDA and submit their application through the online portal by January 27, 2022.
---
Latest Posts
Thanks for visiting us.
Disclaimer: The resources, documents, guidelines, and information on this blog have been collected from various sources and are intended for informational purposes only. Information published on or through this website and affiliated social media channels does not represent the intention, plan, or strategies of an organization that the initiator is associated with in a professional or personal capacity, unless explicitly indicated.
If you have any complaints, information, or suggestions about the content published on Public Health Update, please feel free to contact us at blog.publichealthupdate@gmail.com.
#StayUpdated
---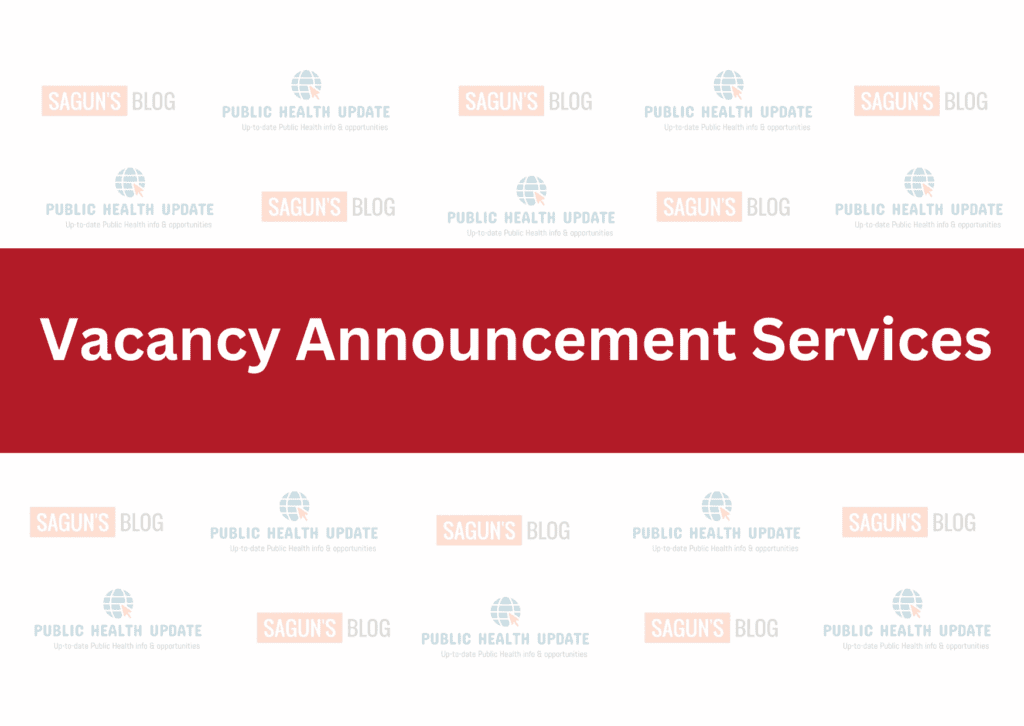 ---