Management Sciences for Health (MSH), a global health nonprofit organization, uses proven approaches developed over 40 years to help leaders, health managers, and communities in developing nations build stronger health systems for greater health impact. We work to save lives by closing the gap between knowledge and action in public health. Since its founding in 1971, MSH has worked in over 150 countries with policy makers, health professionals, and health care consumers to improve the quality, availability and affordability of health services. Working with governments, donors, non-governmental organizations, the private sector, and health agencies, MSH responds to priority health problems such as HIV & AIDS; tuberculosis; malaria; maternal, newborn and child health; family planning and reproductive health; and chronic non-communicable diseases such as cancer, diabetes, and lung and heart disease. Through strengthening capacity, investing in health systems innovation, building the evidence base, and advocating for sound public health policy, MSH is committed to making a lasting difference in global health.
DETAILED JOB DESCRIPTION / REQUIREMENTS:
Principal Technical Advisor- Regulatory Systems Strengthening
Overall Responsibilities:
The goal of the USAID's Medicines, Technologies and Pharmaceutical Services (MTaPS), a global five-year Program is to help low- and middle-income countries to strengthen their pharmaceutical systems to ensure sustainable access to and appropriate use of safe, effective, quality-assured, and affordable essential medicines and pharmaceutical services. MTaPS implemented by Management Sciences for Health (MSH) and its partners will provide technical assistance to countries, government Ministries', national regulatory authorities to strengthen pharmaceutical systems including procurement, supply chain, information, and regulatory systems.
The Principal Technical Advisor- Regulatory Systems Strengthening (RSS) provides overall technical and strategic guidance to Ministries of Health, National Regulatory Authorities (NRAs) Regional Economic Communities (RECs), MTaPS country programs and other national government or regional organizations on building capacity and strengthening management systems for medical products regulatory activities including product registration, pharmacovigilance, inspection of pharmacies and distributors of medicines, and post-marketing surveillance in Asian countries supported by the program. The PTA RSS is also responsible for providing overall technical and strategic guidance regarding how MTaPS activities can contribute to addressing pharmaceutical management issues in the region.
LOCATION
Preferred: The Philippines, Bangladesh, Nepal
Technical Support (40%)
Provide strategic technical guidance through virtual and in-person modes, including on-the-job training as mentor to MTaPS technical staff for timely and effective completion of technical deliverables.
Provide technical leadership and strategic guidance to other MTaPS technical teams to ensure effective development and implementation of appropriate strategies for strengthening pharmaceutical regulatory services in Asian countries.
Provide technical and strategic guidance to strengthen regulatory systems including pharmacovigilance systems in Asian countries
Provide technical support to the MTaPS teams on monitoring of RSS, other related activities with a special focus on key performance indicators for better planning and monitoring.
Prepare technical reports/documentations, publications and facilitate technical presentations on key activities and achievements.
Coordination (30%)
Serve as a member of the RSS team in ensuring that results are achieved, and program deliverables are met.
Work closely with the MTaPS RSS/PV Principal Technical Advisors and other technical staff in the MTaPS Program at the home office, regional level and in field offices, to ensure that all technical activities of the program are integrated making the most effective and efficient use of all resources.
Represent the MTaPS program at various technical meetings with other cooperating agencies, collaborating partners, senior government officials and/or donor agencies and participate in various working groups as required.
Work with government counterparts and other stakeholders for strengthening health systems and develop the long-term capacity building plan for strengthening regulatory and pharmaceutical management capacity and ensure effective implementation of the plans.
Report regularly to the PTA-Pharmaceutical Regulatory Systems on progress/results achieved in the work plans and barriers encountered, and resolve any challenges faced.
Work closely with the MTaPS MIS Team to ensure that technical activities and results are appropriately captured by the pharmaceutical management information systems.
Capacity Building (20%)
Work with MTaPS Technical Advisors in the field offices and Program Officers to ensure that defined work plans are being implemented in a timely and technically sound manner, and productively leverage collaboration with key government and other stakeholders and partners.
Provide technical inputs in the development of training and other capacity-building strategies and plans for national and regional level system strengthening activities, in collaboration with relevant team members and partners.
M & E (10%)
Provide technical inputs to the development of relevant performance monitoring indicators and effectively monitor data collection, analysis and performance of health systems component through a structured mechanism.
Education
Master's degree pharmacy, medicine, or public health with background in pharmacy, medicine or related field in health sciences.
Experience
Required:
At least 10 years' experience in building capacity and strengthening management systems for medical products regulatory activities.
Preferred:
Significant experience in medical products regulation particularly medicines registration, regulatory inspections and pharmacovigilance desired.
Significant experience in international public health related to health systems strengthening, or pharmaceutical management.
Experience in public Health programs in low- and middle-income countries providing technical assistance is desired.
Demonstrated experience and skills in supervising technical teams.
Experience with USAID and other donor agencies desirable.
Knowledge and Skills
Strong organizational skills and ability to work in a team-oriented, culturally diverse environment.
Excellent interpersonal skills, sound judgment, communication skills, training experience, ability to identify and resolve policy and operational constraints.
Forward thinking, with demonstrated ability to develop creative and innovative solutions.
Demonstrated ability to build relationships and work effectively with senior government officials and other stakeholders.
Excellent written and verbal communication and presentation skills in English. Additional proficiency in French a plus.
Demonstrated intermediate skills in Microsoft Office Suite applications, including Word, Excel, and PowerPoint. Familiarity with Microsoft Project a plus.
Competencies
CORE JOB COMPETENCIES:
Functional competencies: Highly motivated, resourceful, results driven and persistent. Ability to think strategically, gather and analyse information in order to make appropriate decisions. Strong interpersonal and communication skills.
Core MSH competencies: adaptability, communication, problem solving, creativity and innovation, timeliness of work, quality of work and team relationships, resource utilization.
Sound judgment, self-motivated, strong initiative.
International travel may be required
MSH is an equal opportunity employer and will not discriminate against any employee or applicant for employment on the basis of race, color, sex, sexual orientation, gender or gender identity, religion, creed, citizenship, national origin, age, veteran status, or disability unrelated to job requirements. MSH will take affirmative action to ensure that qualified applicants are employed and that employees are treated without regard to their race, age, color, religion, sex, sexual orientation, gender identity, national origin, veteran and disability status. In compliance with U.S. Department of Labor Executive Order 11246, Section 503 of the Rehabilitation Act, and Section 4212 of the Vietnam Era Readjustment Assistance Act, MSH has developed and maintains an affirmative action program and plan.
Pay Transparency Nondiscrimination Poster
---
Latest Posts
Thanks for visiting us.
Disclaimer: The resources, documents, guidelines, and information on this blog have been collected from various sources and are intended for informational purposes only. Information published on or through this website and affiliated social media channels does not represent the intention, plan, or strategies of an organization that the initiator is associated with in a professional or personal capacity, unless explicitly indicated.
If you have any complaints, information, or suggestions about the content published on Public Health Update, please feel free to contact us at blog.publichealthupdate@gmail.com.
#StayUpdated
---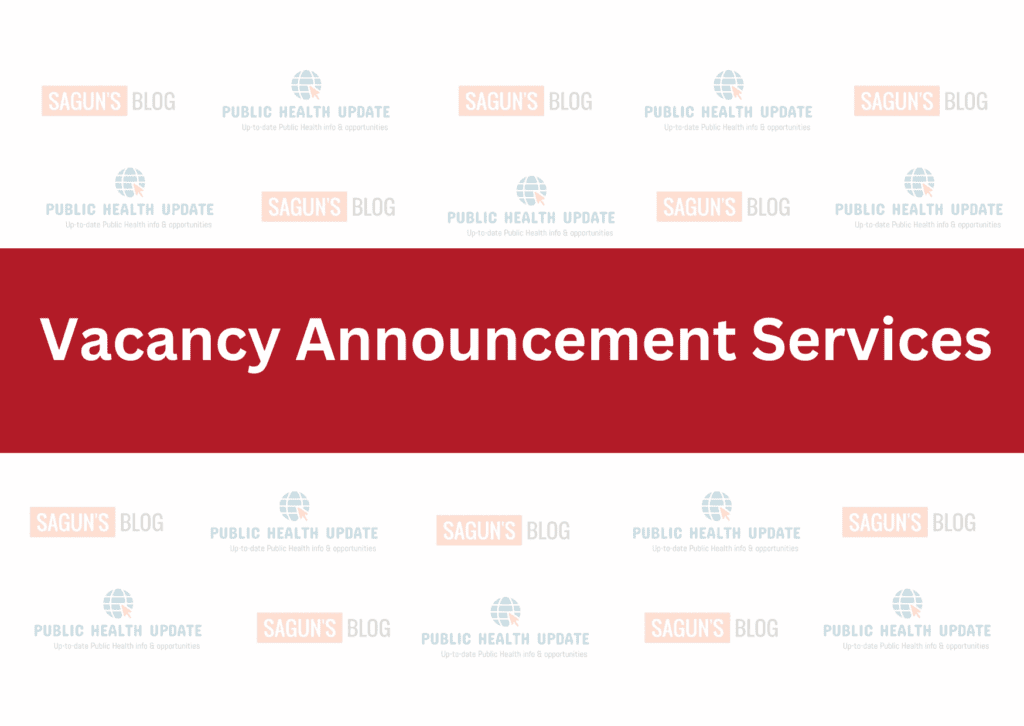 ---