Programme Monitoring, Evaluation and Learning (PMEL) Officer
YUWA, Right Here Right Now 2 (RHRN2) partnership is created so that young people in all their diversity enjoy their sexual and reproductive health and rights (SRHR) in gender-just societies. Young people are at the forefront of our partnership. We seek to unleash the power of youth, to increase public support for SRHR, to improve policies and laws, and to strengthen civil society. RHRN2 is a 5 year project and will be implemented till 2025. The program brings together diverse and complementary organizations working across 13 countries: Bangladesh, Benin, Burkina Faso, Burundi, Egypt, Ethiopia, Indonesia, Kenya, Morocco, Nepal, Tunisia, Uganda and Zimbabwe.
In addition, the program and its members embrace the following key principles/values: Meaningful Inclusive Youth Participation (MIYP), Inclusivity, Gender Transformative Approach, Human Rights-based Approach, Do-No-Harm, and Safety.
The RHRN2 Coalition in Nepal consists of 3 civil society organizations and YUWA, is country lead organization coordinating and managing grants of RHRN2. The coalition envisions to ensure young people aged 15-30 in their diversity are empowered to exercise all aspects of Sexual and Reproductive Health and Rights in a supportive social and enabling legal environment in Nepal.
Job Title: Programme Monitoring, Evaluation and Learning (PMEL) Officer
Job type: Full Time
Reports to: Country Coordinator
Location: Kathmandu
Contract start date: 15 March 2021
Contract Duration: 9 months with possibility of extension.
Objective:
The post-holder will be a lead of the Planning, Monitoring, Evaluation and Learning (PMEL) Unit of RHRN II. The PEML Officer provides guidance and technical support to RHRN Nepal team on planning, monitoring, evaluation and learning, and is primarily responsible for monitoring progress against RHRN TOC, ensuring programme quality standards are in place and managing multiple accountability requirements of global Consortium and stakeholders.
Duties and Responsibilities:
Planning
Support in coordination and facilitation of the overall country planning process as well as regular review meetings of Right Here Right Now II Nepal prgramme
Provide adequate support to coalition partners in the planning process by supplying relevant data, information and guidance for planning with partners
Contribute to the PMEL unit in development of annual work plan, and play a key role in integrating/consolidating work plans across RHRN II.
Monitoring and Evaluation
Provide support and inputs in the development of M&E system, frameworks and procedures 
Work closely with coalition partners to incorporate M&E into programme design and implementation to enable programme planning that establishes clear indicators and milestones and encourages monitoring and periodic reflection to support learning
Conduct Monitoring and spot check visit to Coalitions regularly for quality program documentation in coordination with YUWA
Support Country Coordinator in periodic evaluations of RHRN II programme and its coalition partners.
Research
Support in conducting evidence based in-house  research and monitoring initiatives to improve the quality standards of RHRN
Conduct systematic field-based study in RHRN programme sites to produce best practices, case stories and evidences for advocacy
Design and develop survey and qualitative study tools through consultation with country coordinator and RHRN Coalition partners. 
Reporting, Learning and Dissemination
Support Country Coordinator in reviewing partners' reports to ensure high quality reports are submitted on time- quarterly, six-monthly and annual reports.
Support  in  establishing  log  frames, M&E work  plans,  and  targets  while drafting  workplans as  well  as throughout project implementation
Review and analyze reports to identify the causes of potential bottlenecks in project implementation and to enhance quality of reporting
Provide support to develop and produce regular PMEL related series and newsletters for knowledge and learnings
Manage and store all data, resources and information regarding the program in online and offline backup mediums.
Partnership Management
Support in building and sustaining harmonious relationships with the coalition partners, taking into consideration of YUWA's partnership principles.
Monitor the national policy environment and keep the coalition updated.
Support the coalition in capacity strengthening and Planning, Monitoring, Evaluation and Learning (PMEL) in liaison with the country liaison team of the international consortium
Ensure that partners submit narrative report that comply with YUWA and donors' requirements. 
Provide support to partners to enable them to perform and fulfil project outputs. 
Others
Support Country Coordinator to coordinate and facilitate regular consultations with Programmes and Partners to identify capacity building needs of staff, and also design, plan and coordinate relevant capacity building initiatives 
Work with the best interest of RHRN II core values and its beneficiaries in mind
Promote importance of value for money as a part of organizational culture
Represent RHRN II at meetings/forums/workshops when necessary and as advised by line manager
Any reasonable official duties as requested by Country Coordinator
Person Specification
At least a Bachelor's Degree in Social Sciences, Project Management, or relevant subject, preferably with specialization in research, monitoring and evaluation
A minimum of five years of work experience in M&E, preferably with 2 to 3 years of officer level experience in an I/NGO
High level proficiency in professional writing and communication in English. A professional certificate to demonstrate this skill will be highly advantageous; Fluency in spoken and written Nepali language.
High level proficiency in Windows Excel and quantitative analysis; experience of operating M&E software. Previous experience working in SPSS to analyze data and information would be desirable.
Strong interpersonal skills with an ability to work in a multi-cultural setting
Strong planning and organization skills 
Experience in technical report writing and research activities
Self-motivation, creativity and an ability to perform without close supervision 
To apply: To apply submit a CV, covering letter a sample of reports to application@yuwanepal.org by 5 pm 6th March 2022 clearly mentioning the subject line "Application for PMEL Officer".
Qualified candidates and candidates particularly from disadvantaged and socially excluded/marginalized groups are strongly encouraged to apply.
Only short-listed candidates will be contacted. Further telephone enquiries will not be entertained.
---
Latest Posts
Thanks for visiting us.
Disclaimer: The resources, documents, guidelines, and information on this blog have been collected from various sources and are intended for informational purposes only. Information published on or through this website and affiliated social media channels does not represent the intention, plan, or strategies of an organization that the initiator is associated with in a professional or personal capacity, unless explicitly indicated.
If you have any complaints, information, or suggestions about the content published on Public Health Update, please feel free to contact us at blog.publichealthupdate@gmail.com.
#StayUpdated
---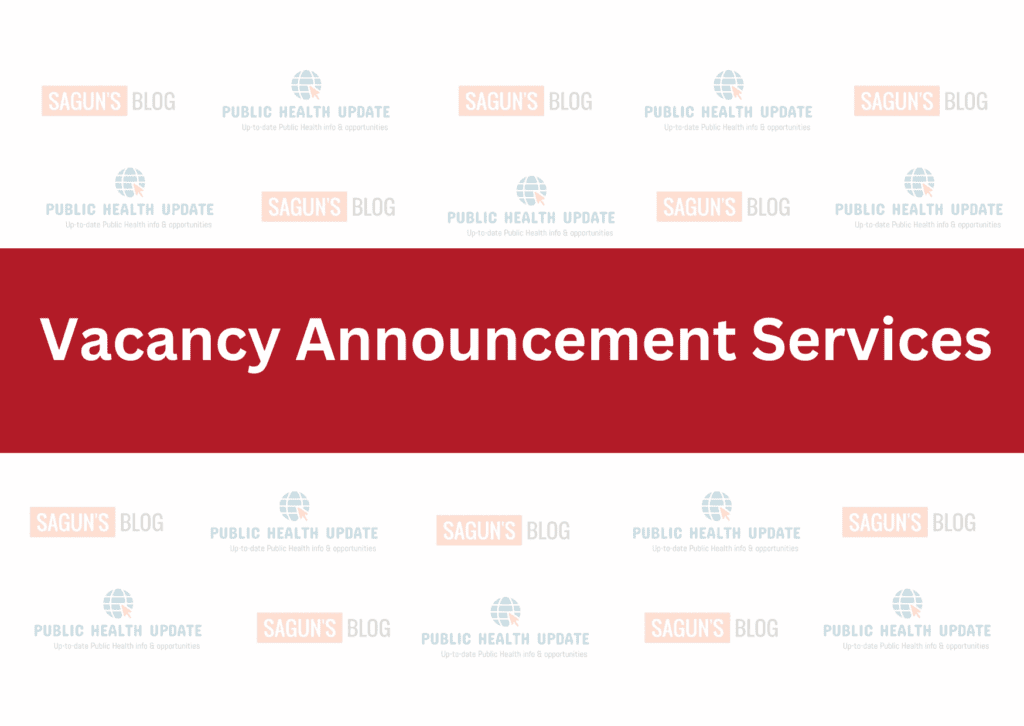 ---