Overview
Applications are now open for the Orygen Global Youth Mental Health Advocacy Fellowship. Applications close Sunday 6 February 2022 11:59PM AEDT/ 12:59PM UTC.
The Orygen Global Youth Mental Health Advocacy Fellowship is a seven-month virtual program for up to 16 young people from around the globe who are passionate about youth mental health and want to create change in the mental health landscape of their country.
The fellowship has been established to build the capacity, skills and voices of young people to create positive change in mental health awareness, policy and systems reform.  It will provide fellows with a range of skills and support them to further develop their youth mental health advocacy project plan, designed around the needs of their communities.
The fellowship modules follow the five sections outlined in the Global Youth Mental Health Advocacy Toolkit , which was developed by Orygen as part of the Global Youth Mental Health Partnership project with the World Economic Forum.
Modules
The fellowship will consist of five modes of learning:
Education modules are a core part of the fellowship and will be the platform to develop knowledge and insights for mental health advocacy. Each of the five education modules will be composed of lectures, panel discussions and/or practical workshops. These will be mostly live. Each module aims to build on each other and will include a strong emphasis on fellow interaction. Education modules will cover the following topics:
Module 1: Defining mental ill-health, advocacy and personal development;
Module 2: Safety in advocacy and sharing your personal mental health story;
Module 3: Preparing for advocacy and developing a proposal for change;
Module 4-5: Doing advocacy; and
Module 6: After advocacy, creating sustainable change.
Expert mentoring: is used as a space for fellows to develop skills and expertise tailored to each fellow's learning needs. These skills and expertise will help to equip the fellow with the resources and networks to enact their proposal for change. Mentoring will involve the fellow and mentor meeting monthly and is designed to be dynamic, personal and informal. 
Peer mentoring:  is an invaluable opportunity for the fellows to provide each other with strategic and emotional support. Fellows from diverse backgrounds and geographical areas will be paired together and will meet monthly.
Contact with leaders in global youth mental health: Beyond the impact of implementing their own proposal for change, fellows will be able to network with leaders in youth mental health from around the world.
Contribution: One component of the fellowship is experiential learning, which allows fellows to engage with the established work of Orygen.
HOW MUCH TIME IS INVOLVED?
The fellowship is a 7-month program due to start in March 2022. Fellows will need to be able to commit approximately 8-10 hours of time each month to fellowship activities. This will vary from month to month but will include a combination of educational modules and individual or group-based work.
Between the modules the fellows will maintain contact via an online platform to network, collaborate and share information and resources. It is expected that fellows will participate regularly in these discussions.
This is a global program and as such times may vary to accommodate different time zones of the fellows and presenters/partners. Sessions may occur very late at night or early in the morning.
WHO CAN APPLY?
We would love to hear from you if you:
are aged 18-30 years-old (at the time of application);
self-identify as having lived experience of mental ill-health personally or through family members or friends; or have a specific interest or skill in youth mental health;
are from anywhere in the world. We are especially keen to hear from people in low and middle- income countries;
you are able to challenge and offer suggestions for developing and implementing a variety of projects; 
have a clearly defined problem related to youth mental health you wish to address and a viable advocacy plan on how you might address this problem.
All fellowship material will be provided in English.
We recognise that young people have varying identities of gender, culture, race, location, sexuality and ability, and we are committed to working in partnership with people of all backgrounds and identities to ensure that Orygen Global is responsive and inclusive.
Note: Lived experience of mental ill-health is welcome but not required. You will be in control of how and how much you wish to share your personal story; we will provide you tools to make this decision safely and strategically.
HOW DO I APPLY?
If you're interested, please complete the application form below.

Applications for the Orygen Global Youth Mental Health Advocacy Fellowship must be completed and received by Sunday 6 February 2022 11:59PM AEDT/ 12:59PM UTC.
Short-listed applicants will be contacted by email or phone to organise an interview. Unsuccessful applicants will be notified by email.
Financial support for participation in the fellowship will be discussed on a case by case basis with successful applicants.
Applications must be completed in English.
QUESTIONS?
If you have any questions or need assistance to complete your application, please refer to the FAQ or contact:
Corinne Rugolo
Global Fellowship Project Coordinator, Orygen Global
Email: globalfellowship@orygen.org.au   
---
Latest Posts
Thanks for visiting us.
Disclaimer: The resources, documents, guidelines, and information on this blog have been collected from various sources and are intended for informational purposes only. Information published on or through this website and affiliated social media channels does not represent the intention, plan, or strategies of an organization that the initiator is associated with in a professional or personal capacity, unless explicitly indicated.
If you have any complaints, information, or suggestions about the content published on Public Health Update, please feel free to contact us at blog.publichealthupdate@gmail.com.
#StayUpdated
---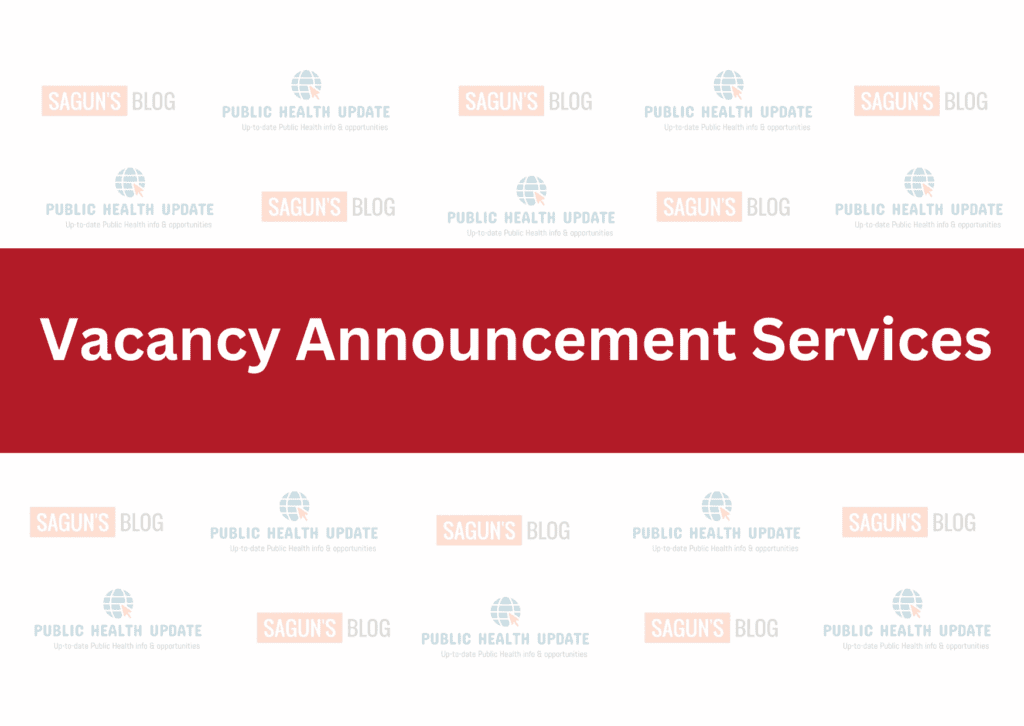 ---