Chemonics seeks a Country Director for the Global Health Supply Chain – Procurement and Supply Management (GHSC-PSM) project in Nepal. GHSC-PSM is the primary vehicle through which USAID procures and provides health commodities, provides technical assistance to improve partner countries' management of the supply chain, and collaborates with key international stakeholders to support global health initiatives. The Country Director is responsible for providing overall strategic direction and leadership for the GHSC-PSM project in Nepal. The County Director will manage the development of technical strategies and work plans; monitor programmatic, financial and administrative performance; supervise the administration of standard project operating and financial procedures; manage short and long-term technical assistance; and maintain effective communication with the client, the home office, the public and private sectors, and other donors and cooperating agencies. This is a long-term position based in Kathmandu, Nepal.
Responsibilities include:
Maintain strong and positive working relationships with clients and partners including USAID and host country government.
Develop and implement annual work plans and budgets that reflect the priorities of USAID, the ministry of health, and other stakeholders.
Strategically identify capacity gaps and arrange for appropriate training of field staff.
Ensure the use of appropriate management methodologies to plan, organize and control resources to achieve goals.
Develop, update and implement performance monitoring plan that encompasses commodity security and logistics management indicators and includes project-wide performance measures.
Oversee regular data collection and reporting and lead quarterly reviews of performance analysis to identify issues and drive evidence-based interventions.
Coordinate with relevant stakeholders in the provision of assistance to build the capacity and capability of national systems.
Report results of the projects' work to USAID, ministry of health, other funders, and the home office. Ensure timely submission of all regular and ad hoc deliverables.
Other duties as assigned by supervisor.
Qualifications:
Advanced degree in health, supply chain, or management-related discipline preferred.
Minimum 8 years of experience in public health program management, pharmaceuticals and medical supplies, supply chain management systems, and/or systems strengthening
Experience leading implementation of Management Information systems (MIS) is strongly preferred.
Skilled in leading and managing high-performing teams.
Demonstrated ability to work with cooperating partners in implementing complex programs.
Experience working on USAID programs in close collaboration with USAID is preferred.
Fluent spoken and written English is required.
Relevant country or regional experience is preferred.
Application Instructions:
Please send your CV and cover letter to psmnepalrecruit@chemonics.com by February 28, 2022. Please include "Nepal Country Director" in the subject line. Applications will be considered on a rolling basis, finalists will be contacted.
subject line. Applications will be considered on a rolling basis, finalists will be contacted.
Chemonics is an equal opportunity/affirmative action employer and does not discriminate in its selection and employment practices. All qualified applicants will receive consideration for employment without regard to race, color, religion, sex, national origin, political affiliation, sexual orientation, gender identity, marital status, disability, protected veteran status, genetic information, age, or other legally protected characteristics. Military veterans, AmeriCorps, Peace Corps, and other national service alumni are encouraged to apply.
Chemonics values the protection of your personal data. If you are in the European Union, please read our EU Recruiting Data Privacy Notice to learn how we process personal data. You may access the notice via the following link: https://chemonics.com/eu-recruiting-data-privacy-notice/
---
Latest Posts
Thanks for visiting us.
Disclaimer: The resources, documents, guidelines, and information on this blog have been collected from various sources and are intended for informational purposes only. Information published on or through this website and affiliated social media channels does not represent the intention, plan, or strategies of an organization that the initiator is associated with in a professional or personal capacity, unless explicitly indicated.
If you have any complaints, information, or suggestions about the content published on Public Health Update, please feel free to contact us at blog.publichealthupdate@gmail.com.
#StayUpdated
---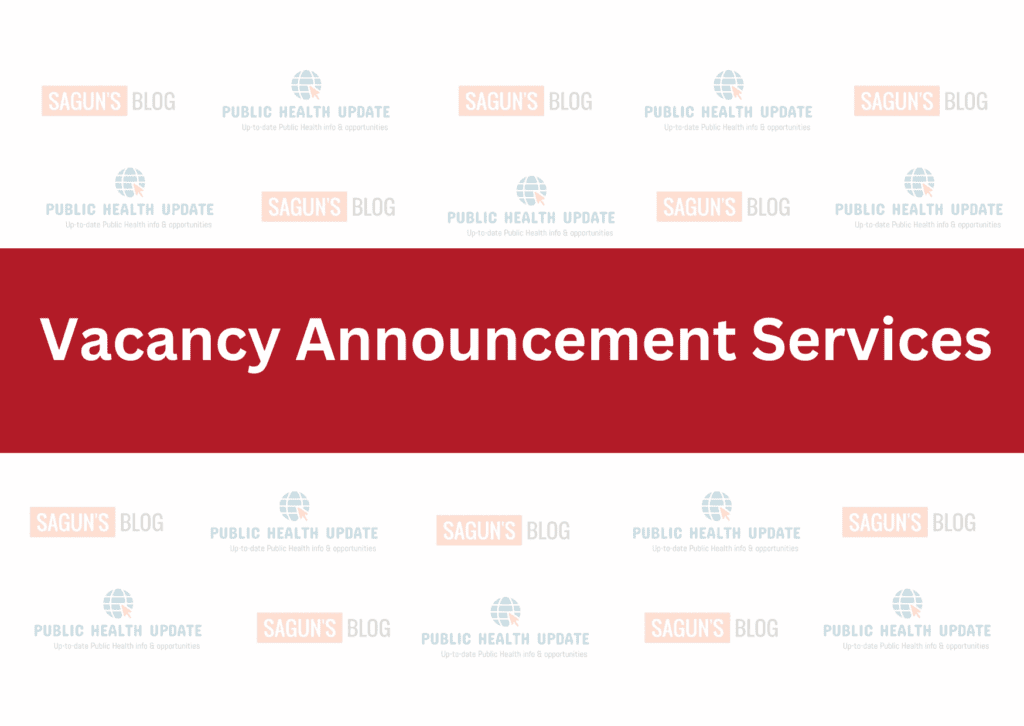 ---