Health Specialist-Health and Immunization Financing, (P-4), ROSA, Nepal#117222
Job no: 548104
Contract type: Fixed Term Appointment
Level: P-4
Location: Nepal
Categories: Health, Expanded Programme Immunization
UNICEF works in some of the world's toughest places, to reach the world's most disadvantaged children. To save their lives. To defend their rights. To help them fulfill their potential.
Across 190 countries and territories, we work for every child, everywhere, every day, to build a better world for everyone.
And we never give up.
For every child, inspiration
UNICEF ROSA health agenda is driven by multi-sectoral coordination and investments to strengthen Primary Health Care (PHC) toward the achievement of Universal Health Coverage (UHC) in the South Asia Region. The focus will be on accelerating the unfinished agenda on newborn, child, and adolescent health, in building resilient primary health care in the context of the COVID-19 pandemic. While moving these agenda forward, investments will be made in health and community systems strengthening with a focus on building internal and local capacity for evidence generation and use to influence policies, plans, strategies, and priorities, including sustainable health financing. In the area of health financing, the focus will be on strengthening domestic resource mobilization efforts and improved management and efficiency of available funds. Despite progress made, health expenditure is still pushing millions of families into poverty in South Asia.  Data from 2019 showed that an average of less than 2% percent of Southeast Asian countries' GDPs goes toward healthcare. Therefore, health financing is still relying heavily on out-of-pocket spending and development assistance.
How can you make a difference?
The Health Specialist, Health and Immunization Financing is based at the UNICEF Regional Office for South Asia (ROSA), and provides technical assistance to the countries of South Asian and the East Asia and the Pacific region (EAPRO). Under the overall supervision and guidance of the Regional Health Adviser, the Health Specialist is responsible for the strategic and operational guidance, and technical support in the areas of health financing, including immunization financing. This includes support to managing, implementing, monitoring, evaluating, and reporting on health expenditures and financing for maternal, newborn, child, and adolescent health, with a focus on immunization.  
Provide strategic and programmatic guidance and technical support to the countries in UNICEF South Asia and East Asia and the Pacific regions (ROSA & EAPRO) to improve the linkages between planning, costing, budgeting, and financing of child health programs with a focus on immunization.
Align child health and immunization financing to broader health financing, focusing on efficiency and sustainability.
Ensure that policy dialogue and resource mobilization issues are addressed from a sector wide and "Health in All Policies" approach with the focus that sustainability is not seen solely in terms of additional resources but also as requiring efforts to improve efficiency in the use of the existing resources, being domestic or external. 
Strategically leverage immunization resources to strengthen the pillars of the health system to impact broader MNCAH services with a focus on decentralized health systems management, innovative service delivery, and equitable access to quality services.  
Provide technical assistance to governments and other relevant stakeholders in costing of PHC, particularly the operational costs of health and immunization related strategic and operational plans with a focus on allocative efficiency. 
Work with national governments, health, and immunization partners on sustainability strategies in the context of PHC, including identifying new funding sources especially through domestic resource mobilization.
Support the development of research agendas and special initiatives related to improving health policy and financing.
To qualify as an advocate for every child you will have…
An advanced university degree (Master's or higher) in health economics or in Public Health with a focus on health economics or health financing, or an advanced degree in economics or financing with a focus on Health Systems Strengthening and/or other related field.
A minimum of eight years of relevant professional experience in health economics analysis and Public Financial Management in Health.
Experience working in a developing country preferably in Asia is considered as an asset.
Relevant experience in a UN system agency or organization is considered as an asset.
Strong relationship building skills in the global health community, particularly among donors, multilateral partners, and implementers
Developing country work experience and/or familiarity with emergency is considered an asset.
Fluency in English is required. Knowledge of another official UN language (Arabic, Chinese, French, Russian or Spanish) or a local language is an asset.
For detailed description-refer to the attached JD- JD- Health Specialist-Health and Immunization Financing FT-P4.pdf
For every Child, you demonstrate…
UNICEF's values of Care, Respect, Integrity, Trust, and Accountability (CRITA).
The UNICEF competencies required for this post are…
Demonstrates Self Awareness and Ethical Awareness (1)
Works Collaboratively with others (1)
Builds and Maintains Partnerships (1)
Innovates and Embraces Change (1)
Thinks and Acts Strategically (1)
Drive to achieve impactful results (1)
Manages ambiguity and complexity (1)
To view our competency framework, please visit here.
UNICEF is committed to diversity and inclusion within its workforce, and encourages all candidates, irrespective of gender, nationality, religious and ethnic backgrounds, including persons living with disabilities, to apply to become a part of the organization.
UNICEF has a zero-tolerance policy on conduct that is incompatible with the aims and objectives of the United Nations and UNICEF, including sexual exploitation and abuse, sexual harassment, abuse of authority and discrimination. UNICEF also adheres to strict child safeguarding principles. All selected candidates will be expected to adhere to these standards and principles and will therefore undergo rigorous reference and background checks. Background checks will include the verification of academic credential(s) and employment history. Selected candidates may be required to provide additional information to conduct a background check.
Remarks:
Mobility is a condition of international professional employment with UNICEF and an underlying premise of the international civil service.
Only shortlisted candidates will be contacted and advance to the next stage of the selection process.
"UNICEF only considers higher educational qualifications obtained from an institution accredited/recognized in the World Higher Education Database (WHED), a list updated by the International Association of Universities (IAU) / United Nations Educational, Scientific and Cultural Organization (UNESCO). The list can be accessed at http://www.whed.net/"
Advertised: 02 Feb 2022 Nepal Standard Time
Deadline: 16 Feb 2022 Nepal Standard Time
---
Latest Posts
Thanks for visiting us.
Disclaimer: The resources, documents, guidelines, and information on this blog have been collected from various sources and are intended for informational purposes only. Information published on or through this website and affiliated social media channels does not represent the intention, plan, or strategies of an organization that the initiator is associated with in a professional or personal capacity, unless explicitly indicated.
If you have any complaints, information, or suggestions about the content published on Public Health Update, please feel free to contact us at blog.publichealthupdate@gmail.com.
#StayUpdated
---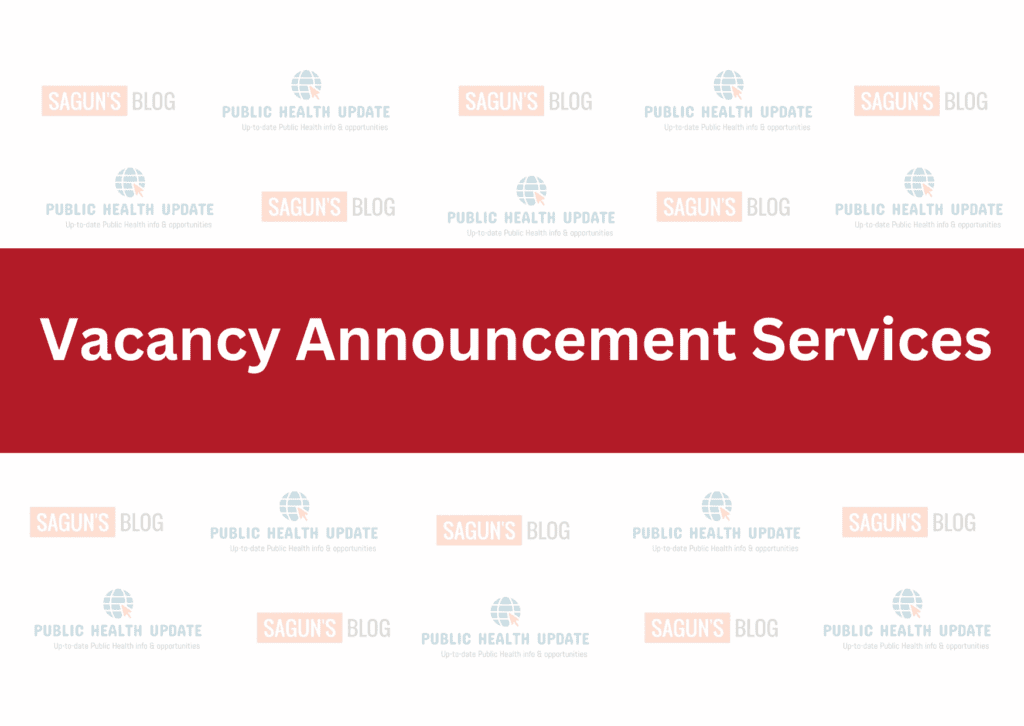 ---