Green Tara Nepal, a non-political, non-profit making non-governmental organization, established in 2007, has been working in the field of maternal and child health. It works in research, publications, advocacy, training and social mobilization in a holistic community development approach. Green Tara Nepal aims to bridge the gap between rural and urban, rich and poor and men and women in accessing services and improving healthy behaviors through community development and health promotion approach.
Karuna Deutschland, in partnership with Green Tara Nepal, is implementing a three-year's Maternal and Neonatal Health Promotion Project in Bajura (Bajura-MNHP). The project aims to improve health and wellbeing of women, children and adolescent girls in Chhededaha Rural Municipality of BajuraDistrict, Nepal. The project targets to increase women's access to sexual and reproductive health (SRH) including family planning through service quality improvements and health promotion. The project expects to increase equitable access to SRH by mobilising local health resources and volunteers to conduct health promotion.
We are looking an experienced and highly qualified Nepali candidate for the Field Manager. Candidates with proven skills of meeting the requirements and dedicated to work in NGO are encouraged to apply for this position:
1. Position: Field Manager 
Required number:  1
Duty station: KhaptadChhededa Rural municipality (Field Office) of Bajura district Sudur Paschim province with frequent travel to programme districts/wards
Required Qualifications/Competencies: 
Bachelor in Public Health, Nursing or related field (Master Degree preferred) 
At least 3 years working experiences in district/local level 
Experienced in programme implementation, human resource and financial management, coordination with funders and local stakeholders 
Committed to work in a rural Nepal in time-bound activities
Major Responsibilities 
Programme planning and implementation 
Planning, developing and implementing of activities at the districts. 
Lead to implement the programmatic decisions. 
Manage and maintain effective coordination and collaboration with local stakeholders for smooth running of the project; and to ensure project activities are well understood and accepted at local level.
b) Recording and reporting 
Keep up-to-date record (detail information of all the stakeholders at the local level). 
Promote the visibility of the programme, through service events, displays and exhibitions, media, reports, case stories and publications in collaboration with the Project Manager. 
Timely report the routine program performance (quarterly and annual reports) following the defined templates.
c) Coordination and advocacy 
Develop and maintain relationships with key stakeholders in the programme area including District Coordination Committee, Health Office, Education Office, rural municipalities, municipalities, the target community, government health facilities, Female Community Health Volunteers (FCHVs), local NGO/CBOs.
d) Training/teaching 
Organising training, review meetings and capacity building activities in the communities (health workers, FCHVs and health mother group members)
e) Administrative/ financial 
Work as a supervisor of all district-based staff. 
Financial control at the district level. Submit financial and administrative documents as requested and required by central office.
Other Attributes:
Excellent quality of work and commitment to high standards, strong communication skills, team building and willingness and motivated for good service delivery with strong networking and interpersonal skills and comfortable to work under stress and pressures. 
Selected candidates must adherence to GTN policies and procedures, protocols, code of conduct with special attention to Child Protection Policies and Do No Harm approach including funding agency's policies, guidelines and agreements.
How to Apply:
Interested candidates meeting above-mentioned criteria are requested to send their updated CV along with a cover letter specifying your eligibility for this position to hrgreentara2007@gmail.com no later than 4 February 2022 before 17:00 hrs. Please mention the applied position in the subject line. 
GTN is an equal opportunities employer. Competent candidates from disadvantaged groups, Dalit, Janajati and inhabitants of the project districts will be given priority.  
Only shortlisted candidates will be called for the further selection process. 
No telephone inquiries will be entertained and any inappropriate recommendation will automatically disqualify the candidate from further processing. GTN reserves the right to qualify/disqualify applications in any case.
---
Latest Posts
Thanks for visiting us.
Disclaimer: The resources, documents, guidelines, and information on this blog have been collected from various sources and are intended for informational purposes only. Information published on or through this website and affiliated social media channels does not represent the intention, plan, or strategies of an organization that the initiator is associated with in a professional or personal capacity, unless explicitly indicated.
If you have any complaints, information, or suggestions about the content published on Public Health Update, please feel free to contact us at blog.publichealthupdate@gmail.com.
#StayUpdated
---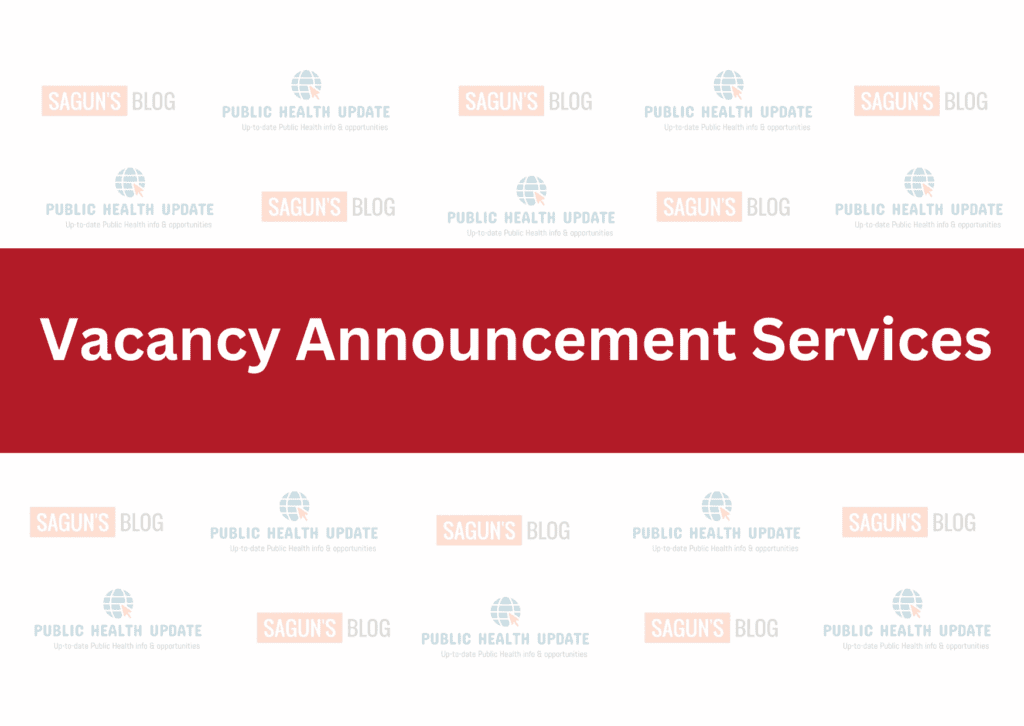 ---