Position: Provincial Health Officer (PHO)  – (2200931)  
Grade: No grade
Contractual Arrangement: Special Services Agreement (SSA)
Contract Duration (Years, Months, Days): 1 Year
Job Posting : Feb 11, 2022, 11:35:32 AM
Closing Date: Mar 4, 2022, 4:44:00 AM
Primary Location: Nepal
Organization : SE_NEP WR Office, Nepal
Schedule: Full-time  
IMPORTANT NOTICE: Please note that the deadline for receipt of applications indicated above reflects your personal device's system settings. 
Objectives of the Programme
Inadequate human resources in provincial and local governments has profound impact on delivery of essential health services, which also undermines efforts towards advancing Universal Health Coverage (UHC). Health system strengthening support to provinces will remain a key priority for WHO as outlined in Country Cooperation Strategy. This support for federalization at federal and sub-national level will include health systems approach enabling greater interaction and collaboration across different technical programs, in support of an integrated health system and UHC with more focus on building local capacity.  In federal context, the more technical support is needed in localisation SDGs as well as measuring, tracking and reporting of health sector SDG at large.
The incumbent will provide policy and strategic inputs to implement existing health acts, regulations, policies, strategies, framework, guidelines protocols, standards and capacity building initiatives of provincial and local governments with an emphasis on achieving Universal Health Coverage, Human Resource for Health, Coordination between provincial and local governments and identifying bottlenecks in delivery of basic health services and other critical health services.
 In addition, they will support technically in strategic planning, enhancing evidence-based planning and decision-making for identified health priorities at sub-national level with emphasis on translating national policies and guidelines into local practice with special attention to health service delivery and essential health service package. S/he will play a coordinating and liaising role in provinces and directly support and work with the health chief/high-level officials at Ministry of Social Development/Ministry of health/Ministry of Health and Population.
Description of Duties
Under the overall guidance of the WHO Representative and direct supervision of Public Health Administrator, the incumbent will work closely with planning and monitoring section in health service division of Ministry of Social Development/Provincial Ministry of Health/Ministry of Health and Population/Ministry of Health, Population and Family welfare (MoSD/MoH/MoHP/MoHPFW) and Provincial Health Directorate. S/he will support in formulating, implementing, and monitoring health sector policies, strategies, guidance, protocols, frameworks, planning and budgeting essentially to invest and improve health services delivery in the province where they are positioned.
These PHOs will work in close coordination with liaison officer stationed at federal Ministry of Health and Population with technical support from programme staff at WHO Country Office to implement health interventions priorities across health system strengthening program. Each quarter, quarterly periodic review will ensure regular progress of the quarter and the plan for next quarter. Each PHO will submit monthly progress report to the supervisor as well as quarterly report to Health coordination Division at Ministry of health and population through liaison officer.
The scope of work has been refined to provide technical support to the provincial government mainly in the areas of health systems with specific health sector priority interventions;
1.Technical guidance in policy and strategy development with emphasis on achieving UHC, HRH, coordination between provincial government and municipalities and identifying bottlenecks in delivery of essential health package and basic health services.
2.Support in federalization of health system, at provincial and local government levels with emphasis on translating acts, regulations, framework, policies, strategies, guidelines, standards into local practice with special attention to health service delivery and essential health package.
3.Support to roll out, tracking and monitoring of basic health services package, UHC framework, Service readiness assessment and health related SDGs.
4.Technical support in preparation of Provincial health profile and its regular update.
5.Strengthening support in integrated health information systems through regular monitoring in use of health management information, logistics management information, health facility registry, electronic health record.
6.Support in implementation and monitoring of health financing strategy with regular advocacy for increased investment in health sector, reducing out of pocket expenditure.
7.Support in strengthening regulatory practices and institutional development for Human Resource for Health (HRH) strategic action plan.
8.Support in collating and using HRH registry, HRH profiling, demand and supply, identifying human resource gaps, development of provincial HRH strategic and action plan for next 10 years.
9.Support in integrated capacity development package for province and local level as per capacity need assessment and provincial demand.
10.Technical support in regular review and monitoring of priority public health programs, reporting and health sector planning.
11.Technical support in strengthening birth and death data registration system at provinces.
12.Support in strengthening water, sanitation and hygiene in health care facilities, public health facilities as effective public health measures.
13.Collaborate with academy, universities and other relevant stakeholders to promote implementation research in health sector for evidence-based planning, programming and decision making.
14.Coordination and partnerships with other EDPs in technical areas of health system such as health governance, health information system, human resource for health and health financing to further strengthen and harmonize provincial support, resource mobilization and creating synergies in service delivery at sub-national level.
15.Support and facilitate to ensure Health-in All policies at province and sub-province level.
16.Support Ministries and health directorate for the conduction of policy dialogues and stakeholder engagement activities to promote health and well-beings.
17.Support provincial government to formulate and implement the provincial development plan especially health intervention in close collaboration with provincial planning commission.
 18.Facilitate capacity development needs assessment and action planning for municipal/rural level health section chief/coordinators.
19.Collect case studies, success stories and best practices at field level and contribute to produce reports to generate meaningful evidence.
20.Other responsibilities as assigned by supervisor. S/he may be deployed to assist in case of public health emergencies, outbreak, and pandemic.
Qualification:
Education:
Essential:
University Degree in Public health, Medicine, Nursing and other health science with master's degree in public health (MPH).
Registered in respective health professional councils.
Experience:
Essential:
At least 7 years' experience in managing health sector programs and policies at national and sub-national level.
Required Knowledge and Skills:
Intensive experience on developing and updating acts, regulations, policies, strategies, framework, standards, protocols, guidelines to health sectors.
Having proven track experience and understanding of international and national health sector commitments, mainstreaming SDGs and UHC, health service delivery model especially in the federal context, health system priorities and indicators, health system needs and bottlenecks.
Understanding of health governance, health information flow system, monitoring and evaluation and other crosscutting issues in federal context.
Demonstrated experience in working and delivering participatory evidence-based programming approach in health sector.
Experience in working with local capacity need assessments, planning and mainstreaming health as development and investment agenda with participatory approach.  
Good communication, coordination and resource mobilization skills.
Good leadership skills, negotiation skills, with an aptitude for external representation and networking.
Knowledge and skills on promoting implementation skills research and supporting evidence-based planning, programming and monitoring.
Good basic computer skills to perform and support in office software packages (MS office, SPSS, Stata)
WHO Competencies:
Teamwork
Respecting and Promoting individual and cultural differences
Communication
Ensuring effective use of resources
Use of Language Skills: Essential: Expert knowledge of English and Nepali
REMUNERATION:
Monthly Salary: (Net of tax) NPR 2,39,245 at single rate (taxable as per Nepal Government laws and appointment will be through Special Services Agreement (SSA)
Grade: Level 9
Duty Station:  Ministry of Social Development/Provincial Ministry of Health/Ministry of Health and Population/Ministry of Health, Population and Family welfare (MoSD/MoH/MoHP/MoHPFW) and Provincial Health Directorate.
ADDITIONAL INFORMATION
This Vacancy Notice may be used to fill similar positions at the same level.
Only candidates under serious consideration will be contacted.
A written test and interviews will be used as a form of screening
WHO is committed to workforce diversity.
WHO prides itself on a workforce that adheres to the highest ethical and professional standards and that is committed to put the WHO Values Charter into practice.
WHO has a smoke-free environment and does not recruit smokers or users of any form of tobacco.
This post is subject to local recruitment and will be filled by persons recruited in the local commuting area of the duty station.
In the event that your candidature is retained for an interview, you will be required to provide, in advance, a scanned copy of the degree(s)/diploma(s)/certificate(s) required for this position. WHO only considers higher educational qualifications obtained from an institution accredited/recognized in the World Higher Education Database (WHED), a list updated by the International Association of Universities (IAU)/United Nations Educational, Scientific and Cultural Organization (UNESCO). The list can be accessed through the link: http://www.whed.net/. Some professional certificates may not appear in the WHED and will require individual review.
For information on WHO's operations please visit: http://www.who.int.
WHO has zero tolerance towards sexual exploitation and abuse (SEA), sexual harassment and other types of abusive conduct (i.e., discrimination, abuse of authority and harassment). All members of the WHO workforce have a role to play in promoting a safe and respectful workplace and should report to WHO any actual or suspected cases of SEA, sexual harassment and other types of abusive conduct. To ensure that individuals with a substantiated history of SEA, sexual harassment or other types of abusive conduct are not hired by the Organization, WHO will conduct a background verification of final candidates.
APPLICATION PROCESS: ONLINE (OFFICIAL LINK)
---
Latest Posts
Thanks for visiting us.
Disclaimer: The resources, documents, guidelines, and information on this blog have been collected from various sources and are intended for informational purposes only. Information published on or through this website and affiliated social media channels does not represent the intention, plan, or strategies of an organization that the initiator is associated with in a professional or personal capacity, unless explicitly indicated.
If you have any complaints, information, or suggestions about the content published on Public Health Update, please feel free to contact us at blog.publichealthupdate@gmail.com.
#StayUpdated
---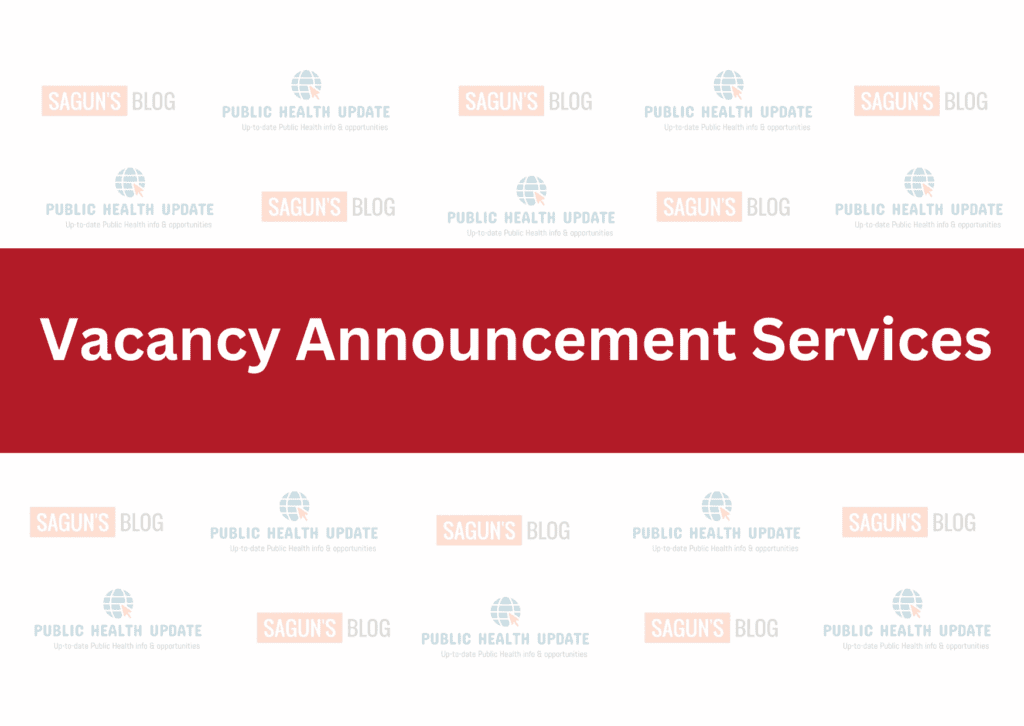 ---