Careers in WHO Nepal
Position: Mental Health Officer  – (2200004)  
Grade: No grade
Contractual Arrangement: Special Services Agreement (SSA)
Contract Duration (Years, Months, Days): Till 31st Dec 2022
Job Posting : Jan 7, 2022, 11:37:48 AM
Closing Date : Jan 28, 2022, 4:44:00 AM
Primary Location : Nepal-Kathmandu
Organization : SE_NEP WR Office, Nepal
Schedule : Full-time  
IMPORTANT NOTICE: Please note that the deadline for receipt of applications indicated above reflects your personal device's system settings. 
..
Title of Position: Mental Health Officer
Grade: Level 8
Contractual Arrangement: Special Service Agreement
Contract Duration (Years, Months, Days): Till 31 Dec 2022
Primary Location: Kathmandu, Nepal
Schedule: Full time
Background
Nepal has been enrolled into the WHO Special Initiative for Mental Health (SIMH) in 2021. The Ministry of Health and Population (MOHP) has endorsed a multi-year logical framework to effectively implement the WHO Special Initiative of Mental Health in Nepal. The workplan is focused to strengthen health systems and services to leverage the implementation of the National Mental Health Strategy and Action Plan 2020 substantially. The WHO Country Office will support the MOHP in implementing the SIMH in 14 districts in 2022 and will be expanded to other geographical locations in the subsequent years. 
Purpose
To effectively implement the work plan of the WHO Special Initiative for Mental Health in Nepal and to strengthen the WHO technical assistance in building mental health systems and services in the federal context to enable the county to meet the targets of SDGs and UHC.
Summary of assigned duties
Under the overall guidance of the Team Leader – NCDS and Mental Health, and the direct supervision of the National Professional Officer (NPO) – Mental Health; in close cooperation with Health Systems Strengthening team; and in close collaboration with the relevant government counterparts including NCDs and Mental Health Section of Epidemiology and Disease Control Division – the Mental Health Officer will perform the following duties:
Coordinate the implementation of the WHO Special Initiative for Mental Health as the project focal point at the Department of Health Services and WHO Country Office and organize periodic review meetings
Support Federal and Provincial health authorities in micro planning of the activities based on the workplan of WHO Special Initiative for Mental Health and oversee development of the yearly technical and financial proposals and submit to Department of Health Services and WHO Country Office
Organize coordination meetings of implementing stakeholders at central, provincial and local level and ensure project activities are on track and share report to EDCD and WHO Country Office
Prepare progress report both fiscal and physical implementation of the project and appraise Department of Health Service and WHO Country Office
Make monthly interactions with NCD and MH SSAs deployed in the field and conduct coaching at health facilities to provide team-based care 
Ensure proper design and conduct of relevant capacity building trainings and events in coordination with the National Health Training Center and EDCD
In coordination with the provincial and district health authorities, support implementation of capacity building activities, maintain data of availability of mental health trained health workers in health facilities and identify training needs to ensure the continuation of services
Liaise with provincial and district health managers and ensure submission of monthly service delivery reports from all health facilities and compile summarized mental health and NCD service information and submit to Department of Health Services and WHO country office
Monitor the status of drug supply and availabilities in the facilities and appraise the concerned government program units for corrective actions 
Implement additional tasks assigned by the supervisors not listed above.
WHO Competencies
Teamwork
Respective and promoting individual and cultural differences
Communication
Producing Results
Functional Knowledge and Skills
Strong project management, organization, and coordination skills.
Excellent interpersonal skills, tact, discretion, and diplomacy.
Ability to effectively work with government, development partners and collaborating agencies.
Modality of Working
The incumbent will be deployed at the Epidemiology and Disease Control Division of the Department of Health Services and work as a team member of the of the DoHS.  She/He will consult the WHO country office in operation of the activities.
Education Qualifications
Essential: University Degree in Medicine or Nursing or public health with additional evidence of academic courses on mental health services
Desirable: Advanced university degree in Psychiatry, Psychology, Psychiatry Nursing, Community Medicine, or public health is desirable.
Experience
Essential: At least of four-year experience with proven track record of community-based service design, delivery and management for mental disorders  
Desirable: Prior experience on teaching, research related to mental health disorders and project management of community-based mental health services
Other Skills (eg IT)
Work is performed in normal working environment.

Proficiency in the development of Gannt Chart, modern office software packages such as MS Office (Word, Excel, PowerPoint, Outlook etc.) and standard office equipment. 
Use of Language Skills: Essential: Expert knowledge of English and Nepal.
REMUNERATION: 
Monthly Salary: (Net of tax) NPR 196102 (Level 8) at single rate (taxable as per Nepal Government laws and appointment will be through Special Services Agreement (SSA)
ADDITIONAL INFORMATION
This vacancy notice may be used to fill other similar positions at the same grade level.
Only candidates under serious consideration will be contacted.
A written test and the interview may be used to screen applicants.
Any extension of appointment would be subject to programmatic requirements, performance of the incumbent and availability of funds.
WHO only considers higher educational qualification obtained from accredited institution. The list can be accessed through this link: http://www.whed.net.
Any misrepresentative of facts would disqualify the candidate.
No telephone enquiries or paper applications please.
WHO is committed to workforce diversity.
Application from qualified female candidates particularly from disadvantaged and socially excluded groups are strongly encouraged.
For information on WHO's operations please visit: http://www.who.int.
WHO prides itself on a workforce that adheres to the highest ethical and professional standards and that is committed to put the WHO Values Charter into practice.
WHO has zero tolerance towards sexual exploitation and abuse (SEA), sexual harassment and other types of abusive conduct (i.e., discrimination, abuse of authority and harassment). All members of the WHO workforce have a role to play in promoting a safe and respectful workplace and should report to WHO any actual or suspected cases of SEA, sexual harassment and other types of abusive conduct. To ensure that individuals with a substantiated history of SEA, sexual harassment or other types of abusive conduct are not hired by the Organization, WHO will conduct a background verification of final candidates.
WHO has a smoke-free environment and does not recruit smokers or users of any form of tobacco.
This position is subject to local recruitment.
---
Latest Posts
Thanks for visiting us.
Disclaimer: The resources, documents, guidelines, and information on this blog have been collected from various sources and are intended for informational purposes only. Information published on or through this website and affiliated social media channels does not represent the intention, plan, or strategies of an organization that the initiator is associated with in a professional or personal capacity, unless explicitly indicated.
If you have any complaints, information, or suggestions about the content published on Public Health Update, please feel free to contact us at blog.publichealthupdate@gmail.com.
#StayUpdated
---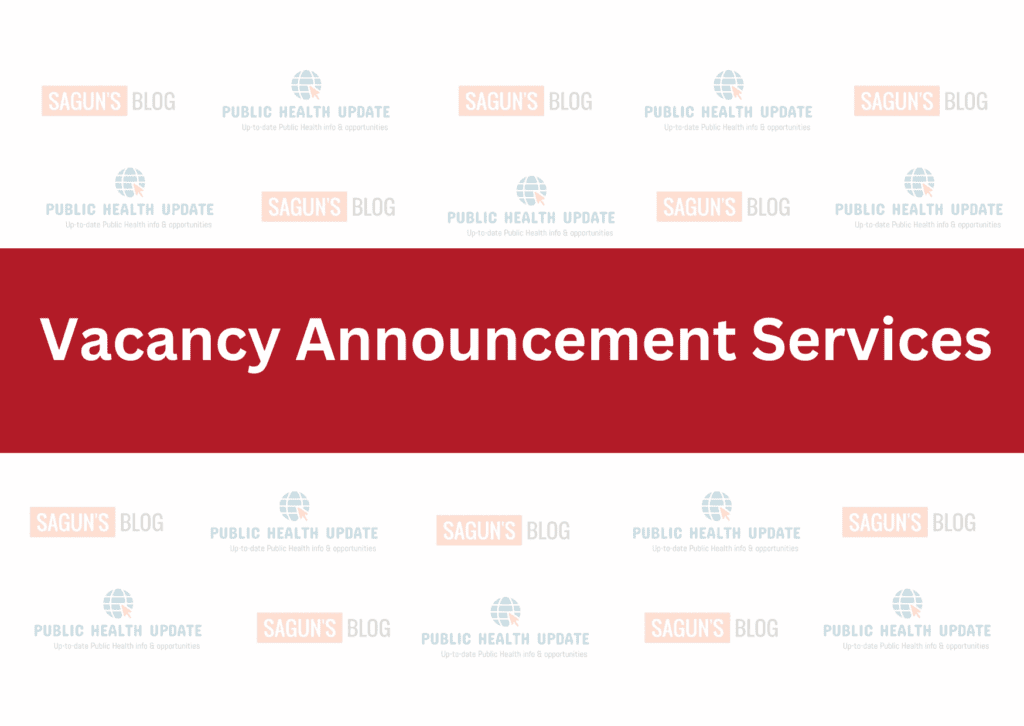 ---