National Family Planning Day takes place every year on 18 September to raise awareness about the family planning and it's important.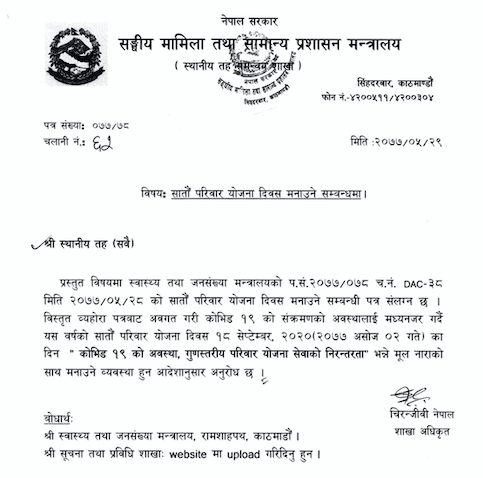 ---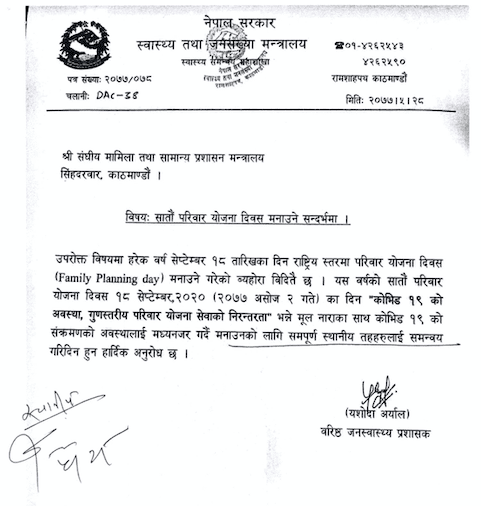 Key message
Published by UNFPA NEPAL (Publicly available)
With many people spending more time at home amid the ongoing movement restrictions due to the COVID-19 pandemic, there is the possibility of increased pregnancies, which may be due to planning a family, increased unprotected sex or increased sexual activity because couples are less occupied by other recreational activities outside of the home. In the latter two situations, there is a probability that the usual contraceptive methods (especially short-acting reversible methods such as condoms or oral contraceptive pills) will only be available for a limited period of time and couples are likely to run out of stocks quite soon. 
The situation is more complex for couples who had not been using a method earlier and were planning to start one around this time. For couples using reversible contraceptive methods, there might be a need for replacement (due to side effects, complications, or completion of duration), or switching to another method. During such scenarios, going out to procure a contraceptive could be relatively difficult because of limitations in access to health services caused by the lockdown, and also because of the fear associated with the risk of acquiring the infection when venturing out of the house. This could lead to a reduction in contraceptive utilization, and a surge in unintended and unplanned pregnancies.
Access to safe, voluntary family planning is a human right. Family planning is central to gender equality and women's empowerment, and it is a key factor in reducing poverty. Many women in Nepal are not able to use safe and effective family planning methods due to a lack of access to information or services and support from their partners or communities. The COVID-19 pandemic has made matters worse. The 7th National Family Planning Day provides an opportunity to highlight the importance of family planning.
Working together with development partners UNFPA has been supporting the federal, provincial and local governments to promote family planning by: ensuring a steady, reliable supply of quality contraceptives; strengthening the national health system; advocating for policies supportive of family planning; and gathering data to support this work. UNFPA also provides technical support to the Government of Nepal to develop evidence and policies that help increase access to family planning.
Family planning has long been considered a priority in Nepal and the majority of contraceptives and other commodities have been procured using the government budget including pool funds. In recent years, however, there have been several constraints related to procurement, supply chain management and inventory management which have led to a number of development partners' direct support in these areas in order to sustain the momentum for family planning.
The Ministry of Health made a commitment to FP2020 in March 2015, just before the massive earthquake of 25 April 2015. The federal government and some provincial governments committed to identify and address barriers to family planning, broaden the range of available contraceptives and improve the method mix, as well as increase the budget for family planning on a yearly basis by 7%. Prior to signing off on the FP2020 commitment, the Ministry of Health had endorsed a five-year Costed Implementation Plan for Family Planning (2015-2020), which outlined the resources required for scaling up the family planning programme and the commodity needs.
Despite progress over the past 10 years in Nepal, 24% of married women still have an unmet need for family planning. Only 15% of married women or girls aged 15-19 use a modern form of contraception. In Nepal, 17% of adolescent women age 15-19 are already mothers or pregnant with their first child. Women in rural areas have an average of 2.9 children, compared to 2.0 children among women in urban areas. Women with no education have 1.5 more children than women who have graduated from high school. One in four married women in Nepal have an unmet need for family planning: 8% want to delay childbearing, while 16% want to stop childbearing.
---
Recommended readings
---
Latest Posts
Thanks for visiting us.
Disclaimer: The resources, documents, guidelines, and information on this blog have been collected from various sources and are intended for informational purposes only. Information published on or through this website and affiliated social media channels does not represent the intention, plan, or strategies of an organization that the initiator associated with in professional or personal capacity, unless explicitly indicated.

If you have any complaints, information, or suggestions about the content published on Public Health Update, please feel free to contact at blog.publichealthupdate@gmail.com.
#StayUpdated
---