National Immunization Schedule, Nepal
The National Immunization Programme (NIP) is a priority 1 (P1) programme of the Government of Nepal. Launched as the Expanded Programme on Immunization in 2034 BS (1977/78).
Latest updated schedule
---
Updated schedule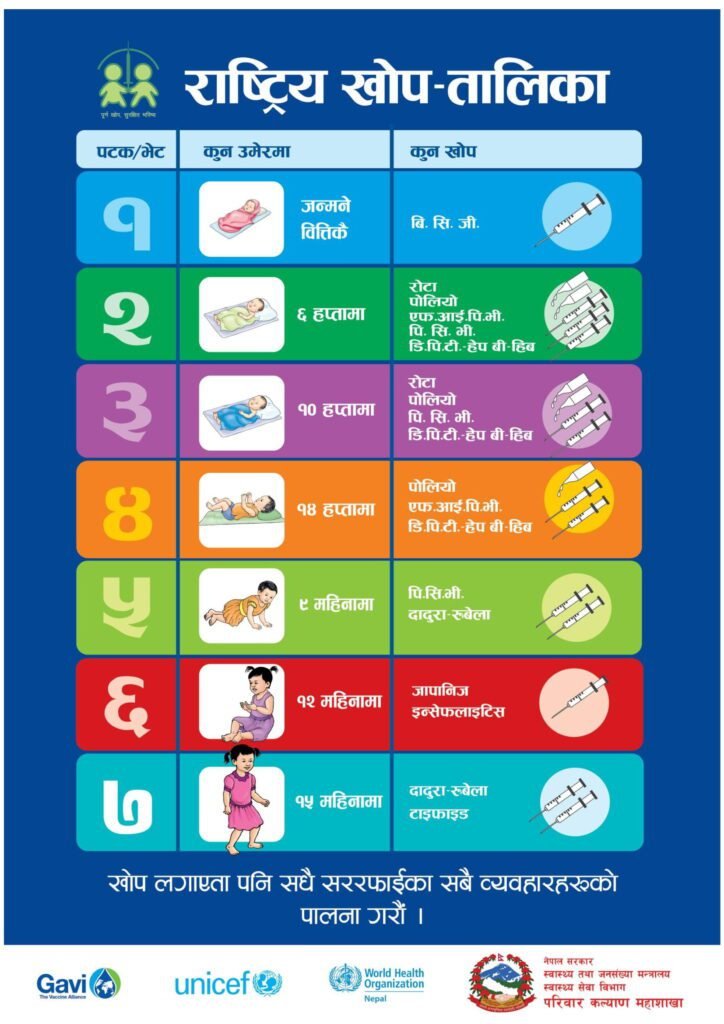 ---
Previously Eleven antigens are provided through the national programme to eligible infants, children and mothers through more than 16,000 outreach sessions, including in geographically and economically hard-to-reach and marginalized communities. Now government added more antigens to control diarrhea caused by rotavirus & FIPV. 
S. No.

Vaccine

Age

Route

Diseases

1.

BCG (Bacillus Calmette Guerin)

At birth (1 dose)

Intradermal

Tuberculosis

2.

Pentavalent Vaccine (Diphtheria, Pertussis, Tetanus, Hepatitis B and Hemophilus influenza B)

6, 10 and 14 weeks (3 doses)

Intramuscular

Diphtheria, pertussis, Tetanus, Hepatitis B and Haemophilus Influenza B

3.

OPV (Oral Polio Vaccine)

6, 10 and 14 weeks (3 doses)

Oral

Polio

4.

PCV (Pneumococcal Conjugate Vaccine)
6, 10 weeks and 9 months (3 doses)

Intramuscular

Pneumococcal diseases (Meninges, ear and chest infections)

5.

Rotavirus vaccine

6, 10 weeks (2 doses)

Oral

Rotavirus diarrhea

5.

fIPV (Fractional Injectable polio vaccine)
Child under 1 year (14 weeks and 9 months, 2 doses)
Child under 5 years (Missed dose): 2 doses should be separated by 8 weeks

Polio

6.

MR (Measles – Rubella)

9 and 15 months (2 doses)

Subcutaneous

Measles and Rubella

7.

JE (Japanese Encephalitis)

12 months (1 dose)

Subcutaneous

Japanese Encephalitis

8
Typhoid Vaccine
15 months (1 dose)
National Immunization Schedule Nepal
---
Rotavirus Vaccine (Information for Parents and Public)

Rotavirus Vaccine Guideline 2075, CHD, Department of Health Services
---
Important Links
---
---
Latest Posts
Thanks for visiting us.
Disclaimer: The resources, documents, guidelines, and information on this blog have been collected from various sources and are intended for informational purposes only. Information published on or through this website and affiliated social media channels does not represent the intention, plan, or strategies of an organization that the initiator is associated with in a professional or personal capacity, unless explicitly indicated.
If you have any complaints, information, or suggestions about the content published on Public Health Update, please feel free to contact us at blog.publichealthupdate@gmail.com.
#StayUpdated
---
---
---
Latest Posts
Thanks for visiting us.
Disclaimer: The resources, documents, guidelines, and information on this blog have been collected from various sources and are intended for informational purposes only. Information published on or through this website and affiliated social media channels does not represent the intention, plan, or strategies of an organization that the initiator is associated with in a professional or personal capacity, unless explicitly indicated.
If you have any complaints, information, or suggestions about the content published on Public Health Update, please feel free to contact us at blog.publichealthupdate@gmail.com.
#StayUpdated
---
---