Overview
World Tuberculosis Day (World TB Day) is celebrated each year on March 24 to raise public awareness and understanding about tuberculosis.
Objective
The main objective of World tuberculosis Day is to educate the public about the impact of TB around the world. It is an opportunity to raise awareness about the burden of tuberculosis (TB) worldwide and the status of TB prevention and care efforts. It is also an opportunity to mobilize political and social commitment for further progress in efforts to end TB.
World TB Day 2022
The theme of World TB Day 2022 – 'Invest to End TB. Save Lives.' –conveys the urgent need to invest resources to ramp up the fight against TB and achieve the commitments to end TB made by global leaders.
This is especially critical in the context of the COVID-19 pandemic that has put End TB progress at risk, and to ensure equitable access to prevention and care in line with WHO's drive towards achieving Universal Health Coverage.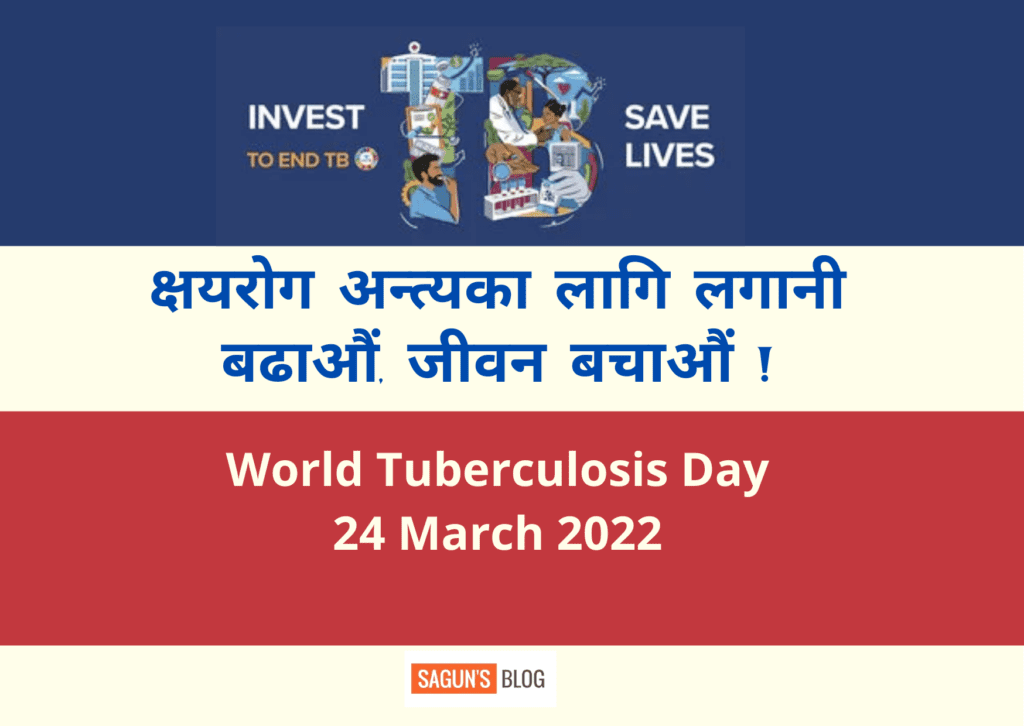 ---
Facts
66,000,000 lives saved since 2000 by global efforts to end TB
9,900,000 people fell ill with TB in 2020
1,500,000 people died of TB in 2020
In 2020, an estimated 10 million people fell ill with tuberculosis(TB) worldwide. 5.6 million men, 3.3 million women and 1.1 million children. TB is present in all countries and age groups. But TB is curable and preventable.
 A total of 1.5 million people died from TB in 2020 (including 214 000 people with HIV). Worldwide, TB is the 13th leading cause of death and the second leading infectious killer after COVID-19 (above HIV/AIDS).
In 2020, the 30 high TB burden countries accounted for 86% of new TB cases. Eight countries account for two thirds of the total, with India leading the count, followed by China, Indonesia, the Philippines, Pakistan, Nigeria, Bangladesh and South Africa. 
In 2020, 1.1 million children fell ill with TB globally. Child and adolescent TB is often overlooked by health providers and can be difficult to diagnose and treat. 
TB is the leading killer of people with HIV. In 2020, there were 375 962 people who had TB and HIV were notified, of whom 88% were on antiretroviral therapy.  Most of the gaps in detection and treatment were in the WHO African Region, where the burden of HIV associated TB is highest.
Multidrug-resistant TB (MDR-TB) remains a public health crisis and a health security threat. Only about one in three people with drug resistant TB accessed treatment in 2020. In some cases an even more severe form of multi-drug resistant TB may develop with bad treatment. Pre-extensively drug-resistant TB (pre-XDR-TB) and (XDR-TB) are forms of TB that responds to even fewer available medicines.
TB treatment saved about 66 million lives globally between 2000 and 2020, but important diagnostic and treatment gaps persist. The treatment success rate for people with TB was 86% in 2019.
Globally, TB incidence is falling at about 2% per year (1.9% from 2019 to 2020). This is much slower than the 4–5% annual decline that was required to achieve the 2020 milestones of the WHO End TB Strategy.
Funding for the provision of TB prevention, diagnostic and treatment services increased from 2010 to 2019, but spending in low and middle-income countries fell from US$ 5.8 billion in 2019 to US$5.3 billion in 2020. This falls far short of the target of US$13 billion per year by 2022 that was set at the first UN high-level meeting on TB.  For research and development, at least an extra US$ 1.1 billion per year is needed to accelerate the development of new tools.
Source of Info: World Health Organization, STOP TB, Global Tuberculosis Report 2020, Global Tuberculosis Report 2021.
Recommended readings
---
Similar days