The National Health Education Information and Communication Center (NHEICC) announces a new campaign to raise awareness on Mask use. The objective of this campaign is to encourage citizens to wear a face mask to prevent the spread of coronavirus (COVID-19).
Nepal Mask Campaign will start from Shrawan 23 to 29, 2078. This public health campaign will raise awareness around the importance of wearing a mask.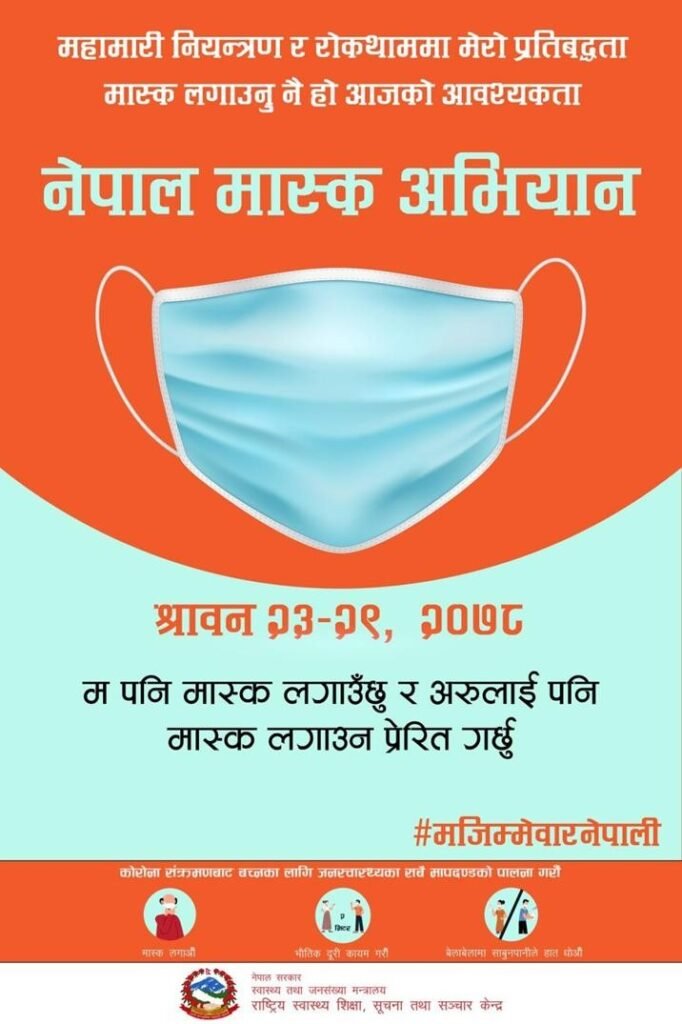 Key Message
Wearing a mask is still necessary to stop the spread of #COVID19. #WearAMask to protect yourself and loved ones from #COVID.
Masks are still critical to stop the spread of #COVID19. When you leave your home, #MaskUp.
#MaskUp whenever you leave your home to reduce the spread of #COVID19.
Wearing a mask helps prevent your respiratory droplets from traveling to other people AND it protects you against respiratory droplets from others. #WearAMask.
The science is clear – to defeat #COVID19, we must #WearAMask, practice social distancing and wash our hands for at least 20 seconds.
When you #WearAMask, you are protecting your friends, your neighbors, your loved ones and yourself. #MaskUp
Why Mask is important?
Masks are one of the important tools to keep ourselves, our loved ones and communities safe from #COVID19. Together, we can do it all!I #WearAMask, like @WHO recommends, But to break the chains of transmission, we must also;
Keep physical distance
Keep cleaning your hand
Keep away from big crowds
Keep covering your mouth and nose when coughing! do it all to stop #COVID19! You, can do, too. 
---
Latest Posts
Thanks for visiting us.
Disclaimer: The resources, documents, guidelines, and information on this blog have been collected from various sources and are intended for informational purposes only. Information published on or through this website and affiliated social media channels does not represent the intention, plan, or strategies of an organization that the initiator associated with in professional or personal capacity, unless explicitly indicated.

If you have any complaints, information, or suggestions about the content published on Public Health Update, please feel free to contact at blog.publichealthupdate@gmail.com.
#StayUpdated
---