World Rabies Day is held annually on September 28. It is the anniversary of the death of Louis Pasteur, who developed the first rabies vaccine. World Rabies Day is the first and only global advocacy, education, and awareness campaign for rabies.
National Guideline on Rabies Prophylaxis in Nepal 2019
World Rabies Day will;
Promotes awareness about rabies prevention, and/or
Reduces rabies transmission (such as vaccinating dogs)
World Rabies Day 2020 theme
The World Rabies Day theme is End Rabies: Collaborate, Vaccinate.
This theme highlights two critical things that will help us achieve global dog-mediated rabies elimination:
The importance of working together to end rabies – a disease that knows no borders; and
Vaccinating animals to prevent the disease at its source, whilst also encouraging post-exposure vaccination to save people exposed to potentially rabid animals.
Key facts
Over 59,000 people die of rabies every year worldwide, and millions more seek
life-saving treatment.
Someone dies of rabies every 9 minutes – these deaths can be stopped.
A child dies every 15 minutes from rabies – save our future by acting now.
29 million people seek life-saving treatment to prevent rabies every year.
It is estimated that around 30,000 cases in pets and more than 100 human rabies cases occur each year with the highest risk are in the Tarai.
Key messages
We can end human deaths from dog-transmitted rabies by 2030.
Rabies elimination is possible. Let's make the possibility a reality by 2030.
Vaccinating dogs protects people too.
Vaccinate your dog. Protecting dogs against rabies helps protect you and your family too.
Immediately wash a bite wound for 15 minutes and consult your doctor about vaccinations.
Avoid dog bites
Rabies-related deaths are preventable; simple and low-cost tools and strategies for rabies control and prevention exist.
100% of human rabies deaths can be prevented.
Controlling dog rabies through vaccination will reduce human healthcare costs.
A Global Strategic Plan has been developed to drive global rabies elimination towards the goal of Zero By 30.
Rabies is still present in over 150 countries.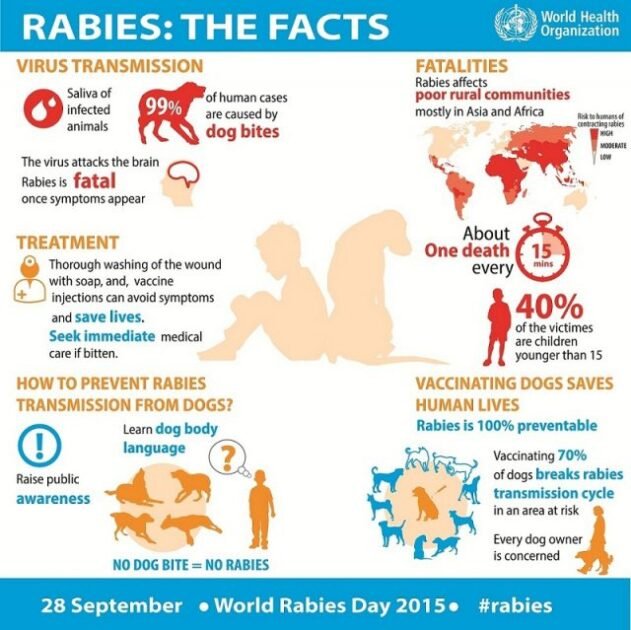 ---
Source of information: Global Alliance for Rabies Control, DoHS annual report
---
---
Latest Posts
Thanks for visiting us.
Disclaimer: The resources, documents, guidelines, and information on this blog have been collected from various sources and are intended for informational purposes only. Information published on or through this website and affiliated social media channels does not represent the intention, plan, or strategies of an organization that the initiator associated with in professional or personal capacity, unless explicitly indicated.

If you have any complaints, information, or suggestions about the content published on Public Health Update, please feel free to contact at blog.publichealthupdate@gmail.com.
#StayUpdated
---