Position: Program Officer
Job Req ID:  65776
The Center of Adolescent Health is looking to hire a Program Officer  to direct and oversee key aspects of the Centers' operations. The ideal candidate will be committed to the Center's mission of working in partnership to promote the health and well-being of young people in Baltimore City. In addition, the ideal candidate will possess excellent organizational and interpersonal skills.
Specific Duties & Responsibilities:
For the Center for Adolescent Health (CAH), the position will:
Manage Center data systems, including REDCap; facilitate team member access to and understanding of REDCap and other project data systems; create and manage standard operating procedures, codebooks, and resource lists for Center data and data systems
Manage reporting and tracking requirements for CDC and other grants (financial and programmatic) create systems for collecting and organizing CAH team input needed for CDC reporting; remind and follow up with team members; in partnership with financial manager, manage ERA commons reporting; draft budget justifications; and track grant requirements
Manage Center finances, including Pcard purchasing and monitoring, and travel reimbursement processing in Concur; maintain Center supplies (inventory and ordering), manage CAH team purchase orders and independent contractor agreements; serve as CAH liaison with central department finance; work with central for petty cash disbursements; ensure center compliance with guidelines; and coordinate with central for annual financial reports
Manage onboarding and other HR tasks within the Center, including leading new CAH team members through the process of onboarding, and monitoring team members to ensure protocols are followed and deadlines met (e.g., my Performance reviews, E210 reporting)
Supervise and train Center interns and trainees on Center protocols and projects and supervise trainee activities and projects as needed
Plan Center team meetings, create and manage invitations and attendee responses, book rooms and food as needed, manage vendors, circulate meeting agendas, take notes, and assign and monitor post-meeting action-items with Center team members and stakeholders
Prepare IRB applications, continuing reviews, and supporting documents
Assemble Center presentations for dissemination
Contribute to CDC core project or other CAH projects on an as-needed basis (e.g., assistance developing protocols, supporting recruitment, data collection and analysis)
Minimum Qualifications (Mandatory):
Bachelor's Degree in related field required. Master's Degree in Education, Public Health, or related field preferred, including coursework in research methods preferred.
Five years of project management experience in health, public health, and/or education required.
Technical Qualifications or Specialized Certifications:
Ability to work independently and use reference manuals to develop proficiency with software or computer systems.
Good organizational, written and verbal communication skills to manage multiple programs.
Good interpersonal skills in dealing with a variety of constituents including faculty, staff, students, community members and funders.
Able to effectively prioritize and work on multiple tasks with concurrent deadlines and demonstrate excellent time management skills and efficiency.
Preferred Qualifications:
Masters Degree.
SAP Experience/Financial Transaction Processing.
Classified Title: Program Officer
Role/Level/Range: ACRP/04/MD 
Starting Salary Range: $52,495 – $72,210 annually (commensurate with experience)
Employee group: Full Time 
Schedule: Monday-Friday 8:30 a.m. – 5:00 p.m. 
Exempt Status: Exempt  
Location: School of Public Health 
Department name: PFRH CAH 
Personnel area: School of Public Health
The successful candidate(s) for this position will be subject to a pre-employment background check.
If you are interested in applying for employment with The Johns Hopkins University and require special assistance or accommodation during any part of the pre-employment process, please contact the HR Business Services Office at jhurecruitment@jhu.edu. For TTY users, call via Maryland Relay or dial 711.
Johns Hopkins has mandated COVID-19 and influenza vaccines, as applicable. Exceptions to the COVID and flu vaccine requirements may be provided to individuals for religious beliefs or medical reasons or because the individual is pregnant or attempting to become pregnant. Requests for an exception must be submitted to the JHU vaccination registry. For additional information, applicants for SOM positions should visit https://www.hopkinsmedicine.org/coronavirus/covid-19-vaccine/ and all other JHU applicants should visit https://covidinfo.jhu.edu/health-safety/covid-vaccination-information/.
The following additional provisions may apply depending on which campus you will work.  Your recruiter will advise accordingly.
The pre-employment physical for positions in clinical areas, laboratories, working with research subjects, or involving community contact requires documentation of immune status against Rubella (German measles), Rubeola (Measles), Mumps, Varicella (chickenpox), Hepatitis B and documentation of having received the Tdap (Tetanus, diphtheria, pertussis) vaccination. This may include documentation of having two (2) MMR vaccines; two (2) Varicella vaccines; or antibody status to these diseases from laboratory testing. Blood tests for immunities to these diseases are ordinarily included in the pre-employment physical exam except for those employees who provide results of blood tests or immunization documentation from their own health care providers. Any vaccinations required for these diseases will be given at no cost in our Occupational Health office.
Equal Opportunity Employer
Note: Job Postings are updated daily and remain online until filled. 
EEO is the Law
Learn more:
https://www.eeoc.gov/sites/default/files/migrated_files/employers/poster_screen_reader_optimized.pdfSchool of Public Health – East Baltimore Campus
---
Latest Posts
Thanks for visiting us.
Disclaimer: The resources, documents, guidelines, and information on this blog have been collected from various sources and are intended for informational purposes only. Information published on or through this website and affiliated social media channels does not represent the intention, plan, or strategies of an organization that the initiator is associated with in a professional or personal capacity, unless explicitly indicated.
If you have any complaints, information, or suggestions about the content published on Public Health Update, please feel free to contact us at blog.publichealthupdate@gmail.com.
#StayUpdated
---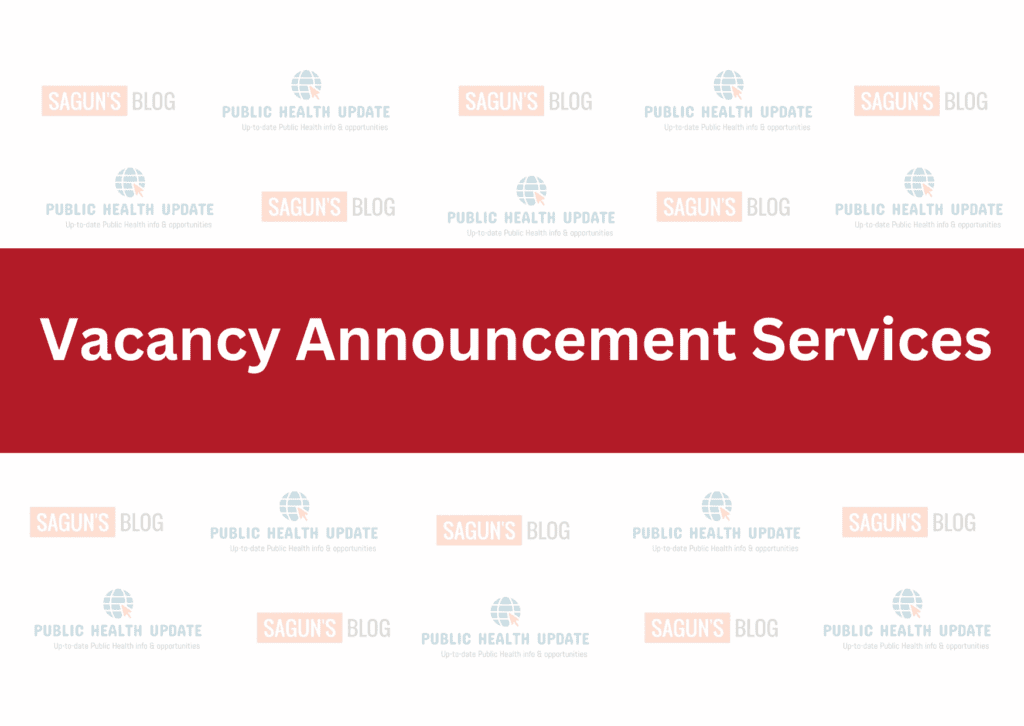 ---