Psychiatric Research Unit, Department of Psychiatry, University Hospital Southern Denmark and Institute of Clinical Research, University of Southern Denmark (SDU) is looking for applicants for a PhD scholarship within the field of epidemiology, reproduction, and mental health.
Research environment
The candidate will join a research group at Psychiatric Research Unit, Department of Psychiatry, University Hospital Southern Denmark and Institute of Clinical Research, University of Southern Denmark (SDU), and be affiliated with the pharmacoepidemiology group at Clinical Pharmacology, Pharmacy and Environmental Medicine, Department of Public Health, University of Denmark.
Jointly these research environments will provide the fundaments for the PACE project representing expertise in perinatal mental health, reproductive and psychiatric epidemiology, as well as pharmacoepidemiology and method development.
Project description
Postpartum depression (PPD) is observed in 10-15% of all new mothers, directly inferring PPDs are triggered by some component either of pregnancy, delivery, or the postpartum period. However, it is not clear to which extent the biological aspect of pregnancy and childbirth vs. the psychological impact of motherhood explains PPD risk, and further how genetic vulnerability or environmental factors individually or in combination explain the increased risk of PPD.
The PACE project will apply a triangulation approach to understand the underlying causality and etiology behind PPD. Leveraging the unique Danish registers, we will address why motherhood is associated with increased risk of depression including unique study designs, including a twin study, a natural experiment and applying the use of negative controls.
The PACE project is funded by Novo Nordisk Foundation and among others covers a fully funded 3-year PhD position. The applicant is however expected to apply for own funding to cover costs related to research stay at another research institution and costs related to conference participation.
The outlined work for the PhD project will be done by the PhD candidate in collaboration and after coordination with co-supervisors (to be determined) and professor Trine Munk-Olsen (main supervisor). More specifically, the project should focus on to which extent is biology of pregnancy and childbirth related to risk of PPD and consider how genetic vulnerability (measured as family history of various mental disorders) influence PPD risk.
Specific studies could focus on:
Comparison of risk of PPD in mothers having a biological child vs. mothers adopting a child
Comparison of risk of and risk factors for PPD in mothers vs. fathers
Risk of PPD in mothers with family history of PPD, depression or PTSD
Qualifications
We are looking for a candidate with a master's degree in health science, public health, pharmacology, or similar degrees. Students expecting to finish their degree in the summer (2022) are also invited to apply.
We invite motivated candidates with interest in quantitative research within the field of epidemiology and mental health to apply and will specifically look for candidates with documented experience in research and scientific manuscript writing, as well as interests and/or hands-on experience with e.g., systematic reviews or meta-analyses, register-based research and coding/statistical analyses in e.g. Stata.
The successful applicant will join a new dynamic research team with both national and international collaborators and will be introduced and included in relevant discussions, research projects and collaborations.
Suitable candidates will be invited for an informal interview after the application deadline.
For further information about the project, please contact:
Professor Trine Munk-Olsen
Psychiatric Research Unit
Department of Psychiatry, University Hospital Southern Denmark
Institute of Clinical Research
University of Southern Denmark (SDU)
Phone number: +45 24 46 62 97 
E-mail: tmun@sdu.dkApplications must include:
At letter stating the interest, motivation, and qualifications for the project (max. 2 pages) – upload under "Application form".
Detailed CV, including personal contact information
Certified copy of diploma (Master's degree in a relevant field)
Applications must be submitted electronically using the link "Apply online".
Attached files must be in Adobe PDF or Word format. Each box can only contain a single file of max. 10 Mb.
Incomplete applications and applications received after the deadline will neither be considered nor evaluated. This also applies to reference letters.
Application deadline: April 4, 2022.

Successful candidates will be asked to send an application to the PhD Secretariat, Faculty of Health Sciences, to be enrolled as PhD students.
The PhD programme will be carried out in accordance with Faculty regulations and the Danish Ministerial Order on the PhD Programme at the Universities (PhD order)
The terms of employment as a salaried PhD Research Fellow are stated in the Agreement between the Ministry of Finance and the Danish Confederation of Professional Associations (AC).

The University wishes our staff to reflect the diversity of society and thus welcomes applications from all qualified candidates regardless of personal background.
---
Latest Posts
Thanks for visiting us.
Disclaimer: The resources, documents, guidelines, and information on this blog have been collected from various sources and are intended for informational purposes only. Information published on or through this website and affiliated social media channels does not represent the intention, plan, or strategies of an organization that the initiator is associated with in a professional or personal capacity, unless explicitly indicated.
If you have any complaints, information, or suggestions about the content published on Public Health Update, please feel free to contact us at blog.publichealthupdate@gmail.com.
#StayUpdated
---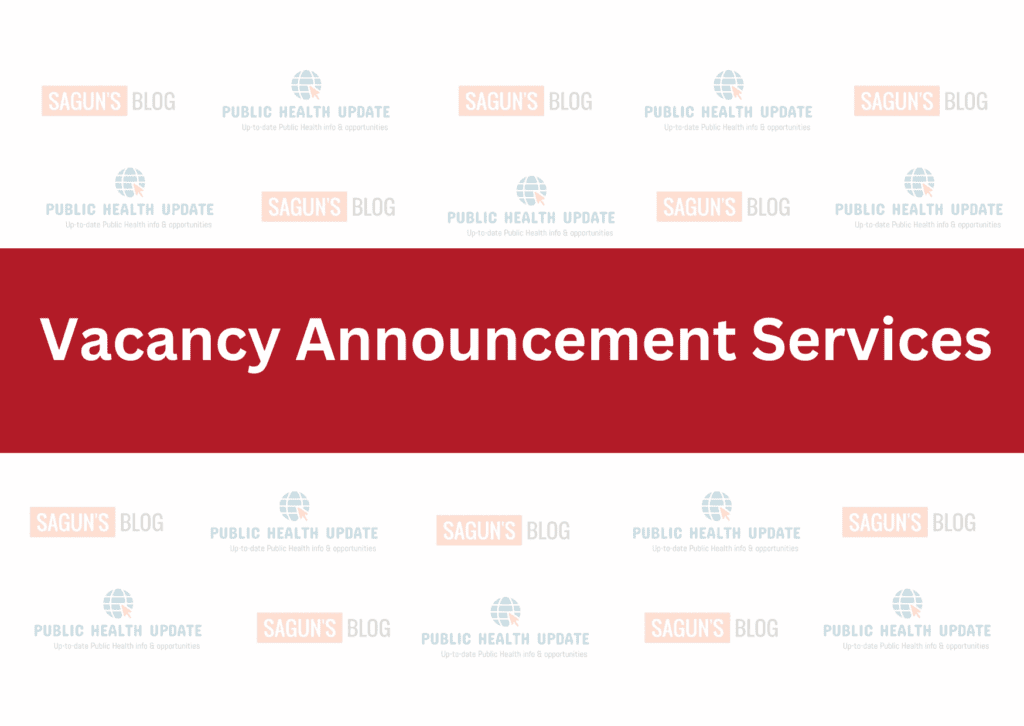 ---