About report
Nepal National Health Accounts 2016/17 report was prepared adhering to System of Health Accounts 2011 (SHA 2011), a global standard framework for producing Health Accounts with necessary refinements relevant to the country context. This report provides the estimates of health care expenditures occurred in the health system of Nepal, conducted based on the pre-established expenditure boundaries, data sources, classification codes and methodology. All reasonable precautions have been taken to justify the information presented in this publication.
The estimates presented in this report could be further improved. Readers are welcome to contact the NHA team with suggestions and/or for further clarifications. This report does not present or suggest the policy implications of health care expenditures. While limited analysis has been done in this report, it is the responsibility of the readers and stakeholders to use, interpret, and draw inferences from the data in this publication. This report is available online at http://www.mohp.gov.np. If any changes in estimates due to improvements are made, the latest version for the most up to date report will be made available online.
Objective
The objective of this round of NHA was to estimate and track the spending by various sectors such as the government, household, external donors, national and international NGOs, private sectors, employers, insurance providers, etc. in the country's health system and the way funding was used to deliver the health services and goods to the people. The purpose was to understand the country's health financing landscape and their mechanism to fund, manage and use the financing resources through the evidence, based on health spending, and find the answers to the key policy questions.
Key summary
This round of NHA estimates was based on the six-dimension classification of System of Health Accounts (SHA) 2011 Framework, a globally standardized process for systematic description and reporting of financial flows related to health care in a defined territory.
The health expenditure data was collected from various primary and secondary sources and were reviewed for completeness, comprehensiveness, consistency, and plausibility. Health Accounts Production Tool (HAPT) was used for data validation and analysis.
The Current Health Expenditure (CHE) in nominal prices was estimated at NPR 145.30 billion (5.5% of GDP) and the capital expenditure at NPR 14.42 billion (0.5% of GDP) in the year 2016/17. Capital expenditure increased sharply since the last NHA period, where slightly less than half of the total capital investment was made on new and upgraded buildings. Total Health Expenditure (THE) was estimated at NPR 159.71 billion (USD 1.50 billion) which was 6.0% of GDP and the per capita THE was NPR 5435 (USD 51.0) in the year 2016/17.
General Government Health Expenditure (GGHE) using all the sources was NPR 51.23 billion (USD 0.5 billion) which was around one-third of THE and 7.1% of total governmental spending. The GGHE as a share of GDP was estimated at 1.9%. The share of GGHE in the CHE increased from 21.6% since fiscal year 2015/16 to 25.3% in 2016/17. By spending around 75% of GGHE, the Ministry of Health and Population was the largest agency for managing the government's spending on health.
The major government's health expenditure was on curative care, (around one-third), followed by capital formation (27.9 %) and preventive care (19.4%) in the year 2016/17.
The overall external funds for health were estimated at 15.4% of CHE that includes direct foreign transfers and foreign transfer earmarked for health through and distributed by the government. Among direct foreign transfers, close to two-thirds were received from donors, such as INGOs and philanthropic organizations, while the remaining came from bilateral and multilateral agencies (2.6% and 2.2% of CHE).
Household's OOP payment for health care was the largest source and payer of health care by contributing 57.4% of current health spending in the health system of Nepal. The estimated household
OOP expenditure was NPR 83,363.6 million (per capita NPR 2,837; USD 26.6). As high as 75.1% of OOP payment for health care was made for medicines and medical goods followed by curative care 13.7%.
This round of NHA estimates that as much as 85% of total OOP expenditure made at the hospitals, were incurred at the private hospitals. An analysis of disease-wise spending shows that as much as half of the total household's OOP expenditure was made on non-communicable diseases.
As high as 45% of the CHE was made for the medicines and medical goods, while curative care demanded about 23.1% of CHE, where two-thirds of it was spent on outpatient care. The preventive and promotive care services drew about 14.3% of CHE, which has declined since the last NHA period.
Similarly, in this NHA period, overall spending on the medical laboratory, imaging, and patient transportation service was estimated at 4.6% of CHE.
This round of NHA estimates that the spending on non-communicable diseases has increased since the fiscal year 2015/16. In this NHA period it was almost half of the total CHE made for the disease categories that could be classified. The CHE on infectious and parasitic diseases remains higher at 20.4% of CHE, while it was estimated that there was a decline in the CHE on reproductive health and nutritional deficiencies.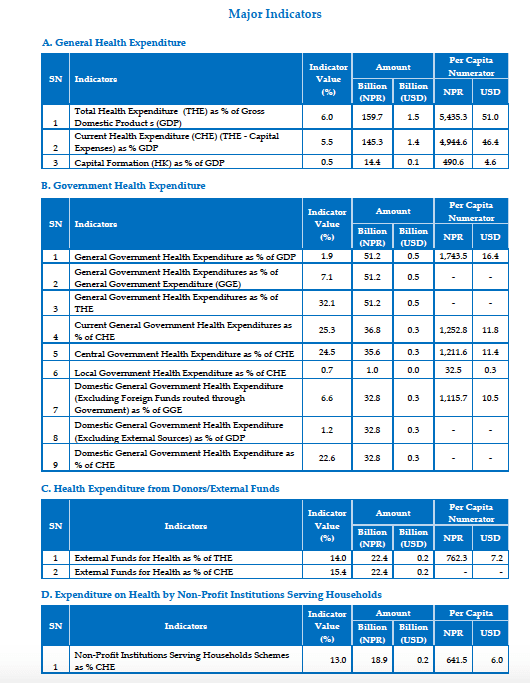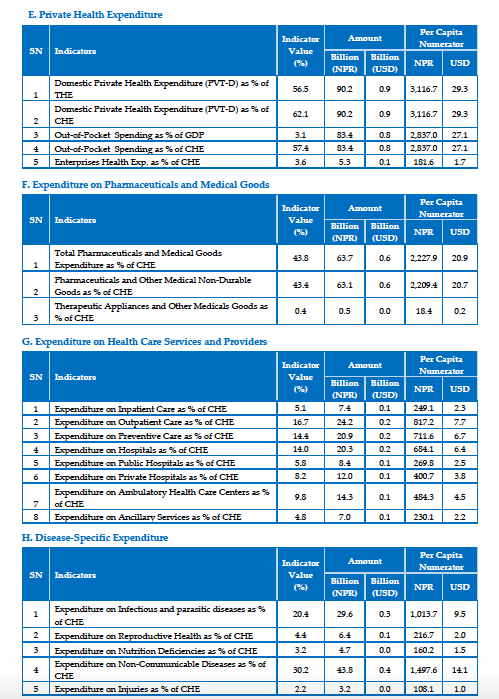 ---
Latest Posts
Thanks for visiting us.
Disclaimer: The resources, documents, guidelines, and information on this blog have been collected from various sources and are intended for informational purposes only. Information published on or through this website and affiliated social media channels does not represent the intention, plan, or strategies of an organization that the initiator is associated with in a professional or personal capacity, unless explicitly indicated.
If you have any complaints, information, or suggestions about the content published on Public Health Update, please feel free to contact us at blog.publichealthupdate@gmail.com.
#StayUpdated
---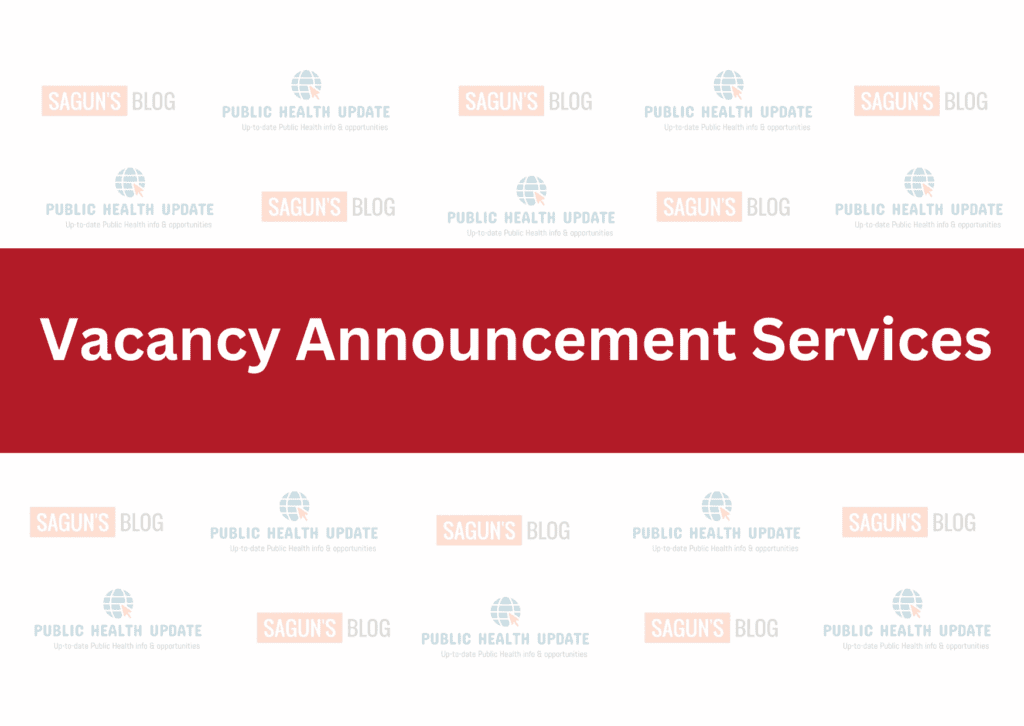 ---