Kathmandu University (KU), School of Engineering, calls for application for admission in following Master Degree Programs for the academic year 2022/2023.
Master in Health Informatics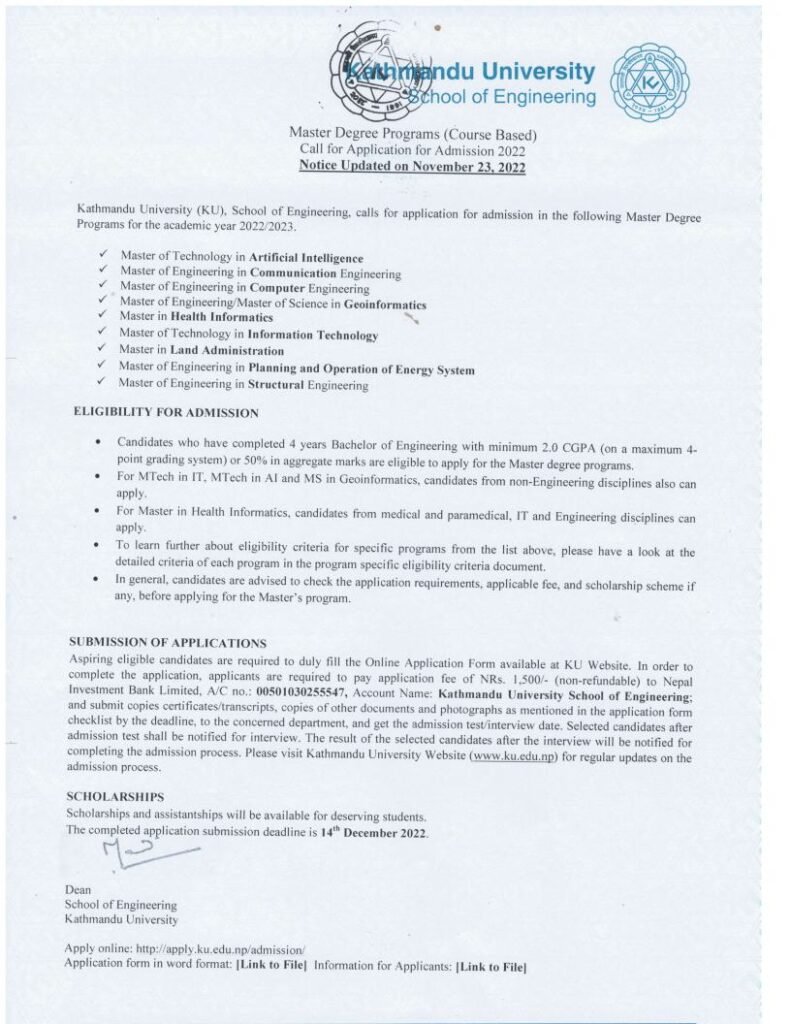 Department responsible: Computer Science & Engineering
Intake capacity: 10
Application Eligibility Criteria: Candidates with score of at least 50% in aggregate or CGPA 2.0 out of 4.0 grading system from any recognized institution, and
Undergraduate degree in Medicine, Nursing, Public Health, Pharmacy, Medical Lab Technology or
Undergraduate degree in Engineering/Science and Technology/Computer Application
With a total of at least 16 years of education with science background, or
M.Sc. in Physics, Chemistry, Mathematics, Statistics or any other related field are considered eligible for the admission to the master degree program in Health Informatics.
Note: The applicants must have science background in their PCL/+2 level.
Duration: 2 years (4 semesters) full-time study program which will run in the Lungs Center, Chaukot, Dhulikhel, KU. The admission is open for Nepalese as well as foreign students.
Selection procedure:
Admission Test/Interview: Selection procedure will be based on the Interview.
Apply online: http://apply.ku.edu.np/admission/
Application form in word format: [Link to File]
Information for Applicants: [Link to File]
Attachments:
Program_Specific_Application_Eligibility_Nov_20221669110962.pdf
SoE-Application_Form_Masters_SoE-20221669110971.docx