19 August 2020: The World Health Assembly has adopted the global strategy to accelerate the elimination of cervical cancer as a public health problem.
Cervical cancer is a preventable and curable disease, as long as it is detected early and managed effectively. Yet it is the fourth most common form of cancer among women worldwide, and the most common cancer among women living with HIV, who are six times as likely to develop cervical cancer. In 2018, the disease claimed the lives of more than 300 000 women.
Cancer of the cervix is also a disease that reflects global inequity. Its burden is greatest in low- and middle-income countries, where access to public health services is limited and screening and treatment for the disease have not been widely implemented. In 2018, nearly 90% of all deaths worldwide occurred in low- and middle-income countries.  Further, the proportion of women with cervical cancer who die from the disease is greater than 60% in these countries, which is more than twice the number in many high-income countries, where it is as low as 30%.
The human papillomavirus (HPV) is the primary cause of cervical cancer, and the HPV vaccine is a safe and effective way to protect women against infection from HPV. But as of 2020, less than a quarter of low-income countries have introduced the HPV vaccine into their national immunization schedules, while more than 85% of high-income countries have done so. Similar disparities are also observed in the establishment of cervical cancer screening programmes.
"Most of these women are not diagnosed early enough, and lack access to life-saving treatment," said Dr Tedros Adhanom Ghebreyesus, WHO Director-General, when he issued the Call to Action in 2018. "These women are raising children, caring for their families and contributing to the social and economic fabric of their communities. If we don't act, deaths from cervical cancer will rise by almost 50% by 2040." With the elimination strategy's adoption by the World Health Assembly, Dr Princess Nothemba Simelela, WHO Assistant Director-General for Strategic Programmatic Priorities, said the resolution presents an opportunity for leaders and advocates "to end the inequity and restore women's dignity." 
The path to eliminating cervical cancer
To eliminate cervical cancer, all countries must reach and maintain an incidence rate of below four per 100 000 women. Attaining this goal requires strategic action, and WHO outlines the necessary actions in its global strategy, envisioning a world where cervical cancer is eliminated as a public health problem and keeping the 2030 agenda on SDGs.
WHO's strategy of elimination rests on three main pillars: 
prevention through vaccination
screening and treatment of precancerous lesions
treatment and palliative care for invasive cervical cancer
All three pillars must be implemented collectively and at scale to achieve the goal of elimination. HPV vaccination offers long-term protection against cervical cancer. Screening and treatment of precancerous lesions can prevent pre-cancer from developing into cancer.  For those who are identified with invasive cancer, timely care and treatment saves lives, while palliative care can greatly reduce pain and suffering.
Targets or milestones
Based on the three key pillars of the global strategy, WHO recommends a set of targets or milestones that each country should meet by 2030 to get on the path to eliminate cervical cancer within the century:
90% of girls fully vaccinated with the HPV vaccine by the age of 15;
70% of women screened using a high-performance test by the age of 35, and again by the age of 45; and
90% of women identified with cervical disease receive treatment (90% of women with pre-cancer treated and 90% of women with invasive cancer managed).
Projections show that achieving the 90-70-90 targets by 2030 can reduce the median cervical cancer incidence rate by 10% by 2030, and by 2120, 70 million cases could be averted. Additionally, an estimated 62 million cervical cancer deaths could be averted by 2120. In the meantime, implementing the strategy will save lives today.
A robust monitoring system, including population-based cancer registries, is essential to keep track of the progress and to make course corrections.
Cervical cancer elimination would also result in positive economic and societal outcomes. By 2030, around 250 000 women will remain productive members of the workforce, adding an estimated US $28 billion to the world's economy: US $700 million as a direct result of increased workforce participation and about US $27 billion as an indirect benefit of good health.
COVID-19 could disrupt efforts to reach the targets outlined in the global strategy. In the midst of the pandemic, access to lifesaving treatments remains crucial. It is critical to ensure that essential health services continue, with all appropriate safety precautions in place, so that no more women die from this preventable disease.
Eliminating cervical cancer is within reach
Cervical cancer stands as one of the world's greatest public health failures, but through strong action and aligned intervention, elimination is within reach for all countries. The technology and tools exist to prevent this disease, along with proven measures for early diagnosis and treatment.
"Through cost-effective, evidence-based interventions, including human papillomavirus vaccination of girls, screening and treatment of precancerous lesions, and improving access to diagnosis and treatment of invasive cancers, we can eliminate cervical cancer as a public health problem and make it a disease of the past," said Dr Tedros.
The moment has arrived for an ambitious, concerted and inclusive strategy to accelerate the elimination of cervical cancer as a global public health problem. It is our collective responsibility to bring it to fruition: policy makers, healthcare providers, civil society, the research community, and the private sector all have important roles to play. Now is the time to act.
WHO
---
Related readings
---
Latest Posts
Thanks for visiting us.
Disclaimer: The resources, documents, guidelines, and information on this blog have been collected from various sources and are intended for informational purposes only. Information published on or through this website and affiliated social media channels does not represent the intention, plan, or strategies of an organization that the initiator is associated with in a professional or personal capacity, unless explicitly indicated.
If you have any complaints, information, or suggestions about the content published on Public Health Update, please feel free to contact us at blog.publichealthupdate@gmail.com.
#StayUpdated
---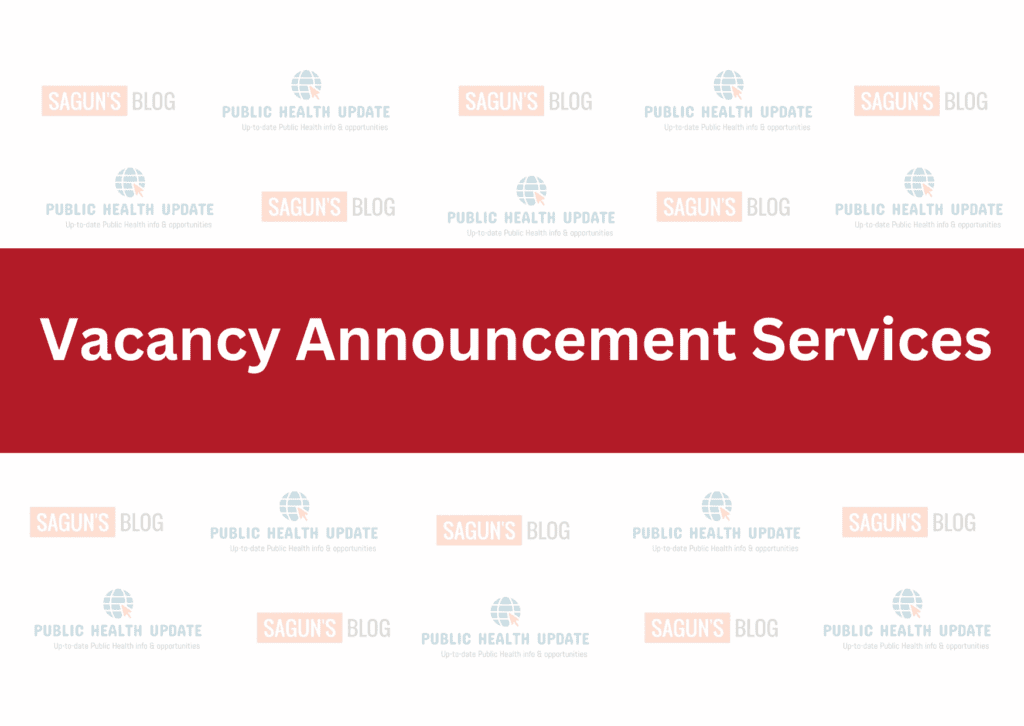 ---