Nurse Recruitment Pilot: Application process goes live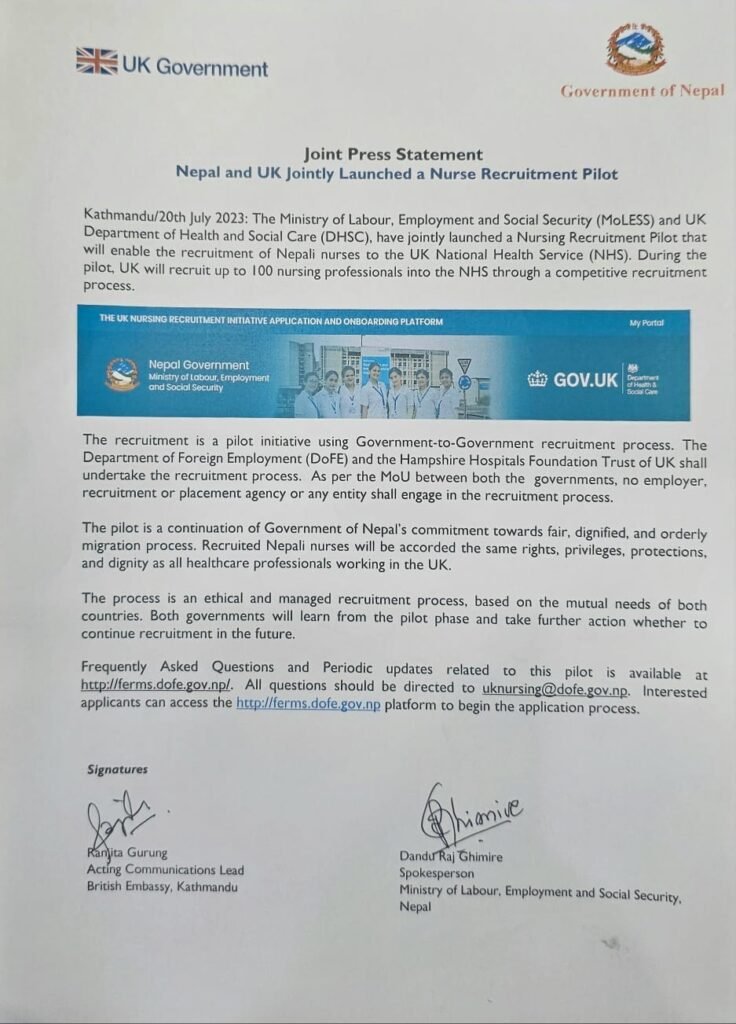 The Department of Foreign Employment (DoFE) welcomes interested applicants to its online platform for the receipt of applications from eligible participants. The governments of the UK and Nepal have signed a Government-to-Government (G2G) agreement to begin a fair and ethical recruitment process of Nepali healthcare professionals to work in the UK's health sector. The recruitment process will be undertaken only through DoFE's online platform. DoFE is working closely with the UK's Department of Health and Social Care's (DHSC's) designated entity on this recruitment.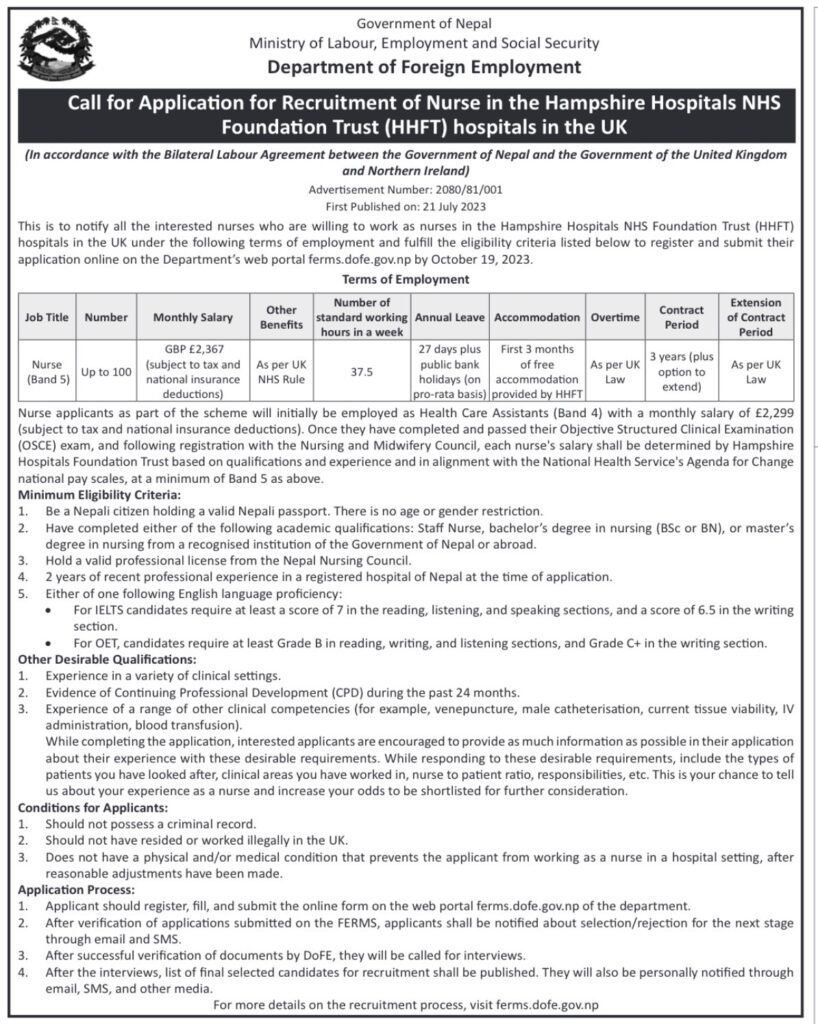 This platform serves as the only avenue for participating in the application and selection process. Through this platform interested applicants can see details on eligibility requirements, complete the application, as well as participate in the shortlisting and selection process. Successful candidates can then work through this platform to participate in the orientation and seek the final clearances for their move to the United Kingdom. This entire process will be handled through this platform. Participants are directed not to visit DoFE or approach any other third party. Any physical interaction, if required, will be communicated to the applicant through this platform (as well as email and SMS) once they are registered. Applicants are encouraged to send all their queries to uknursing@dofe.gov.np
Applications for the pilot phase of recruitment will open on July 20th and will close on October 19, 2023. Participants that meet the eligibility criteria can apply immediately, and those that need to complete some of the eligibility requirements can still begin the application process and upload their outstanding eligibility information before the application deadline of October 19th.
Applicant Requirements
The applicants to be recruited for the UK Nursing Initiative shall fulfil the following minimum set of requirements:
Be a Nepali citizen holding a valid Nepali passport. The passport must be valid for atleast one year during time of application for consideration for recruitment.
Have completed either of the following academic qualifications: Staff Nurse, Bachelor's Degree in Nursing (BSc or BN), or Master's degree in nursing from a recognised institution of the Government of Nepal or abroad.
Hold a valid professional license from the Nepal Nursing Council.
At least two years of recent professional experience in a registered hospital of Nepal at the time of application. Any work experience completed before 2019 shall not be considered.
Either of one following English language proficiency* :

For IELTS candidates require at least a score of 7 in the reading, listening and speaking sections, and a score of 6.5 in the writing section.
For OET, candidates require at least Grade B in reading, writing and listening sections, and Grade C+ in the writing section.
* Applicants can submit scores of up to two tests taken with in a year. They will have the benefit of combining the best score in each band among the two tests increasing their chances of meeting the English language requirement.
Other desirable requirements will include:
Experience in a variety of clinical settings
Evidence of Continuing Professional Development (CPD) during the past 24 months
Experience of a range of other clinical competencies (for example, venepuncture, male catheterisation, current tissue viability, IV administration, blood transfusion)
Note: While completing the application, please provide as much information in your application about your role as you can. While responding to these desirable requirements, include the types of patients you have looked after, clinical areas you have worked in, nurse to patient ratio, responsibilities, etc. This is your chance to tell us about your experience as a nurse.
Applicants are strongly encouraged to read the Implementation Protocol and DoFE Operating Procedures to fully understand the recruitment process.
NOTE OF CAUTION
No other UK or Nepali employer or recruitment agency is permitted to carry out active health worker recruitment activities in Nepal under this G2G agreement. Please refrain from engaging with any third parties. Please direct all your questions through the platform above. Selected nurses will not incur any fees for the recruitment. For successful candidates, the main costs associated with the recruitment purpose will be reimbursed or paid for.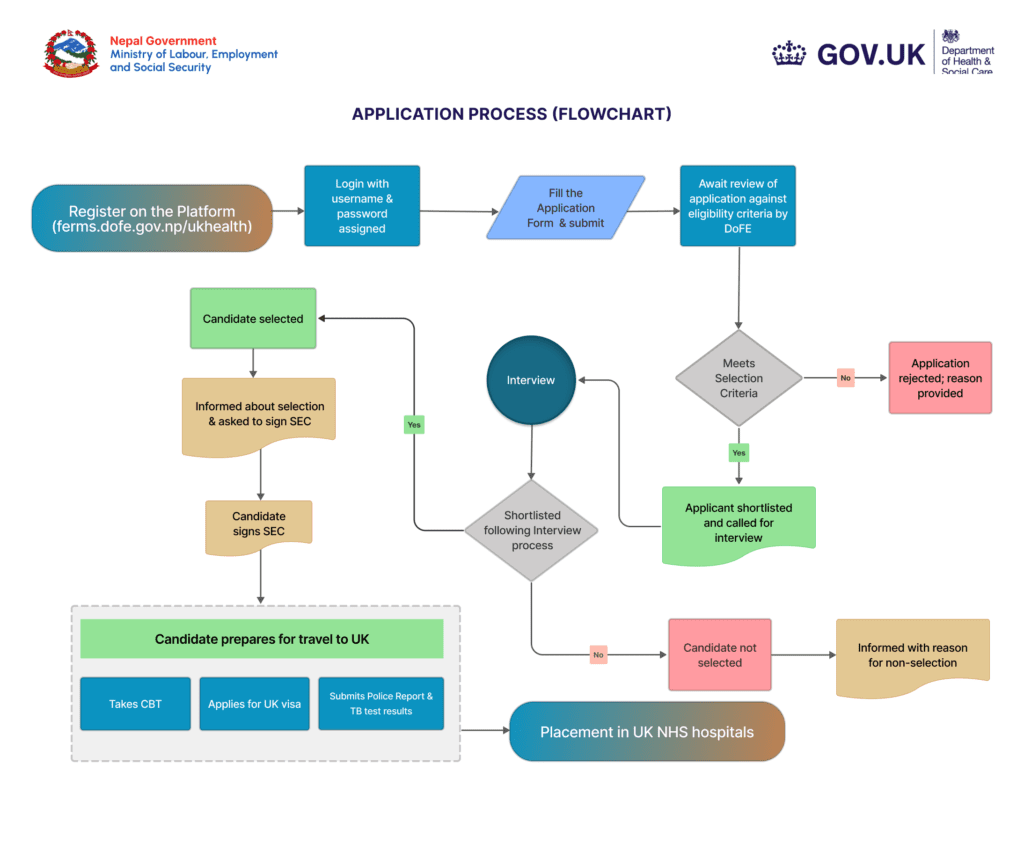 More information
---
Latest Posts
Thanks for visiting us.
Disclaimer: The resources, documents, guidelines, and information on this blog have been collected from various sources and are intended for informational purposes only. Information published on or through this website and affiliated social media channels does not represent the intention, plan, or strategies of an organization that the initiator is associated with in a professional or personal capacity, unless explicitly indicated.
If you have any complaints, information, or suggestions about the content published on Public Health Update, please feel free to contact us at blog.publichealthupdate@gmail.com.
#StayUpdated
---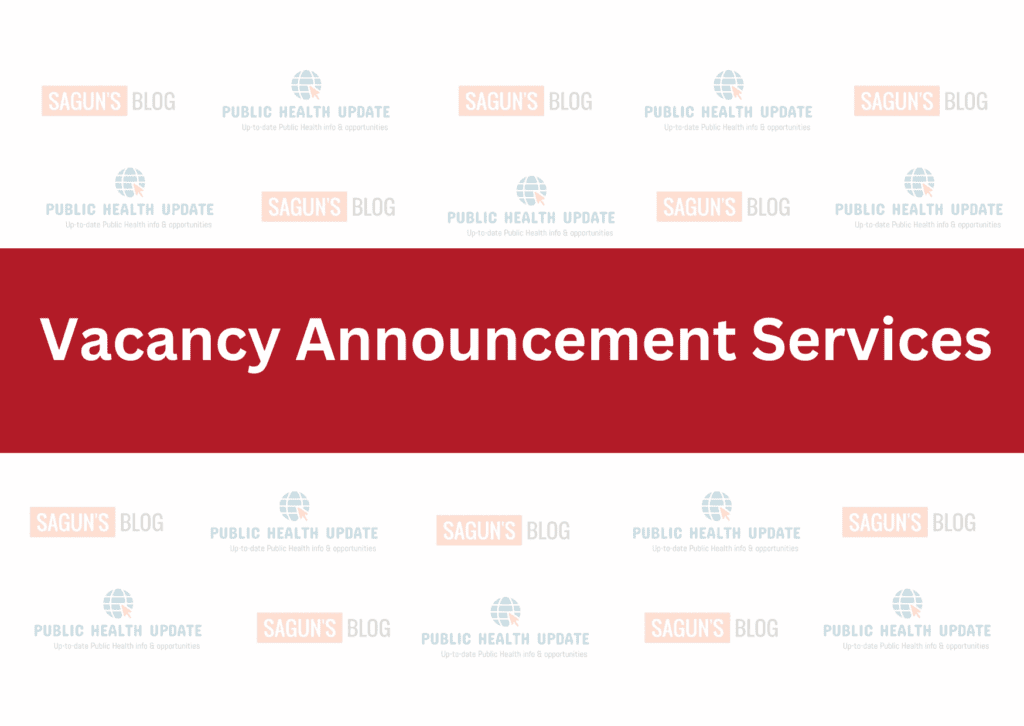 ---