The Humphrey Fellowship Program was initiated in 1978 to honor the memory and accomplishments of the late Senator and Vice-President, Hubert H. Humphrey. Fellows are selected through a competitive process based on their potential for leadership and commitment to public service in the public or private sector.
The Hubert H. Humphrey Fellowship Program is a United States Government-funded program, sponsored by the U.S. Department of State, Bureau of Educational and Cultural Affairs (ECA). At ECA, the Humphrey Fellowship Program is coordinated by the Humphrey Fellowships and Institutional Linkages Branch (ECA/A/S/U) of the Office of Global Educational Programs. It is administered by the Institute of International Education (IIE) under a cooperative agreement with ECA. As the Humphrey Fellowship Program belongs to the family of Fulbright Exchange Programs, the J. William Fulbright Foreign Scholarship Board (FFSB) has overall responsibility for the program and for the approval of candidates.
Program Components
a. Non-Degree Academic Study
Humphrey Fellows pursue tailored study programs at participating host institutions, where freedom from the requirements of a degree program gives each Fellow the flexibility to pursue a self-directed, individualized program at a host campus. Approximately 13 U.S. campuses have been selected through a competitive process based on their ability to offer institutional and professional resources to host cohorts of Fellows in designated fields of study. Humphrey Fellows may not request placement at any particular university.  
Each campus has at least one designated faculty coordinator for academic and administrative support. In addition, faculty advisors assist Fellows in pursuing balanced academic and professional programs. Even though Fellows will spend time in an academic setting and are able to take classes at a U.S. university, the Humphrey Fellowship Program is classified as a non-degree program by the Student and Exchange Visitor Information System (SEVIS). Humphrey Fellows cannot transfer from non-degree status to degree status under any circumstances under their program.
b. Leadership and Professional Development
Professional enrichment activities include professional visits, enhancement skills workshops, conferences, training programs, and a professional affiliation (placement). The professional affiliation provides firsthand exposure to a U.S. work environment on a full-time basis for a minimum period of six weeks. Early in the academic year, each Fellow develops, with assistance from the local campus coordinator and faculty advisors, a detailed plan of practical professional activities geared to the Fellow's program objectives.
c. Duration
The program arranged for Humphrey Fellows extends from August or early September 2023 to the following June 2024. Applicants who need additional English training may be required to arrive in the United States as early as 20-25 weeks ahead for intensive language study before beginning their regular university programs. Candidates must be able to participate in the full period of the English and/or university programs.
d. Financial Provisions
The Humphrey Fellowship provides: 
a monthly maintenance stipend 
accident and sickness coverage 
tuition and university fees 
round-trip international travel to the host institution (and to the Fellow's English-language training program when applicable), and domestic travel to required Humphrey workshops and seminar events 
settling-in allowance, book allowance 
computer subsidy (when applicable) 
and professional development allowance
Dependents:
The Humphrey Fellowship Program does not provide an allowance for dependents and the stipend provided by the Fellowship grant is not sufficient to support family members. Humphrey Fellows should plan to bring with them some personal funds to cover incidental expenses not covered in the grant.  
Humphrey Fellows are responsible for providing travel, insurance, and financial support for any dependents accompanying them to the United States. Please note that Long-Term English program and other orientation centers cannot accommodate dependents. Even if dependent approval is obtained, dependents may not arrive in the United States until the Fellows are settled into their academic year programs and have secured housing (at least 30 days after the Fellow's arrival) at the primary Humphrey Fellowship host campus.
Eligibility Requirements
Candidates must be policy-makers, managers, or administrators in leadership positions with a commitment to public service from the public or private sectors including non-governmental organizations. Fellowships are competitive and will be awarded on the basis of excellence in professional and personal qualifications as well as leadership potential. 
All applicants must 
Possess Nepali citizenship 
Be employed at a mid-career, policy level with progressively more responsible working experience in the government, NGO or private sector 
Have at least 5 years of progressively more responsible professional experience in Nepal as of the application submission deadline of July 23, 2022. Volunteer jobs, internships, and work done as a requirement for an academic degree shall not be counted towards the required duration of work experience 
The professional experience should be in the relevant field, after the completion of a university degree i.e. a 4-year bachelor's degree, or if the bachelor's degree is of 2-year/3-year duration, then a master's degree is also required. Candidates who have two or more 2-year/3-year bachelor's degrees in different fields but who do not have a master's degree are ineligible to apply 
Be proficient in speaking, reading and writing English (See the supplemental English program.) 
Be eligible for a non-immigrant J-1 U.S. visa (see Visa Sponsorship below) 
Have a demonstrable commitment to public service and potential for national leadership 
Have a wish to develop problem-solving capacities, enhance capabilities to assume greater career responsibilities, and return to a significant public service role upon completion of the Humphrey Program. 
The Humphrey competition is not open to: 
Recent university graduates (even if they have significant positions) 
University teachers with no management or policy responsibilities, except for teachers of English as a foreign language, and specialists in substance abuse prevention and treatment 
Individuals who have attended a graduate school in the United States for one academic year or more during the seven years prior to August 2023, 
Individuals with U.S. in-country experience of any kind lasting more than six months during the five years prior to August 2023, 
Individuals with, or in the process of obtaining, dual U.S. citizenship or U.S. permanent resident status are ineligible for a J visa, and 
Employees of USEF-Nepal and local employees of the U.S. Mission in Nepal who work for the U.S. Department of State, and their spouses and dependent children (they are ineligible for grants during the period of their employment and for one year following the termination of employment). 
Visa sponsorship 
All grantees must receive an exchange visitor (J-1) visa which requires that the individuals return to Nepal upon completion of their fellowship. They are not eligible for an immigrant visa, for permanent residence, or for a non-immigrant visa as a temporary worker ("H" visa) or trainee, or as an intra-company transferee ("L" visa) to re-enter the United States until they have accumulated two years' residence in Nepal after returning from the United States on an exchange visitor visa. This does not preclude the individual from going to the United States on other visas during the two-year period.
Program Timeline
 Date 
Milestone 
June 2, 2022 
Humphrey Application Opens 
24:00 Midnight, July 23, 2022 
Application deadline 
September, 2022 
Interviews
Nominated candidates informed 
February, 2023 
ECA reports final selection results 
August, 2023 
AY 2023-2024 Humphrey Fellowship Program start 
June, 2024 
End of 2023-2024 Fellowship year 
Application Link & Documents Required
Application link https://apply.iie.org/huberthhumphrey 
The completed application, including recommendations, must be submitted online no later than Midnight 24:00 on July 23, 2022. Incomplete or late applications will not be considered. 
All academic documents must be attested. Attestation of photocopies of documents may be made by the issuing institution, Government of Nepal, Tribhuvan University, Kathmandu University or by USEF-Nepal.
| | |
| --- | --- |
| Application Section | Documents required |
| Academic History | Complete and attested academic documents (both transcripts and certificates) covering your entire period of study at universities or other postsecondary institutions, including advanced degrees (I.A., I.Com., I.Sc., 10+2 etc. and beyond). |
| English Language Testing | The Test of English as a Foreign Language (TOEFL) is required of those chosen to be Humphrey Fellows. This is not mandatory for the application process.If you already have a valid TOEFL score (less than two years old as of the deadline of July 23, 2022), upload a scan of your official score report. |
| Additional Information-Supplemental Materials | 1)Scan of Passport or Nepali citizenship (no need for English translation or attestation)2)Latest resume. See CV format3)Complete and attested SLC certificate and mark sheet |
| Recommendations | Two total recommendations should be submitted online by your recommenders, one of which must be from your immediate supervisor in your current position. The second must come from a professor, professional mentor, or other associate outside your current work setting. Personal friends or family members are NOT acceptable as referees. |
---
Latest Posts
Thanks for visiting us.
Disclaimer: The resources, documents, guidelines, and information on this blog have been collected from various sources and are intended for informational purposes only. Information published on or through this website and affiliated social media channels does not represent the intention, plan, or strategies of an organization that the initiator is associated with in a professional or personal capacity, unless explicitly indicated.
If you have any complaints, information, or suggestions about the content published on Public Health Update, please feel free to contact us at blog.publichealthupdate@gmail.com.
#StayUpdated
---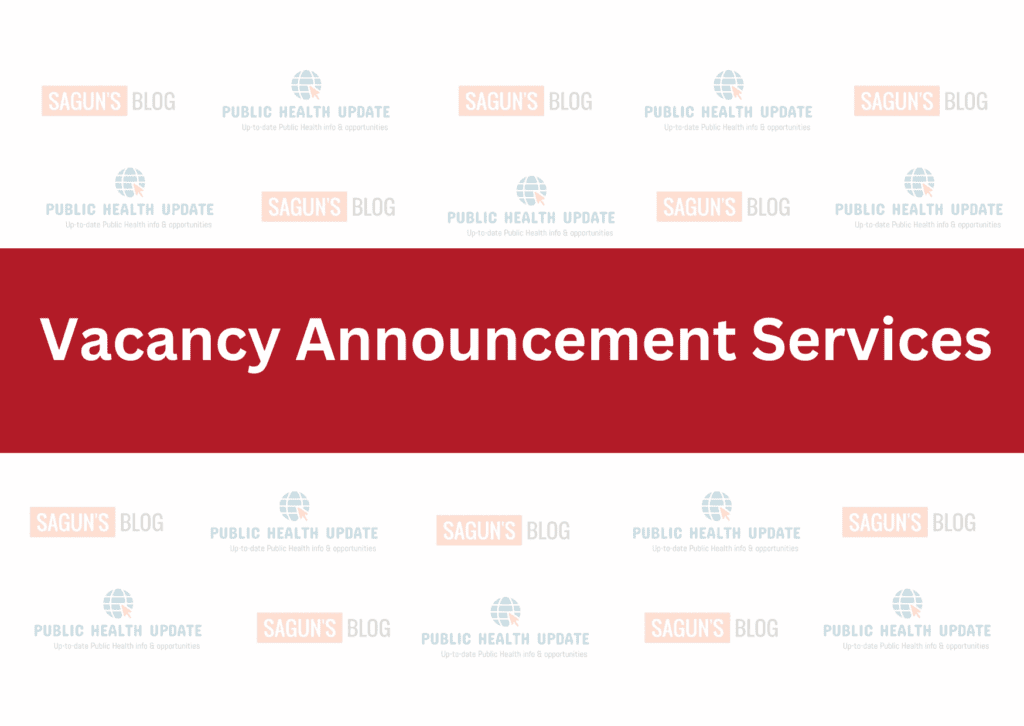 ---