Overview
SheDecides is a global and diverse movement, driving change to ensure that every woman, girl and young person has the right to decide about their body, life and future. We do this by joining together to take political action and speaking out for these rights.
On 2nd March 2017, the first international SheDecides conference was hosted in response to the reinstatement and expansion of the Global Gag Rule (also known as the Mexico City policy which is a dangerous anti-abortion policy that risks the health and lives of women and girls around the world) which soon started evolving into a global political movement driving change guided by its vision to create a world where every girl and woman can decide what to do with her body, with her life and with her future. Without question. SheDecides Day is celebrated every year on March 2 to commit towards its vision more strongly.
Purpose
SheDecides works to create a world where she decides about her body, life and future. This means that women and girls, in all their diversity, have the access to information about their bodies and rights, have the agency to act on those rights, and have access to the services that support the decisions she makes.
SheDecides works to bring together diverse people to Stand Up, Speak Out and set the terms of debate, and the framing of discussion, about their bodies and health. Together, we:
Build new narratives, by creating brave and inclusive spaces where women and girls share views and feelings about their bodies, relationships and health and start to understand their personal experiences in a political context. This can help them recognise their own power, address stigma, challenge shame and to shape their own narratives.
Bring new people into the struggle for bodily autonomy, by organising people and movements who are inspired to act on bodily autonomy issues. This coming together can create opportunities for a shared understanding of power dynamics, the building of collective power and the planning of contextually relevant, politically informed collective action.
Disrupt spaces of power, by taking action. This action creates and tells alternative and counter narratives, engages new people, occupies and disrupts spaces of power. It creates a space for people to stand up together in moments of solidarity.
This brings about a new normal that influences policy, public discourse and power dynamics, so that women and girls set the terms of debate about their bodies, lives and future.
SheDecides Movement in Nepal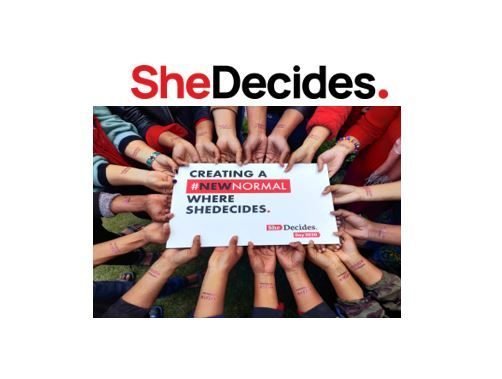 In Nepal, SheDecides movement began in March, 2019. Visible Impact, Beyond Beijing Committee Nepal and Right Here Right Now Nepal are working as a core member of the SheDecides movement in Nepal. The movement aims to work towards its vision with specific  focus on  Gender Based Violence, Adolescent Sexual and Reproductive Health and Rights  and Safe Motherhood.