Position: Research Program Officer
Job Req ID:  68777
The Bill & Melinda Gates Institute within the Johns Hopkins Bloomberg School of Public Health (JHSPH) has launched a second phase of an innovative survey research program in partnership with Jhpiego, Performance Monitoring for Action (PMA), formerly PMA2020. The project is designed to deliver high-quality, rapid-turnaround data to public health policymakers, program managers, and other stakeholders at frequent intervals to promote data-driven decision-making to improve the health and welfare of populations. To achieve this goal, PMA recruits women from a set of nationally or sub-nationally representative sentinel communities and trains them to collect data on a routine basis using smartphone technology. Data are collected at both households and facilities.
PMA operates in eight geographies. The core survey covers family planning (including contraceptive dynamics) and reproductive health indicators, while maintaining flexibility to add new modules in related health areas according to local data needs. It also includes a panel design that follows a cohort of reproductive age women on an annual basis and a representative set of service delivery points over a 3-year period. The panel is combined with periodic cross-sections drawn from the same sampled, sentinel communities. The PMA Global team, based in Baltimore, is composed of faculty, staff, and masters and doctoral students. This team works closely with universities and research institutes across the constituent geographies to implement the surveys and to build capacity of those organizations to undertake this work independently.
The PMA Global partner Jhpiego oversees sub-award management with country partners and promotes platform sustainability, communications and data utilization efforts.
PMA is seeking a full-time Research Program Officer I to support computer programming and data management activities across several project countries and in Baltimore. The Research Program Officer will assist with the preparation and management of data for public use and will maintain tools for users of public PMA datasets. The Research Program Officer I will be tasked with improving the efficiency of PMA data collection and processing systems.
Specific duties & responsibilities:
Assist with grant-reporting to project funders, especially any project countries for which the PO may be assigned.
Document country-level changes to questionnaires or protocols at the PMA Global-level
Coordinate with relevant module and activity-specific leads within the PMA survey platform that may be organizing separate data collection activities
Facilitate the JHSPH IRB submission and amendment processes as needed
External stakeholder engagement
Developing and updating cleaning and analysis do-files in Stata
Cleaning and checking data for public release
Defining and producing indicators for a data visualization platform
Developing and managing documentation and materials for publicly released data
Improving efficiency of data processing systems including creating version control systems of PMA .do files, standardizing variable naming, and automating data cleaning.
Assisting with analysis for reports, data briefs, and auxiliary publications.
Coordinating and assisting with training of in-country partner technical staff as needed 
The Research Program Officer will report to PMA's Research Program Officer for public data release and will also assist with additional data management and technical support needs that arise throughout the life of the project.
Minimum qualifications:
Master's in public health or related field, with specialization in biostatistics, epidemiology, demographic method, or other concentration with a strong quantitative/analytical field. Minimum of three years of data management experience, requiring advanced skills with Stata, SPSS, SAS, or R.
       Or
1. Bachelor's degree in public health, statistics, biostatistics, math, or other related disciplines.  Minimum of five years of data management experience, requiring advanced skills with Stata, SPSS, SAS, or R.2. Experience working with datasets, data analysis, and data management.
Advanced Stata skills required 4. Must be a fast learner with independent problem-solving ability and strong communication skills.
Willing to travel internationally occasionally
Ability to self-manage tasks and timelines while working in a team environment
Ability to manage multiple activities, deadlines, and priorities simultaneously
Ability to execute assignments with a short turnaround time
Preferred qualifications:
Experience with Open Data Kit
Experience with version control software such as GitHub
Experience with conducting trainings or teaching experience
French language skills 
Classified Title: Program Officer
Working Title: Research Program Officer 
Role/Level/Range: ACRP/04/MD 
Starting Salary Range: $53,020 – $72,930 annually (commensurate with experience)
Employee group: Full Time 
Schedule: M-F 8:30 – 5 
Exempt Status: Exempt  
Location: School of Public Health 
Department name: PFRH Gates Institute 
Personnel area: School of Public Health
The successful candidate(s) for this position will be subject to a pre-employment background check.
If you are interested in applying for employment with The Johns Hopkins University and require special assistance or accommodation during any part of the pre-employment process, please contact the HR Business Services Office at jhurecruitment@jhu.edu. For TTY users, call via Maryland Relay or dial 711.
Johns Hopkins has mandated COVID-19 and influenza vaccines, as applicable. Exceptions to the COVID and flu vaccine requirements may be provided to individuals for religious beliefs or medical reasons or because the individual is pregnant or attempting to become pregnant. Requests for an exception must be submitted to the JHU vaccination registry. For additional information, applicants for SOM positions should visit https://www.hopkinsmedicine.org/coronavirus/covid-19-vaccine/ and all other JHU applicants should visit https://covidinfo.jhu.edu/health-safety/covid-vaccination-information/.
The following additional provisions may apply depending on which campus you will work.  Your recruiter will advise accordingly.
The pre-employment physical for positions in clinical areas, laboratories, working with research subjects, or involving community contact requires documentation of immune status against Rubella (German measles), Rubeola (Measles), Mumps, Varicella (chickenpox), Hepatitis B and documentation of having received the Tdap (Tetanus, diphtheria, pertussis) vaccination. This may include documentation of having two (2) MMR vaccines; two (2) Varicella vaccines; or antibody status to these diseases from laboratory testing. Blood tests for immunities to these diseases are ordinarily included in the pre-employment physical exam except for those employees who provide results of blood tests or immunization documentation from their own health care providers. Any vaccinations required for these diseases will be given at no cost in our Occupational Health office.
Equal Opportunity Employer
Note: Job Postings are updated daily and remain online until filled. 
EEO is the Law
Learn more:
https://www.eeoc.gov/sites/default/files/migrated_files/employers/poster_screen_reader_optimized.pdfSchool of Public Health – East Baltimore Campus
---
Latest Posts
Thanks for visiting us.
Disclaimer: The resources, documents, guidelines, and information on this blog have been collected from various sources and are intended for informational purposes only. Information published on or through this website and affiliated social media channels does not represent the intention, plan, or strategies of an organization that the initiator is associated with in a professional or personal capacity, unless explicitly indicated.
If you have any complaints, information, or suggestions about the content published on Public Health Update, please feel free to contact us at blog.publichealthupdate@gmail.com.
#StayUpdated
---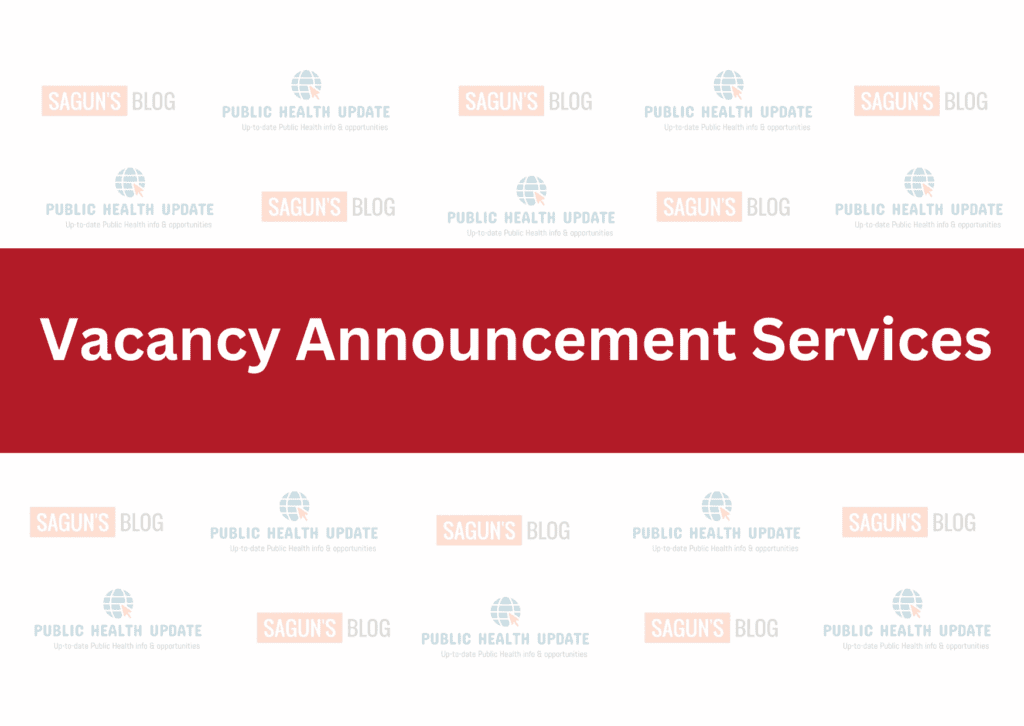 ---