Overview
World Suicide Prevention Day (WSPD) was established by the International Association for Suicide Prevention (IASP) in 2003 in conjunction with the World Health Organisation (WHO) and is a significant advocacy and communication based event aimed at reaching national organisations, governments and the general public, giving a singular message that suicide can be prevented.
The 10th of September each year focuses attention on the issue, reduces stigma and raises awareness among organizations, government, and the public, giving a singular message that suicide can be prevented.
By creating hope through action, we can signal to people experiencing suicidal thoughts that there is hope and that we care and want to support them. It also suggests that our actions, no matter how big or small, may provide hope to those who are struggling. Lastly, it highlights the importance of setting suicide prevention as a priority public health agenda by countries, particularly where access to mental health services and availability of evidence-based interventions are already low. Building on this theme and spreading this message over the three years, a world can be envisioned where suicides are not so prevalent.
Campaign Slogan
"Creating hope through action" is the triennial theme for the World Suicide Prevention Day from 2021 – 2023. This theme is a reminder that there is an alternative to suicide and aims to inspire confidence and light in all of us.
Creating Hope through Action
Facts
One in every 100 deaths worldwide is the result of suicide. It can affect every one of us.
Each and every suicide is devastating and has a profound impact on those around them.
World Suicide Prevention Day is an opportunity to raise awareness of suicide and to promote action through proven means that will reduce the number of suicides and suicide attempts globally.
More than 700 000 people die due to suicide every year.
For every suicide there are many more people who attempt suicide. A prior suicide attempt is the single most important risk factor for suicide in the general population.
Suicide is the fourth leading cause of death among 15-19 year-olds.
77% of global suicides occur in low- and middle-income countries.
Ingestion of pesticide, hanging and firearms are among the most common methods of suicide globally.
Source of info: WHO & International Association for Suicide Prevention (IASP).
---
Recommended readings
Monthly
Weekly
Daily
List
Grid
Tile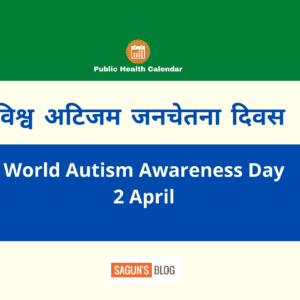 World Autism Awareness Day The United Nations General Assembly unanimously declared 2 April as
...
No event found!