Operational framework for building climate resilient and low carbon health systems
9 November 2023 –
Responding to rapidly changing climate, the World Health Organization (WHO) has unveiled a new Operational framework for building climate resilient and low carbon health systems. Released in the lead up to the upcoming United Nations Framework Convention on Climate (COP-28), this comprehensive Framework is designed to enhance the resilience of health systems while simultaneously reducing greenhouse gas emissions to help safeguard the health of communities worldwide.
This document presents the World Health Organization Operational framework for building climate resilient and low carbon health systems. The framework's goal is to increase the climate resilience of health systems to protect and improve the health of communities in an unstable and changing climate, while optimizing the use of resources and implementing strategies to reduce GHG emissions. It aims to contribute to the design of transformative health systems that can provide safe and quality care in a changing climate.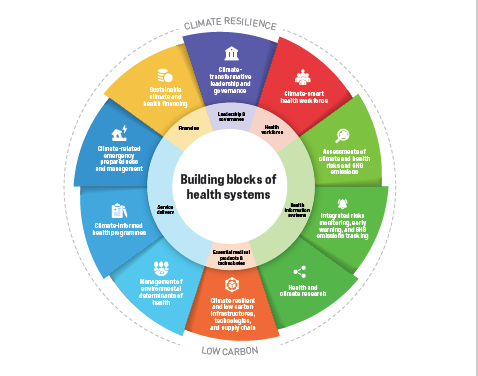 Implementation of the framework's ten components would help health organizations, authorities, and programmes to be better able to anticipate, prevent, prepare for, and manage climate-related health risks and therefore decrease the burden of associated climate-sensitive health outcomes. Implementing low carbon health practices would contribute to climate change mitigation while also improving health outcomes. Achieving these aims is an important contribution to universal health coverage (UHC), global health security, and specific targets within the Sustainable Development Goals (SDGs). The document is a useful resource for decision-makers in health systems, including public health agencies, and other specialized institutions, and for decision-makers in health-determining sectors.
The Framework presents different pathways for health systems to strengthen their climate resilience and decarbonize depending on their overall performance, levels of greenhouse gas emissions and climate change and health capacity. This includes systems in low-income countries that need to increase energy access and health service provision to provide universal health coverage. Building climate resilient and low carbon health systems contributes to WHO's commitment to providing safe, quality healthcare services while helping combat the root causes of climate change.
The key objectives of the WHO Framework are:
Guide health sector professionals in addressing climate-related health risks through collaboration;
Strengthen health system functions for climate resilience and low carbon health approaches;
Support development of specific interventions for climate risk reduction and emissions reduction; and
Define roles and responsibilities for health decision-makers in climate resilience.
The benefits of implementing this Framework extend far beyond the realm of health care. By reducing greenhouse gas emissions and enhancing the resilience of health systems, we are contributing to the broader objectives of universal health coverage (UHC), global health security, and the United Nations Sustainable Development Goals (SDGs).
Framework components for building climate resilient and low carbon health systems
Component 1: Climate-transformative leadership and governance
Component 2: Climate-smart health workforce
Component 3: Assessments of climate and health risks and GHG emissions
Component 4: Integrated risks monitoring, early warning, and GHG emissions tracking
Component 5: Health and climate research
Component 6: Climate resilient and low carbon infrastructures, technologies, and supply chain
Component 7: Management of environmental determinants of health
Component 8: Climate-informed health programmes
Component 9: Climate-related emergency preparedness and management
Component 10: Sustainable climate and health financing
This framework provides the tools and validation for health systems to take action to build climate resilience and reduce carbon emissions. They also lead by example to protect people's health and the environment, with immediate and long-term health benefits for all.