Overview
The U.S. Educational Foundation in Nepal (USEF-Nepal or the Fulbright Commission) welcomes applications from Nepali students for the Fulbright Foreign Student Program (FFSP) for Master's level study in the U.S. Approximately 4000 foreign students from 155 countries worldwide receive Fulbright scholarships each year.
The Fulbright Program is the U.S. government's flagship international educational and cultural exchange program, creating connections in a complex and changing world. Led by the U.S. government in partnership with 160 countries worldwide, Fulbright builds lasting connections between the peoples of the U.S. and the people of other countries around the world, building mutual understanding between nations, advancing knowledge across communities, and improving lives around the world. The FFSP provides all expenses (including travel) for a Master's degree program of up to two years at selected U.S. universities, in any field except Medicine and Nursing.
Depending upon budget availability, approximately five candidates will be nominated by the Fulbright Board in Nepal for the FFSP. Those selected will begin their program in the Fall of 2023.
Women, minorities, people with disabilities, or otherwise disadvantaged candidates and individuals with limited prior international exposure are encouraged to apply.
General Requirements 
All applicants must:
Possess Nepali citizenship
Have at least three years (for men) or two years (for women) of post-bachelor's degree, full-time, professional work experience in an area directly relevant to the applicant's chosen field of study as of the application deadline. This experience must be outlined by the professional recommender, verifying your position(s) and years of employment. Even if you have worked at several organizations, you are eligible to apply as long as your work experience at those organizations adds up to the minimum work-duration requirement
Possess either a four-year bachelor's degree; or, if the bachelor's degree was of fewer than four years' duration, then a Master's degree is also required, such that the total number of years of formal education equals at least 16
Students with a three-year bachelor's degree who have completed only the first year of a two-year Master's degree program, and Master's degree students who have cleared all exams but still need to fulfill other university-mandated degree requirements are ineligible to apply. Similarly, students who have two or more two-year/three-year bachelor's degree but no Master's degree are ineligible to apply for the Fulbright program
Demonstrate in post-intermediate degrees (Bachelors and Master's) a minimum aggregate mark of:

54% for students in non-technical fields (Humanities and Social Sciences)
62% for students in Science and Technical fields
The minimum requirements for students under the semester system are: 65% in non-technical fields; 75% in technical fields; or a Cumulative GPA of 3.50/4.00 in either field
If the grading systems, fields of study or educational systems for the Bachelor's and Master's level are different (percentage and GPA grades, non-technical and science/technical fields, yearly and semester systems, etc.), the applicant needs to meet the minimum score requirements separately, not in the aggregate
Should have sufficient level English proficiency to enable engagement in full-time graduate level study in the U.S.
Only selected applicants will be required to sit for a TOEFL and the GRE, both of which are mandatory for university applications. The test requirements may be waived for those who:

have taken a TOEFL in the past 2 years between May 1, 2020 to May 1, 2022 and GRE in the past 5 years between May 1, 2017 to May 1, 2022
if you have taken an IELTS in the past 2 years between May 1, 2020 to May 1, 2022 you can upload the test score on the application
Selected candidates MUST sit for both TOEFL and GRE tests. Candidates must acquire 100+ in TOEFL
Be eligible for a non-immigrant J-1 U.S. visa, and not already in possession or in the process of obtaining a U.S. immigrant visa ("green card")
A competitive applicant should have the commitment to return to Nepal upon completion of the program. Preference will be given to applicants who have not previously studied in the U.S. See 10
All grantees receive an exchange visitor (J-1) visa which requires that the individuals return to Nepal upon completion of their academic project. Grantees are not eligible for an immigrant visa, for permanent residence, or for a non-immigrant visa as a temporary worker ("H" visa) or trainee, or as an intra-company transferee ("L" visa) to re-enter the U.S. until they have accumulated two years' residence in Nepal after returning from the U.S. on an exchange visitor visa. This does not preclude the individual from going to the U.S. on other visas during the two-year period
Applications and materials must be submitted through the online system. No hard copies will be accepted.
Timeline
| | |
| --- | --- |
| February 1, 2022 | Fulbright Foreign Student Program Application opens |
| February 15, 2022 | Information Session |
| March 7, 2022 | Information Session |
| May 1, 2022 | Application closes at 23:59 NPT |
| June, 2022 | Interviews Selected candidates will be informed |
Deadline for submission of application: 23:59 Sunday, May 1, 2022
Ineligibility
Individuals holding U.S. master's degree/s already. Preference will be given to those without prior U.S. or foreign experience
Individuals who have previously resided in the U.S. for six months or more during the preceding five years prior to the application submission deadline
Individuals with, or in the process of obtaining, U.S. citizenship or U.S. permanent resident status
Employees of USEF-Nepal and local employees of U.S. Mission in Nepal who work for the U.S. Department of State, and their spouses and dependent children are ineligible for grants during the period of their employment and for one year following the termination of employment
Individuals applying for a degree in Medicine and Nursing.
The required documents along with the online application and recommendations must be uploaded and submitted no later than 23:59 (midnight) on Sunday, May 1, 2022
You will receive a confirmation email stating that your application has been successfully submitted.
---
Latest Posts
Thanks for visiting us.
Disclaimer: The resources, documents, guidelines, and information on this blog have been collected from various sources and are intended for informational purposes only. Information published on or through this website and affiliated social media channels does not represent the intention, plan, or strategies of an organization that the initiator is associated with in a professional or personal capacity, unless explicitly indicated.
If you have any complaints, information, or suggestions about the content published on Public Health Update, please feel free to contact us at blog.publichealthupdate@gmail.com.
#StayUpdated
---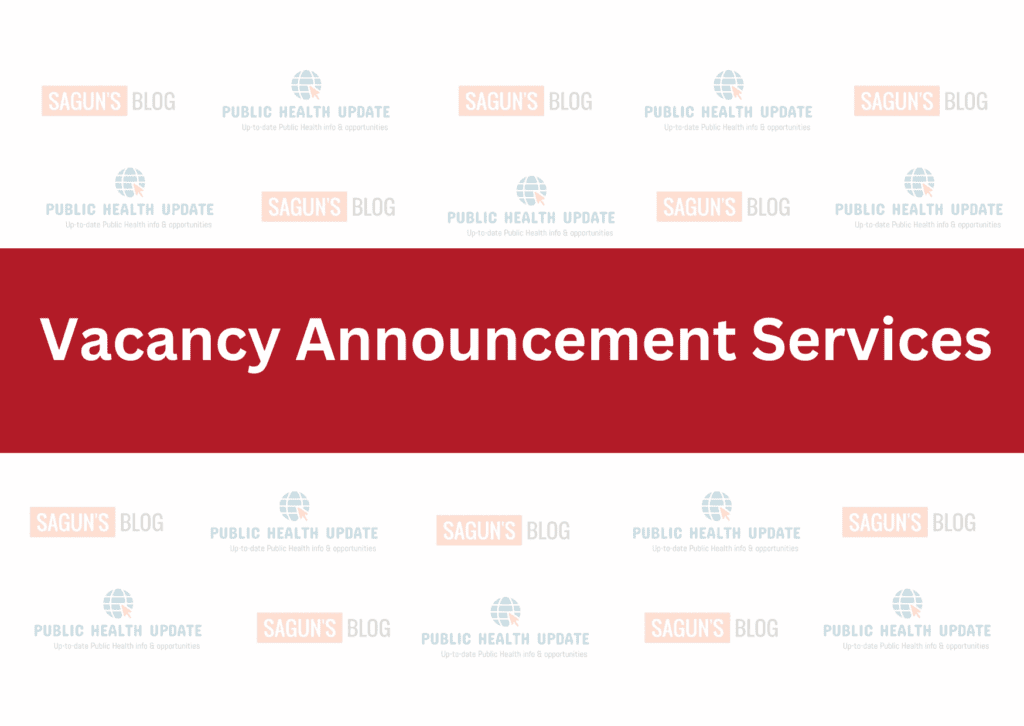 ---