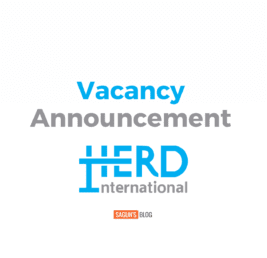 Job Detail
Job Description
HERD International is a research and development agency dedicated to generating and utilizing evidence to improve the health and well-being of people. Our mission involves empowering individuals and communities through collaborative efforts with policy practitioners, researchers, and concerned stakeholders. We are committed to promoting evidence-informed and contextually tailored solutions to address local issues, strengthen systems, and establish best practices, with the ultimate goal of enhancing the quality of life.
HERD International seeks applications from potential candidates for the following positions for anticipated five-year donor-funded projects in the areas of monitoring, evaluation, research, learning, governance, and health system strengthening.
Location: Central Office, Lalitpur
Position Open For:
Chief of Party

Grants and Compliance Manager

Practice Lead: Diversity, Gender Equity and Social Inclusion (DGESI)

Practice Lead: Health System Strengthening

Practice Lead: Governance and Partnership

Practice Lead: Monitoring, Evaluation, Research and Learning (MERL)

Practice Lead: Knowledge Management and Evidence Uptake

Practice Lead: Capacity Building
ToRs
Instructions for applying:
Applicants may find each position's Terms of Reference (ToR) and required qualifications on the website of HERD International.
Applicants can download Job Description from the link: www.herdint.com/vacancy
Please submit your CV and a cover letter mentioning the position in the subject line to jobs@herdint.com by December 11, 2023.
Applicants will be reviewed on a rolling basis, and early application submission is encouraged. Only candidates who are shortlisted will be contacted and progressed to the subsequent stage of the selection process.
We encourage applications from women and people from diverse groups across ethnicity and geography.
Other jobs you may like