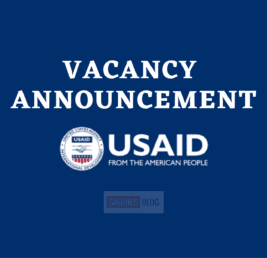 Job Detail
Job Description
The United States Government, represented by the U.S. Agency for International Development (USAID), is seeking offers from U.S. citizens and Third Country National qualified to provide personal services under contract as described in this re-solicitation.
ISSUANCE DATE: June 20, 2023
CLOSING DATE AND TIME FOR RECEIPT OF OFFERS: July 19, 2023- 5:00 p.m. (Kathmandu Time)
PLACE OF PERFORMANCE: US Embassy/USAID compound in Kathmandu, Nepal.
Position: Supply Chain Management (SCM) Advisor, GS-14
MINIMUM QUALIFICATIONS REQUIRED FOR THIS POSITION
Education: A master's degree in Supply Chain Management, Health Systems Management, Public Health, Pharmacology, Logistics Management, Business Administration or similar field.
Professional Experience: Minimum of 10 years of professional-level job-related experience in designing, implementing and managing supply chain capacity building and management, health commodity logistics, or pharmaceuticals management activities in a developing country context is required. Experience with successfully leading systems strengthening actions for large international health programs. Demonstrated successful experience coordinating complex programs with multiple partners as well as working closely with high-level host government officials, the private sector and multilaterals in resource-poor settings is required.
Language: Must be fluent in English language.
USAID/Nepal is an equal opportunity employer committed to a staff composition that reflects the social and ethnic diversity of Nepali society. We believe that social inclusion and diversity contribute to excellence. USAID/Nepal makes hiring decisions without regard for gender, gender identity, caste, race, ethnicity, disability, marital status, age (if over 40), or sexual orientation. Applicants from ALL backgrounds are encouraged to apply.
Other jobs you may like