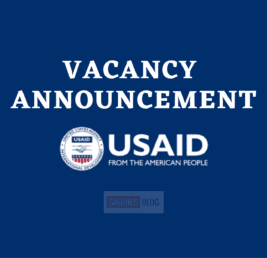 Job Detail
Job Description
Position: FSN-10 USAID Project Management Specialist (Environment)
SOLICITATION NO.: 72036723R10004
ISSUANCE DATE: June 30,2023
CLOSING DATE/TIME FOR RECEIPT OF OFFERS: July 21, 2023 (17:00 Nepal time)
POINT OF CONTACT: USAID/Nepal HR office, email at usaidnepalhr@usaid.gov
POSITION TITLE: USAID Project Management Specialist (Environment)
NUMBER OF POSITION: One (1)
MINIMUM QUALIFICATIONS REQUIRED FOR THIS POSITION
Education: The minimum education required is a Bachelor's degree in a field such as environmental science, natural resource management, or development studies.
Prior Work Experience: A minimum of five (5) years of professional, field-based work experience with demonstrable experience applying theoretical learning and study to actual, hands-on practice related to biodiversity conservation, climate change or natural resource management in public, NGO or private institutions is required.
Language Proficiency: Professional proficiency in written and spoken English and Nepali (Level IV) is required.
USAID/Nepal is an equal opportunity employer committed to a staff composition that reflects the social and ethnic diversity of Nepali society. We believe that social inclusion and diversity contribute to excellence. USAID/Nepal makes hiring decisions without regard for gender, gender identity, caste, race, ethnicity, disability, marital status, age (if over 40), or sexual orientation. Applicants from ALL backgrounds are encouraged to apply.
Other jobs you may like