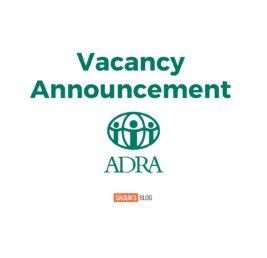 Job Detail
Job Description
The Adventist Development and Relief Agency (ADRA) is a global humanitarian organization that operates in more than 118 countries. ADRA Nepal works with people in poverty and distress to create just and positive change through empowering partnerships and responsible action. ADRA collaborates closely with local communities, government agencies, and other stakeholders to ensure the effectiveness and sustainability of their projects. ADRA prioritizes community participation, capacity building, and a holistic approach to development, aiming to uplift vulnerable populations and promote long-term positive change in Nepal. Are you passionate about serving and capacity building others to bring about positive and just change? If so, an exciting opportunity presents itself as ADRA Nepal is searching for a dynamic and highly competent development practitioner to fill the role of Program Director to lead our programs and project teams in the sectors of Health, Livelihood, Education and Disaster Risk Management.
ADRA Nepal invites applications from qualified and experienced Nepalese Citizens for the following position.
Position: Program Director
Station: based in Country Office, Sanepa, Lalitpur
The Program Director is responsible for providing strategic leadership and effective management of the program portfolio and related personnel. The Program Director reports to the Country Director and will contribute to strategy and policy development, program growth, and lead program design development, project implementation, and monitoring and evaluation responsibilities.
Qualification and Competencies:
Candidates are expected to provide a written response in their cover letter of how they qualify for each of the Key Selection Criteria as below:
Masters' qualifications in International Development, Management, Agriculture, Climate Change, Public Health, or relevant sector; Minimum of 10 years as a development practitioner with senior management experience with an INGO; excellent conceptual knowledge of current development practices, project design and proposal development requirements for donors; proven experience in monitoring and evaluation system and able to improve development practice and measure program impact; demonstrated technical knowledge in livelihoods, agriculture, health, nutrition or climate change; demonstrated strategic management, organizational, and planning skills; experience in capacity building and mentoring others; exceptional interpersonal and communication skills in English; proficient in MS office software programs.
Please click on this link for the details of the Job Description:
https://adranepal.org/wpcontent/uploads/2023/06/JDProgram-Director.pdf
"ADRA is a Child Safe Organization with zero tolerance on Child abuse and screens applicants for suitability to work with children."
Suitable candidates particularly from disadvantaged group, female, and socially excluded groups are encouraged to submit their job application and must be submitted no later than 23 July 2023.
Please click on this link for Job application form: https://adra.formalto.app/Bo4Q3T6otK
Only short-listed candidates will be called for further screening process.
ADRA Nepal reserves the right to accept or reject applications during screening process.
Telephone enquiries will not be entertained.
Other jobs you may like