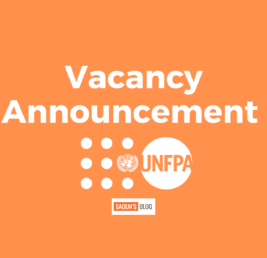 Job Detail
Job Description
UNFPA, the United Nations Population Fund, is a voluntary-funded international organization with a presence in over 150 countries, including Nepal. UNFPA is guided by the Programme of Action of the 1994 Cairo International Conference on Population and Development (ICPD) and the Sustainable Development Goals. Its mission is to ensure that every pregnancy is wanted, every childbirth is safe and every young person's potential is fulfilled.
The work of UNFPA is based on the premise that all human beings are entitled to equal rights and protections. We focus on women and young people because these are groups whose ability to exercise their right to sexual and reproductive health is often compromised. Our work is informed by an understanding of population dynamics, human rights and cultural sensitivity.
UNFPA in Nepal
UNFPA support to Nepal began in 1971 and has evolved in response to the changing national contexts. The new country programme is aligned to national priorities, the 2030 Agenda for Sustainable Development, the ICPD Programme of Action, the Convention on the Elimination of All Forms of Discrimination against Women, the UNFPA strategic plan, 2022–2025, and the UNSDCF, 2023–2027. The programme aims to contribute to and accelerate achievement of the 2030 Agenda, in particular SDGs 3 and 5 and the three UNFPA transformative results, in line with the Decade of Action. 
UNFPA partners with the Government of Nepal, youth and women's organizations and development partners to advance its mission. Under the 8th Country Programme and in line with its mandate, UNFPA Nepal is working around the following areas:
Sexual and reproductive health and rights: UNFPA is supporting national efforts in Nepal to improve the sexual and reproductive health of the most marginalized adolescent girls and women. The Fund is largely focusing on youth aged 15-24 and the most marginalized women addressing both the demand and supply sides of reproductive health services to improve access to information and services on maternal health, family planning, and sexually transmitted infections, including HIV.
Gender equality: UNFPA's support to the Government of Nepal under this overarching theme seeks to ensure that vulnerable groups experience greater self-confidence, respect and dignity. We are building national capacity in the health sector to address gender-based violence (GBV), prevent child marriage and other harmful practices, and working to enhance the knowledge and capacity of men, women and communities to GBV.
Adolescents and youth: Investing in young people, especially the vulnerable and the marginalized, is a priority for UNFPA Nepal. The country has a large adolescent and youth population. Nepal is experiencing a demographic window of opportunity, a 'youth bulge'. Nepali youth face several development challenges, including access to education, employment, gender inequality, child marriage, youth-friendly health services and adolescent pregnancy. Yet, with investments in their participation and leadership, young people can transform the social and economic fortunes of the country. UNFPA Nepal works with the government and partners to advocate for adolescents and youth's rights and investments, including education, livelihood skills and health, including sexual and reproductive health.
Population dynamics: Population megatrends at the national and sub-national levels in Nepal continued rapid population growth, population aging, urbanization and migration — not only frame the entire development debate, they demand a reconsideration and re-conceptualization of what will be the main challenges for a new Nepal. Without an adequate understanding of how Nepal is changing from a demographic perspective, forward-looking planning and agenda setting will be of little value. Keeping this in mind, UNFPA Nepal is working with the government to ensure that national, sectoral and decentralized policies and plans address population dynamics and the interlinkages with gender equality, poverty reduction, the needs of young people, and reproductive health, including family planning.
Position: National Consultant: Humanitarian Programme Evaluation-Team Lead
Vacancy Type: Individual Consultancy
Job Schedule: Part time
Job Identification:12887
Rotational/Non Rotational: Non-Rotational
Contract Duration: 4 months
Education & Work Experience: Master's Degree – 7 year(s) experience
Job Category: Humanitarian & Emergency Response
Apply Before: 08/16/2023, 05:30 PM
Background
Nepal is highly prone to natural hazards, in particular earthquakes, floods and landslides. It is among the 20 most multi-hazardous countries in the world. Nepal ranks 4th in terms of climate risk according to the Global Climate Risk Index, and 11th in terms of global risk for earthquake occurrence and impact. The country's lack of coping capacity (5.5/10 on the INFORM Global Risk Index, 2023) and the high socio-economic vulnerability (4.4/10 on the INFORM Global Risk Index, 2023) contribute to its high-risk rating, with poor infrastructure, limited access to health care, and weak governance exacerbating the situation.
To address these challenges, the Government of Nepal adopted the Disaster Risk Reduction and Management Act (2017) which provides a comprehensive framework for the coordination of disaster risk reduction activities at federal, provincial and local levels. However, gaps remain within the existing legal and policy framework, including provisions of overlapping roles and responsibilities. In addition, government bodies responsible for the implementation of the legal and policy framework have limited expertise, human and financial resources.
The humanitarian coordination architecture in Nepal is led-by the Government of Nepal. In line with its global mandate, UNFPA co-leads the Gender-Based Violence (GBV) Sub-Cluster in partnership with the Ministry of Women, Children and Senior Citizens under the framework of the Protection Cluster for which both UNFPA and UNICEF serve as co-leading UN agencies. Similarly, UNFPA is responsible for the coordination of the sexual and reproductive health component of the Health Cluster that is co-led by WHO and the Ministry of Health and Population. As part of these clusters, UNFPA is working closely with government institutions, local non-governmental organizations, other UN agencies and partners to ensure that sexual and reproductive health and rights and responses to gender-violence are integrated into emergency responses.
Scope of Work
Purpose
In line with the UNFPA Evaluation Policy, the purpose of the evaluation is three-fold: (1) to establish accountability; (2) support evidence-based decision-making; and (3) strengthen learning.
Objectives
The objectives of the evaluation are:
To provide an independent assessment of the relevance, coordination, efficiency, effectiveness and connectedness of the Strengthening Emergency Preparedness and Response project.

To provide an assessment of the geographic and demographic coverage of humanitarian response under the Strengthening Emergency Preparedness and Response project, and the ability of UNFPA to operationalize the humanitarian-development nexus by connecting immediate, life-saving support with long-term development objectives.

To assess the extent to which the Strengthening Emergency Preparedness and Response project has promoted gender equality disability and social inclusion (GEDSI).

To provide a set of clear, forward-looking and actionable recommendations to inform humanitarian and resilience building programme under the 9th UNFPA Country Programme (2023-2027).
Scope
The evaluation will focus on the implementation of the Strengthening emergency Preparedness and Response project in the period March 2018 to July 2023. It will cover all the interventions implemented under the project at federal, provincial and local levels. The geographic scope of the evaluation will be limited to the three priority provinces of UNFPA (Madhesh, Lumbini and Sudurpaschim).
Required expertise, qualifications and competencies, including language requirements:
The Evaluation Team Lead should have the following expertise and experience:
Advanced university degree in disaster management, social sciences, public health, development studies, or any related field.

At least 7 years of experience in conducting evaluations in the areas of development with at least 5 years in humanitarian programming.

Strong experience in leading evaluations of complex projects implemented by UN organizations or other international organizations and NGOs, in particular evaluations in humanitarian contexts.

Technical expertise in emergency preparedness and response with knowledge on sexual and reproductive health, gender-based violence programming.

Extensive knowledge of international humanitarian law and principles, the humanitarian coordination architecture, in particular the cluster system, and guidelines and standards of the Inter-Agency Standing Committee (IASC).

Sound understanding of the Sendai Framework for Disaster Risk Reduction (DRR), the Capacity for Disaster Reduction Initiative (CADRI), the Minimum Initial Service Package (MISP), and UNFPA commitments in the area of humanitarian action.

Strong knowledge of quantitative and qualitative data collection methods and the UNEG norms and standards for quality evaluation.

Excellent ability to analyze and synthesize large volumes of data and information from diverse sources.

Ability to consistently integrate human rights and GEDSI perspectives in evaluation processes.

Work experience in Nepal and other South Asian contexts is an asset.

Excellent communication skills (written and spoken) in English and Nepali.
Application process
UNFPA has established an electronic application management system. This allows applicants to create a candidate profile, which can be updated regularly and submitted for more than one vacancy. A full job description of the position can be accessed at https://nepal.unfpa.org/vacancies and only online applications using this link will be accepted.
Notice: There is no application, processing, or other fee at any stage of the application process. UNFPA does not solicit or screen for information in respect of HIV or AIDS and does not discriminate on the basis of HIV/AIDS status. UNFPA provides a work environment that reflects the values of gender equality, teamwork, embracing diversity in all its forms, integrity and a healthy balance of work and life. We are committed to maintaining our balanced gender distribution and therefore encourage women to apply. UNFPA promotes equal opportunities for all, including people from minority groups, persons with disabilities and LGBTQIA+ communities.
UNFPA has a zero-tolerance against Sexual exploitation and Abuse (SEA) and sexual harassment (SH). Everyone is responsible for preventing sexual exploitation and abuse (PSEA), and all UN personnel must adhere to the standards of conduct that preserves PSEA principles (both during work hours and outside work hours). All selected candidates will, therefore, go through a safe hiring process.
Other jobs you may like