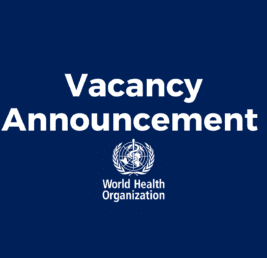 Job Detail
Job Description
Position: Medical Officer (MO)/EPI
–
(
2309303
)
Contractual Arrangement
:
Fixed-term appointment
Contract Duration (Years, Months, Days)
:
2 Years

Job Posting
:
Nov 15, 2023, 12:08:24 PM
Closing Date
:
Dec 6, 2023, 4:44:00 AM
Primary Location
:
Nepal-Kathmandu
Organization
:
SE_NEP WR Office, Nepal
IMPORTANT NOTICE: Please note that the deadline for receipt of applications indicated above reflects your personal device's system settings. 
OBJECTIVES OF THE PROGRAMME
To contribute to the prevention, control and elimination/eradication of immunization preventable diseases, with special focus on achieving the goals set forth at country, regional and global levels.- To provide support towards establishing and maintaining systems that are capable of (1) managing the immunization program that ensure access for all people to effective vaccination, and achievement of the set goals, (2) collecting and analyzing data in support of the immunization program, and (3) contributing to broader outbreak investigation, response and control.
DESCRIPTION OF DUTIES
Under the overall supervision of WHO Representative Nepal (WR), the incumbent will perform the following duties:
Assist the Government of Nepal in assessing and addressing national health needs to achieve and sustain immunization related targets (polio eradication, measles and rubella/CRS elimination, MNT elimination, Full Immunization, Japanese Encephalitis control, New vaccine introductions, in the context of primary care and in line with WHO's program of work. This will entail, among other: the development of strategic plans based on sound analysis of possible strategies; the development of implementation plans; support to implementation activities; monitoring of quality activities and results, and propose corrective action.

Act as main technical advisor on immunization policies and implementation strategies. Provide evidence-based advice on all immunization – related issues, taking into account existing knowledge, and in particular draw on WHO positions, guidelines and recommendations.

Facilitate the development of methods and materials in support of immunization related activities, including surveillance, campaigns, routine immunization, training, etc.

Monitor on a regular basis progress towards immunization goals through pre-determined indicators. This may include obtaining consensus on the use of specific indicators and designing systems for the collection of the data required to measure the indicators.

Manage and supervise the teams in the Immunization Preventable Diseases (IPD) team, which include the Immunization team and the team of Surveillance Medical Officers and their support staff. This includes close collaboration and coordination with Disease Control entities within WHO and government on the SMO's engagement in outbreak investigation, response and control.

In close coordination with the Representative, and taking into account global recommendations made under the "Polio Legacy" heading, develop and implement plans to transition the Surveillance Medical Officers team into broader responsibilities.

Liaise with donors and funding agencies to seek support for the Nepal Immunization program, and WHO's support to that program. Maintain regular contact with donors and funding agencies, and explore potential interest from additional agencies. Prepare and/or assist the government in preparing funding proposals as required.

Take a lead role to support the government in coordinating partners involved in immunization. Upon government request, act as secretariat of the Interagency Coordination Committee and similar coordination mechanisms. Maintain strong relationships with key partner agencies and entities, including GPEI, M&RI, UNICEF and GAVI.

Support the government with the transition towards a federalized health system, to ensure that the immunization program 's set-up and implementation remains adapted to the changing environment.

Any other task as assigned by the supervisor.
REQUIRED QUALIFICATIONS
Education
Essential: Medical degree with post graduate degree in Public Health and/or Epidemiology.
Experience
Essential: At least 10 years of experience in communicable disease control and immunization, including considerable experience obtained in an international context. Experience in leading a team and programme management.
Desirable: International experience with disease surveillance, laboratory coordination, outbreak investigation/control.
Skills
Excellent organizational and analytical skills, complemented by sound interpersonal skills and the ability to work in a multicultural environment.

Demonstrated ability to act independently and exercise sound judgement.

Proven ability to work closely in harmony with government and international officials at all levels.

Excellent management skills.

Demonstrable technical knowledge and expertise of all aspects of immunization, including surveillance.

Knowledge and understanding of current public health issues, disease epidemiology and control.

Willingness to travel domestically and internationally.
WHO Competencies
Teamwork

Respecting and promoting individual and cultural differences

Communication

Producing results

Ensuring the effective use of resources
Use of Language Skills
Essential: Expert knowledge of English.
Desirable: Intermediate knowledge of French.
REMUNERATION
WHO salaries for staff in the Professional category are calculated in US dollars. The remuneration for the above position comprises an annual base salary starting at USD 92,731 (subject to mandatory deductions for pension contributions and health insurance, as applicable), a variable post adjustment, which reflects the cost of living in a particular duty station, and currently amounts to USD 2542 per month for the duty station indicated above. Other benefits include 30 days of annual leave, allowances for dependent family members, home leave, and an education grant for dependent children.
ADDITIONAL INFORMATION
This vacancy notice may be used to fill other similar positions at the same grade level.

Only candidates under serious consideration will be contacted.

A written test and/or an asynchronous video assessment may be used as a form of screening.

In the event that your candidature is retained for an interview, you will be required to provide, in advance, a scanned copy of the degree(s)/diploma(s)/certificate(s) required for this position. WHO only considers higher educational qualifications obtained from an institution accredited/recognized in the World Higher Education Database (WHED), a list updated by the International Association of Universities (IAU)/United Nations Educational, Scientific and Cultural Organization (UNESCO). The list can be accessed through the link: http://www.whed.net/. Some professional certificates may not appear in the WHED and will require individual review.

According to article 101, paragraph 3, of the Charter of the United Nations, the paramount consideration in the employment of the staff is the necessity of securing the highest standards of efficiency, competence, and integrity. Due regard will be paid to the importance of recruiting the staff on as wide a geographical basis as possible.

Any appointment/extension of appointment is subject to WHO Staff Regulations, Staff Rules and Manual.

Staff members in other duty stations are encouraged to apply.

The WHO is committed to creating a diverse and inclusive environment of mutual respect. The WHO recruits and employs staff regardless of disability status, sex, gender identity, sexual orientation, language, race, marital status, religious, cultural, ethnic and socio-economic backgrounds, or any other personal characteristics.

The WHO is committed to achieving gender parity and geographical diversity in its staff. Women, persons with disabilities, and nationals of unrepresented and underrepresented Member States (https://www.who.int/careers/diversity-equity-and-inclusion) are strongly encouraged to apply.
Persons with disabilities can request reasonable accommodations to enable participation in the recruitment process. Requests for reasonable accommodation should be sent through an email to reasonableaccommodation@who.int
An impeccable record for integrity and professional ethical standards is essential. WHO prides itself on a workforce that adheres to the highest ethical and professional standards and that is committed to put the WHO Values Charter into practice.

WHO has zero tolerance towards sexual exploitation and abuse (SEA), sexual harassment and other types of abusive conduct (i.e., discrimination, abuse of authority and harassment). All members of the WHO workforce have a role to play in promoting a safe and respectful workplace and should report to WHO any actual or suspected cases of SEA, sexual harassment and other types of abusive conduct. To ensure that individuals with a substantiated history of SEA, sexual harassment or other types of abusive conduct are not hired by the Organization, WHO will conduct a background verification of final candidates.

Mobility is a condition of international professional employment with WHO and an underlying premise of the international civil service. Candidates appointed to an international post with WHO are subject to mobility and may be assigned to any activity or duty station of the Organization throughout the world.

WHO also offers wide range of benefits to staff, including parental leave and attractive flexible work arrangements to help promote a healthy work-life balance and to allow all staff members to express and develop their talents fully.

The statutory retirement age for staff appointments is 65 years. For external applicants, only those who are expected to complete the term of appointment will normally be considered.

Please note that WHO's contracts are conditional on members of the workforce confirming that they are vaccinated as required by WHO before undertaking a WHO assignment, except where a medical condition does not allow such vaccination, as certified by the WHO Staff Health and Wellbeing Services (SHW). The successful candidate will be asked to provide relevant evidence related to this condition. A copy of the updated vaccination card must be shared with WHO medical service in the medical clearance process. Please note that certain countries require proof of specific vaccinations for entry or exit. For example, official proof /certification of yellow fever vaccination is required to enter many countries. Country-specific vaccine recommendations can be found on the WHO international travel and Staff Health and Wellbeing website. For vaccination-related queries please directly contact SHW directly at shws@who.int.

WHO has a smoke-free environment and does not recruit smokers or users of any form of tobacco.

For information on WHO's operations please visit: http://www.who.int.
In case the website does not display properly, please retry by: (i) checking that you have the latest version of the browser installed (Chrome, Edge or Firefox); (ii) clearing your browser history and opening the site in a new browser (not a new tab within the same browser); or (iii) retry accessing the website using Mozilla Firefox browser or using another device. Click this link for detailed guidance on completing job applications: Instructions for candidates
Other jobs you may like