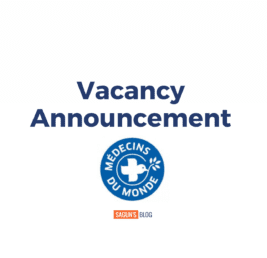 Job Detail
Job Description
Médecins du Monde (MdM) is an international humanitarian organisation whose mission is to provide medical care for the most vulnerable populations, the world over, including France. It seeks to stimulate voluntary commitment from doctors, other health care providers, and from those whose expertise in other fields is needed for its activities, to enlist all competent support required for the achievement of its projects, and to seek at all times to encourage close working relationships with populations in its care.
For more than 40 years, Médecins du Monde (MdM), a campaigning medical organization committed to international solidarity, has been caring for the most vulnerable populations at home and abroad. It has continued to highlight obstacles that exist in accessing health care and has secured sustainable improvements in health-for-all policies. Those working for this independent organization do not solely dispense care and treatment but condemn violations of human dignity and rights and fight to improve matters for populations living in precarious situations. MdM currently works in more than 44 countries across all continents where it focuses on 5 priority areas: caring for the health of migrants and displaced persons, promoting sexual and reproductive health, combating HIV, and reducing the harm and risks associated with drug use, crises and conflicts and environmental health.
MdM has worked in Nepal since 1995: firstly, on Tuberculosis and HIV in western province, then on Sexual and Reproductive Health in Sindhupalchok District. Following the 2015 earthquakes, MdM implemented an emergency response program and then, a post-earthquake early recovery project in the same district.
Since 2018, MdM is working on Environmental Health. The 2018-2019 "Healthy Waste Workers in Kathmandu Valley" program aimed to improve health status of informal waste workers (IWWs) in the Valley, mitigating their occupational risks and environmental exposure, improving access to information, and increasing access to health services in Teku, Shantinagar and Sisdole landfill sites. MdM is implementing another environmental project in Banke district with an objective to contribute in improving health, wellbeing, and livelihood of waste workers and farmers in Banke, mitigating their occupational risks and environmental exposure, improving access to prevention and occupational health services and supporting innovative initiatives related with waste management and organic farming.
Nepal is currently facing several interrelated societal and environmental challenges that must be addressed together. The country has begun to recover from the 2015 earthquakes, but the COVID-19 pandemic is having a significant impact on the country's economy. Agriculture is the most important economic sector, contributing nearly 27.6% of the national GDP (source: Economic Survey FY 2019-2020), thus 60.4% of Nepali working people depend on agriculture for their livelihood. In addition, the transportation of produce remains a major challenge in this mountainous country where many areas are difficult to access. The process of transitioning to commercial agriculture has begun, resulting in the massive use of chemical inputs to increase production and disastrous consequences for the environment and the health of farmers. This project will continue the development of economic recovery activities, with a focus on organic agriculture and farmers' health, in a target area of 6 rural municipalities. Around these themes, the agricultural cooperatives of the partner will develop several activities such as the creation of model farms, the dissemination of resilient farming methods adapted to climate change via leading farmers, the creation of nurseries to produce locally adapted seeds, training in methods of protection against chemical inputs and awareness of the risks associated with their use etc.
Position: Health Specialist (Medical Coordinator)
Nationality: Nepalese
Duration: 1 Year (renewal)
Duty Station: Kathmandu with field visits as per need and occasional international trips
Anticipated Start Date: August 2023
Number of positions: 1
Closing date of application: 21st July 2023
Medical Department –  EuroAsia Unit/ Nepal
MAIN RESPONSIBILITIES:
Coordination and Development of Environmental Health programme in Nepal

Strategy Development of MdM medical activities in Nepal

Medicines and Medical Supplies management

Human Resources Management

Health advocacy and strengthening

Reporting and Communication
WORKING RELATIONSHIPS:
The position holder will perform her / his tasks and responsibilities under the supervision of the Country Representative (General Coordinator). S/he provides technical support to Project teams in Nepal and local partners for health-related topics.
S/he works in close coordination with the Project Managers, Admin Coordinator and Monitoring and Evaluation officer. From MdM headquarters, s/he works closely with the medical refferent in the Eurasia unit and with the health and advocacy department. 
ROLES:
I. Essential duties
To coordinate overall health activities of MdM programme in Nepal

To supervise, monitor, analyse and evaluate MdM health projects outcomes.

To ensure quality of the programme through regular technical supervision and support to project teams in the implementation of health-related initiatives.

To ensure uninterrupted supply of medicines and medical supplies for overall mission needs

To line manage health technical personnel providing support the team and partner

To provide training and fulfil capacity building needs

To contribute to programmes strategic plans and reviews in line with MdM policies and priorities.

To support the development of new programmes and follow up on innovative approaches.

To represent the organisation to relevant external stakeholders

To contribute to regular internal and external reports
II. Responsibilities in detail:
Programme Coordination and Development
1. Technically supervises, monitors, and evaluates all programmes activities in Nepal: 
Monitors progress of activities according to work plans, project plans, identifies problems, and proposes solutions. 

Monitors quality and relevance of activities compared to objectives of the programme and established plans. 

Provides support to Project Managers as and when required on medical technical level.

Support directly Monitoring and Evaluation, Accountability and Learning systems in place (i.e. data collection and analysis, regular programme reviews, gives inputs in evaluations).
2. Responsible for the quality of prevention and care activities implemented:
Provide technical support to health components, reviews and updates tools, guidelines and procedures in accordance with MdM tools / national and WHO guidelines and recommendations.

Coordinates and standardises medical activities between field sites.

Supervises and supports compliance of medical team with MdM procedures and tools.

Liaises with HQ health and advocacy department on programme and technical aspects.

Organises technical consultants' visits (laboratory expert, medical doctors): ToR, schedule, activities, etc.
3. Contribution to the coordination team:
Participates in country and programme levels coordination meetings.

Represents the Nepal MdM program, especially in coordination forums relevant to health and enviromental activities, professional networks and occasionally in general coordination forums.

Contributes to the organisation of programme visits (MDM HQ, donors, other INGOs) in coordination with relevant staff.

When appropriate support the General Coordinator and other colleagues in representing the organisation to external stakeholders in particular with regards to technical inputs.

Seeks potential operational partnerships with relevant public or private technical agencies or institutions.
4. Strategy Development:
Works in close collaboration with the General Coordinator, counterparts in Paris Headquarters in the design and implementation of future programme directions and strategies

Supports regular strategic reviews and ensure a shared strategic vision within MdM teams.

Keeps informed of other health stakeholders' activities and plans (INGOs, UN, Government health/environmental health department), new national and international approaches, innovations, etc. and ensures that those are regularly shared within the team.

Proposes and lead technical research or surveys in close collaboration with the wider country coordination team.

Proposes innovative approaches in health programming based on internal and external best practices and lessons learnt.
5. Medicines and Medical Supplies management:
Ensure uninterrupted supply of medical and lab commodities, consumables and reagents, other items in government /MdM centres as per program needs.

Supervise the quality implementation of pharmacies, laboratories in line with national and international guidelines.

Ensure close collaboration with logistics teams of MdM for timely and smooth implementation of medical supplies services.
6. Human Resources Management:
Is the technical referent for Program managers, partner's health team, and other relevant technical staff. For those staff, takes part in the definition and update of their job descriptions, in their recruitment and in the evaluation of their performance.

Supervises the capacity building of programme staff (prevention and medical): external trainings, internal trainings, gives inputs in the training plan (definition of needs)

Ensures regular internal capacity building activities based on programme needs and continuous learning initiatives.
7. Health Advocacy and capacity building:
Identify health advocacy objectives, targets, allies, and opportunities for action on key MdM-priority issues,

Design strategy and tools to advance advocacy, influencing public policies on environmental health and access to basic health. 

Analyse opportunities to engage different stakeholders in relation with Health-right particularly Occupational Health and Safety (OHS) and environmental hazards topics.

Advises project Managers on perception related to positioning and operational strategy with a particular view on increasing local/national visibility and ensuring good acceptance for MdM projects/presence.

Validates technically all Information Education and Communication (IEC)/ Behaviour Change Communication (BCC) materials and health related trainings Occupational Health and Safety (OHS etc) to be produced in the framework of MdM Intervention in Nepal.
8. Reporting and Communication: 
Works closely with Program Managers, Monitoring and Evaluation officer, Admin Coordinator, and the General Coordinator to prepare donor reports and project proposals; especially, provides the technical part of narrative reports to donors.

endorses all reports concerning programme sent to HQ, donors, external stakeholders such as Government health/environmental health department, UN Agencies, and other technical partners.

Contributes to potential internal and external communication materials.

This list of activities is not exhaustive and may change depending on the situation.
SKILLS REQUIRED:
Qualification Training and Experience
Bachelor's degree in medicine (MBBS) obligatory and master's in public health will be added value.

Minimum 5 years of relevant experience in NGO/INGO, in public health sector.

Experience in program planning, monitoring and evaluation.

Experience in working with government or municipal health system.

Experience in working with communities and less advantaged/marginalized beneficiaries.

Experience in surveillance system, emergencies, outbreak response: an asset
Soft Skills
Ability to develop a strategic vision. 

Proactive, well organized and ability to manage priorities, adaptable, reliable, accountable, and responsive personality.

Team-working and coordination skills

Listening and dissemination skills

Interpersonal and verbal communication abilities, tact and diplomacy, intercultural and difference awareness

Assertiveness, mediation and negotiation, problem-solving and decision-making skills
Hard skills
IT

MS Office package MS-Word, Excel, PowerPoint etc.

Webplatforms – Teams, Zoom, Skype etc. 

Languages

Nepali: fluent- both oral and written

English: fluent- both oral and written

French– Asset 
How to Apply:
Requested to send a letter of interest mentioning position applied with an updated CV in English with 2 references to info.mdmfrance@gmail.com. Médecins du Monde Nepal reserves the right to cancel, postpone or modify the whole recruitment process without providing any reasons whatsoever.
Médecins du Monde (MdM) is an equal opportunity employer. MDM refuses in its action any discrimination for reasons of nationality, race, gender, religion, class, language, origin or political opinion.
Other jobs you may like