Asia Pacific Forum on Women, Law and Development (APWLD) invites applications to participate in the 6th Asia Pacific "Women Leading, Women Organising (WLWO)" training in Phnom Penh, Cambodia, 7 – 11 October 2023. 
Why this training:
Women's labour conditions are degrading, which is correlated with the region's failing democracy and civic rights. Most women in this region work in low-wage, low-value informal sectors like agriculture, domestic work, home-based work, or street vending, and are usually not recognised as workers/employees. Consequently, they are deprived of their rights at work, lack legal protection, and are left vulnerable to exploitation, including through long hours, wages below subsistence levels, and appalling working conditions.
The workers may be subject to more inspection and regulation if they work in the formal sector, but the labour standards still need to be revised. The mandate of labour inspection should be the same for every worker and every workplace in every sector, whether private or public, in rural and urban areas, in the formal and informal economy, where labour inspectors enforce legal provisions relating to working conditions and worker protection. Where there is solid labour law, the fundamental issue is still the need for enforcement. Certain regulations, such as the minimum wage law, which is far from a living wage, do not reflect the dignity of the employees in the places where they are enforced. Due to gender stereotypes that place a low value on and low pay for women's labour, the wage gap between men and women continues to exist. Another underlying factor that exacerbates the pay discrepancy is unpaid caregiving. According to current estimates, it will take 202 years for the gender pay gap to be eliminated globally. 
The region has the lowest unionisation rate globally, ranking 10th out of 129 nations, with Pakistan only having a 4.7% (2016) unionisation rate, Thailand having a 3.3% unionisation rate, and Myanmar having a 1.1% unionisation rate (2015). This results from some circumstances, such as anti-union regulations that may make it difficult for employees to organise against assaults and wrongful terminations of union members. Male-dominated unions, on the other hand, are not always responsive to issues affecting women workers' working conditions, such as sexual harassment or menstrual leave requests, and women workers' leadership to influence workplace justice and equality are not always supported by these unions, according to the women workers themselves.
There is hope that workers' collective power will be renewed and reinforced despite the obstacles encountered at work. Workers' working conditions have improved due to Freedom  of Association (FoA), collective bargaining and other coordinated actions organised by labour organisations in recent years. Collective bargaining and the FoA are acknowledged as essential labour rights supporting all social dialogue. The democratic underpinnings of the labour force are provided by allowing workers to use their FoA rights, increased collective bargaining, and activities, which prepare the path for inclusive and efficient workplace administration. However, the negotiation process can occasionally be marked by intense power struggles between genuine worker representation and company management. Violence and attacks against labour rights advocates and union busting will likely end a rigged bargaining process.
Women have been mobilising their powers to raise their bargaining agenda on Occupational Safety and Health (OSH), sickness and disability, working hours and leaves, working time arrangement and employment security, decent wages and benefits, social security including pensions, skills training and  eliminating gender-based violence (GBV) at the workplace. For instance, GBV in the workplace are addressed by the most recent ILO Convention No. 190 and Recommendation No. 206 on violence and harassment, adopted during the 2019 International Labour Conference (ILC). It is imperative that governments ratify and put into effect laws that would stop all types of violence and harassment in the workplace, as demanded by labour unions and other feminist organisations. 
In the context of digitalisation, ILO concluded that remote work may have an impact on working conditions, Occupational Safety and Health (OSH) and that "social dialogue is a critical instrument to control the social impact of digitalisation." As a result of the danger of automation and the lack of an equitable OSH arrangement to treat their health difficulties, Business Process Outsourcing (BPO) workers in the Philippines are impacted by "no work, no pay" schemes, according to BPO Industry Employees Network (BIEN), one of APWLD FPAR partners in 2017 – 2019. Since there are currently no trade unions facilitating social dialogue and preserving BPO workers' labour rights, BIEN emphasised how important it is for BPO workers to organise and exercise their collective bargaining rights. 
On top of the mobilising and organising strategies/models that have been exercised by unionised and non-unionised women workers, it is necessary to rethink current strategies to protect women workers under new work modalities. It is essential to create a venue where women workers, union leaders, and activists for labour rights can come together to share challenges and develop solidarity in Asia and the Pacific in light of the current situation and challenges. In the age of globalisation and digitalisation, participants will gain knowledge of the instruments they can use to resist corporate power, develop their workplace organising, and comprehend the Decent Work agenda, living wage, and ILO labour standards instruments.
What you will get from this training: 
This participatory training will equip  participants with
Structural analysis of the (old and new) root causes of women's labour rights violations in the context of globalisation and digitalisation; 
Knowledge of the current state of women workers, their rights and fundamental freedoms  in the context of globalisation and digitalisation; 
Understanding of international labour and human rights standards;
Tactics and strategies for organising workers at workplaces;
Skills to develop a campaign or advocacy plan on the vital labour rights and decent work issues they are interested in; and
Capacity for movement building and fostering feminist solidarity and
Criteria:
Women workers, including labour organisers, trade union leaders (both registered and unregistered, informal unions or associations are eligible to apply)
Engagement in trade union/s for a minimum of one year.
Able to fully attend the training from 7 – 11 October 2023 in Phnom Penh, Cambodia
Applications from unions/organisations that participated in previous WLWO training are also welcome (but must be different applicants).
Selection will be based on the following considerations:
Role of applicants in trade unions, need for training, motivation to join the training. We also would like to welcome young women workers and labour organisers. 
Balance in sub-regional representation (Asia and the Pacific) and labour sector representation.
Expectations and obligations of participants:
Pre-training (APWLD will provide guidelines and materials):
Collate and submit national information and relevant laws, policies or case studies.
Accomplish reading materials, as provided, before participating in the training.
During training:
Actively participate and share knowledge, expertise and experiences, including making presentations, group work, mobilising speeches, etc. 
Develop a personal action plan at the end of the training.
Post-training:
Maintain regular contact with APWLD and other training participants to exchange lessons, experiences, practices and impacts that result from the training. 
Report to APWLD on applying an action plan during the follow-up by APWLD.
Cost of the training and sponsorship:
APWLD will cover the selected applicants' full participation cost, including economy airfare, boarding and lodging during the training and applicable visa fees. Other additional travel-related expenses must be informed by the participant to APWLD beforehand for approval. 
Application procedure: All applicants MUST submit the following documents:
Completed Application Form; 
Updated Curriculum Vitae (not more than two pages long) clearly stating their experience in union engagement; and 
Endorsement/Recommendation letter from the organisation/trade union.
The recommending trade union/organisation should certify that the applicant has worked in or aspires to be involved in leadership roles and decision-making positions within the organisation/trade union and is committed to applying the core learning points of the training in her future work.
To apply, please fill in the online application form. The application must be submitted by 15 September 2023. 
INCOMPLETE APPLICATIONS (with incomplete/missing application form, CV or endorsement letter) WILL NOT BE CONSIDERED.
Please note that only selected applicants will be contacted.
---
Latest Posts
Thanks for visiting us.
Disclaimer: The resources, documents, guidelines, and information on this blog have been collected from various sources and are intended for informational purposes only. Information published on or through this website and affiliated social media channels does not represent the intention, plan, or strategies of an organization that the initiator is associated with in a professional or personal capacity, unless explicitly indicated.
If you have any complaints, information, or suggestions about the content published on Public Health Update, please feel free to contact us at blog.publichealthupdate@gmail.com.
#StayUpdated
---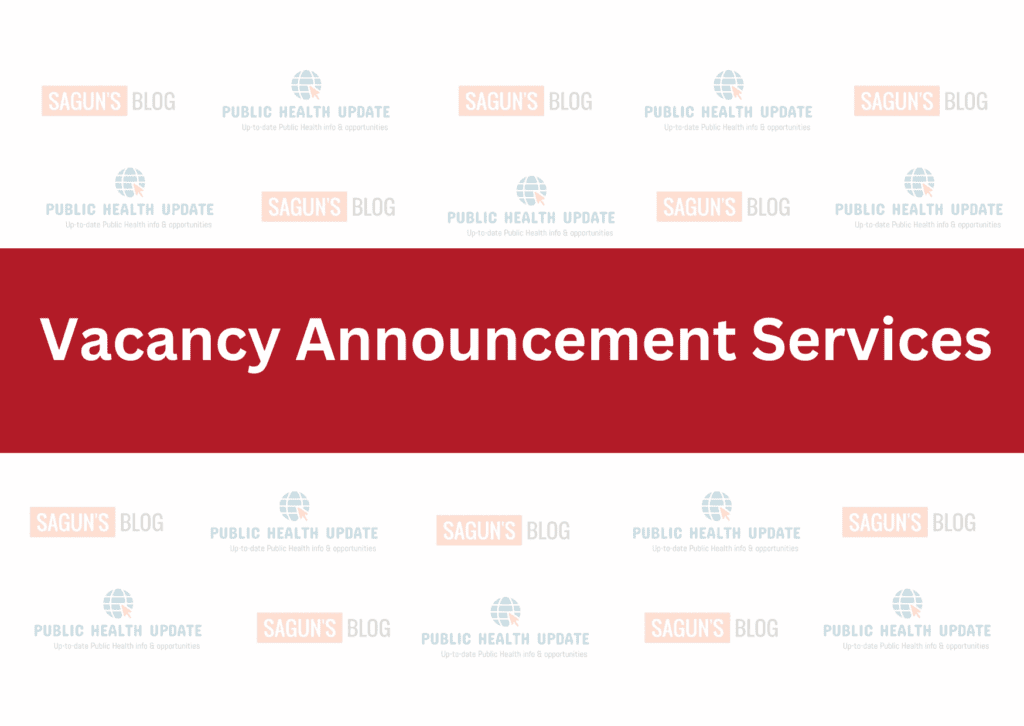 ---