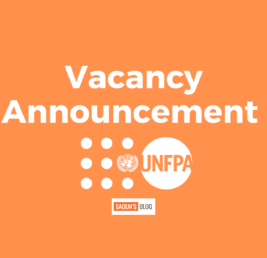 Job Detail
Job Description
UNFPA, the United Nations Population Fund, is a voluntary-funded international organization with a presence in over 150 countries, including Nepal. UNFPA is guided by the Programme of Action of the 1994 Cairo International Conference on Population and Development (ICPD) and the Sustainable Development Goals. Its mission is to ensure that every pregnancy is wanted, every childbirth is safe and every young person's potential is fulfilled.
The work of UNFPA is based on the premise that all human beings are entitled to equal rights and protections. We focus on women and young people because these are groups whose ability to exercise their right to sexual and reproductive health is often compromised. Our work is informed by an understanding of population dynamics, human rights and cultural sensitivity.
UNFPA in Nepal
UNFPA support to Nepal began in 1971 and has evolved in response to the changing national contexts. The new country programme is aligned to national priorities, the 2030 Agenda for Sustainable Development, the ICPD Programme of Action, the Convention on the Elimination of All Forms of Discrimination against Women, the UNFPA strategic plan, 2022–2025, and the UNSDCF, 2023–2027. The programme aims to contribute to and accelerate achievement of the 2030 Agenda, in particular SDGs 3 and 5 and the three UNFPA transformative results, in line with the Decade of Action.
UNFPA partners with the Government of Nepal, youth and women's organizations and development partners to advance its mission. Under the 8th Country Programme and in line with its mandate, UNFPA Nepal is working around the following areas:
Sexual and reproductive health and rights: UNFPA is supporting national efforts in Nepal to improve the sexual and reproductive health of the most marginalized adolescent girls and women. The Fund is largely focusing on youth aged 15-24 and the most marginalized women addressing both the demand and supply sides of reproductive health services to improve access to information and services on maternal health, family planning, and sexually transmitted infections, including HIV.
Gender equality: UNFPA's support to the Government of Nepal under this overarching theme seeks to ensure that vulnerable groups experience greater self-confidence, respect and dignity. We are building national capacity in the health sector to address gender-based violence (GBV), prevent child marriage and other harmful practices, and working to enhance the knowledge and capacity of men, women and communities to GBV.
Adolescents and youth: Investing in young people, especially the vulnerable and the marginalized, is a priority for UNFPA Nepal. The country has a large adolescent and youth population. Nepal is experiencing a demographic window of opportunity, a 'youth bulge'. Nepali youth face several development challenges, including access to education, employment, gender inequality, child marriage, youth-friendly health services and adolescent pregnancy. Yet, with investments in their participation and leadership, young people can transform the social and economic fortunes of the country. UNFPA Nepal works with the government and partners to advocate for adolescents and youth's rights and investments, including education, livelihood skills and health, including sexual and reproductive health.
Population dynamics: Population megatrends at the national and sub-national levels in Nepal continued rapid population growth, population aging, urbanization and migration — not only frame the entire development debate, they demand a reconsideration and re-conceptualization of what will be the main challenges for a new Nepal. Without an adequate understanding of how Nepal is changing from a demographic perspective, forward-looking planning and agenda setting will be of little value. Keeping this in mind, UNFPA Nepal is working with the government to ensure that national, sectoral and decentralized policies and plans address population dynamics and the interlinkages with gender equality, poverty reduction, the needs of young people, and reproductive health, including family planning.
Position: Project Specialist, NOC
Job Title: Project Specialist
Level: NOC
Location: Kathmandu
Full/Part Time: Full-Time
Fixed Term/Temporary: Fixed Term
Rotational/Non-Rotational: Non-Rotational
Duration: One year with possibility of extension
The Position
Under the overall guidance of UNFPA Representative and the direct supervision of the Gender and Human Rights Specialist, the Project Specialist is located in the Country Office, based in Kathmandu, Nepal. The incumbent will oversee the day-to-day management of the project and ensure close and effective communication and collaboration between Kathmandu and Provincial Support Offices. The Project Specialist will also be managing the project support staff in Kathmandu and Provinces.
Job Purpose
UNFPA is a leading player in gender-based violence prevention and response in Nepal. The Country Office manages a portfolio of Gender-Based Violence (GBV) projects, focused both on multi sectoral essential response services and prevention of the gender-based violence in Nepal including policy reform. UNFPA is implementing a four-year Joint Project (JP) entitled "Empowered Women, Prosperous Nepal (Shashakta Mahila, Sambridhha Nepal), in partnership with UNICEF, UNWOMEN and ILO, funded by the European Union and in close coordination with the Government of Nepal. The project will be implemented in three provinces namely Madhesh, Karnali and Sudurpaschim provinces from 2023 to 2026. The JP seeks to address the formal and informal barriers women and girls are confronted with to enjoy their human rights through an integrated gender transformative approach. UNFPA will be leading the work around gender based violence component including prevention, response and the policy reform and thereby contributing to advance gender equality and women empowerment.
Qualifications and Experience
Education:
Master's Degree in Women's or Gender Studies, Social Work, Development Studies or other social sciences or public/community health, as it relates to gender and GBV.
Knowledge and Experience:
At least 5 years of increasingly responsible relevant professional experience in project and project management, including large multi-sectoral projects, designing and appraising proposals and actively liaising with relevant and potential project partners;
At least 3 years of experience in international development organizations such as INGO, Embassy, UN, etc.
Strong English, oral and writing skills, including proposal development and report writing for complex projects and interventions;
Knowledge of gender issues in development, particularly GBV prevention, response and referral pathways, including relevant international human rights standards;
Demonstrated management and oversight experience with the capacity to lead diverse teams, strongly preferred.
Application process
UNFPA has established an electronic application management system. This allows applicants to create a candidate profile, which can be updated regularly and submitted for more than one vacancy. A full job description of the position can be accessed at https://nepal.unfpa.org/vacancies and only online applications using this link will be accepted.
Notice: There is no application, processing, or other fee at any stage of the application process. UNFPA does not solicit or screen for information in respect of HIV or AIDS and does not discriminate on the basis of HIV/AIDS status. UNFPA provides a work environment that reflects the values of gender equality, teamwork, embracing diversity in all its forms, integrity and a healthy balance of work and life. We are committed to  maintaining our balanced gender distribution and therefore encourage women to apply. UNFPA promotes equal opportunities for all, including people from minority groups, persons with disabilities and LGBTQIA+ communities.
UNFPA has a zero-tolerance against Sexual exploitation and Abuse (SEA) and sexual harassment (SH). Everyone is responsible for preventing sexual exploitation and abuse (PSEA), and all UN personnel must adhere to the standards of conduct that preserves PSEA principles (both during work hours and outside work hours). All selected candidates will, therefore, go through a safe hiring process
Other jobs you may like