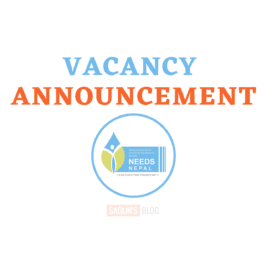 Job Detail
Job Description
HHP is part of a loose network of Humanitarian groups that operate in catastrophe, climate change, and humanitarian response during crises. HPP began with four organizations in 2021 and has since grown to include 15 organizations. The primary goals of this network are to offer an immediate humanitarian response while utilizing all resources available to the participating organization.
National Environment & Equity Development Society (NEEDS) Nepal is the secretariat of this network. NEEDS Nepal is a humanitarian and development organization dedicated to improving socio-economic development, humanitarian action/DRR/CCA & safer migration, and anti-human trafficking in Sudurpaschim province since 1999. NEEDS Nepal has three core working sectors i) Safe Migration & Economic Development, ii)Environment, Climate Change & Disaster Resilience, iii) Education, Health & WASH  with  GESI, Good Governance, and Humanitarian Response as cross-cutting themes. NEEDS Nepal has developed its expertise in these sectors and various sub-sectors, specifically in safer migration, prevention of human trafficking, technical education & vocational training, climate resilience, economic development, livelihood, infrastructure development, humanitarian response, urban-DRR, disaster risk reduction, and management & flood resilience.
HHP is part of a loose network of Humanitarian groups that operate in catastrophe, climate change, and humanitarian response during crises. HPP began with four organizations in 2021 and has since grown to include 15 organizations. The primary goals of this network are to offer an immediate humanitarian response while utilizing all resources available to the participating organization.
"Improving Access to Rights-based Reproductive Health Services in Nepal" project is implementing under the secretariat with the funding support of CARE International in Nepal from June 2023 to September 30, 2024, in the Kailali district.
Position: Project Coordinator
Duty Station: Dhangadhi /adjoining Municipality
S/he will work closely with the local government, humanitarian partnership platform (HPP) and local implementing partners and relevant stakeholders to establish a participatory?and?rights-based?social?accountability mechanism to enhance Sexual Reproductive Health rights (SRHR) services during emergencies. S/he will be responsible for the implementation of the project interventions and support the emergency response and recovery activities of the project.
Academic Qualification
Bachelor in Public Health/Nursing with sound knowledge and understanding on national SRHR and emergency response policies and strategies.

Master's degree in nursing/public health is preferred

3 years of experience in global development or humanitarian sector, including at least 2 years' experience in Gender, Emergency response and recovery along with demonstrated experience in implementation of MISP (Minimum Initial Service Package) for Sexual and Reproductive Health. 
Skills, Knowledge and Competencies
Strong communication, networking and coordination skills.

Good Interpersonal skills with ability to work in a multi-cultural team and with different stakeholders.

Training in managing SRHR programs in emergencies is preferred. 

Knowledge of training tools and methods and proven experience delivering training on gender-responsive/ transformative SRHR programming 

Highly developed cultural awareness and ability to work well in a multi-ethnic and multi-cultural environment. 

Ability to establish collaborative relationships with staff, partners and other stakeholders. Willingness to travel to the field.

Creativity- able to think creatively and translate creative thinking into tangible outputs.

Interpersonal sensitivity-able to communicate with sensitivity and foster communication, actively listening to others.

Team work to work effectively with other people within the group. 

Applicants who can handle office packages (Microsoft word, excel, PowerPoint, email/internet and familiar on virtual technologies) and have experience with database software will be an asset. 

Summary of Key Responsibilities:
In line with the humanitarian principles and project objectives, ensure high-quality implementation of SRHR activities at the local level, compatibility and alignment with NEEDS Nepal policies, strategies and guidelines.

Support disaster response and recovery mechanisms at local & province-level government (such as Rapid Response Team, Disaster

Management Committee, health/protection cluster, and district emergency operation centre) to integrate the toolkit of rights-based social accountability mechanisms and adopt approved procedural guidelines of social accountability, to ensure continuity of practice.  

Strengthening the quality of SRHR interventions through the development and contextualization of program tools, guidance and resources, and ensuring all staff are familiar with relevant standards and toolkits.

Support SRHR program delivery capacity of key SRHR stakeholders at district level, including the Health and Protection Cluster and relevant technical working group members, in the humanitarian contexts.

Ensure the mainstreaming of Safeguarding, protection from harmful practices and violence, and disability inclusion in the program area and address the SRH needs of adolescents and youth.

Ensure innovation of interventions, contexts of social and gender norms, gender equality and the rights of girls.

Facilitate a process with reproductive health (RH)-sub cluster and protection clusters to integrate the lessons from the cohort of community monitors and circle of accountability groups' engagement.  

Provide close guidance to the field office staff team, and technical coordination into the project planning, implementation, monitoring and evaluation; assess the outputs, outcomes and impact of program interventions and activities in the program area.

Liaising with key internal and external actors in the districts, local community settings, including other thematic actors within NEEDS Nepal and relevant clusters, working groups, regularly attend and share updates in the SRHR knowledge management and experience sharing at local provincial and national level.

Take part and support advocacy on key SRHR issues, Gender-Based Violence (GBV) risks, women lead in emergencies (WLiE) interventions and support national/provincial/local level advocacy efforts.

Support in the development and rollout of tools and guidance on SRHR.

Delivering relevant training on SRHR for all project, support staff and HPP, members.

Ensure M&E and learning in close collaboration with the M&E team and alignment to system Monitoring, Evaluation and Accountability (MEL).

Support the quality and timely reporting and documenting of project activities including preparation of regular updates, monthly, quarterly, and yearly SRHR program progress reports.
Organizational Support: S/he supports developing concepts/proposals, documentation and reports.
Safeguarding & PSEA
NEEDS Nepal has a zero-tolerance policy and approach to any abuse, sexual harassment, or exploitation of, a vulnerable adult or child by any of our staff, volunteers, consultant, and suppliers. All individuals and institutions have committed to respecting the core principles regarding the prevention of sexual exploitation and abuse laid out by the organization safeguarding policy, Zero tolerance Policy, PSEA& code of conduct that is associated with the organization.
NEEDS Nepal has expected from all the staff to share this commitment through Safeguarding, PSEA Policy, and Code of Conduct. All staff must be committed to ensuring that all individuals we come into contact with through our work, whether team members, community members, program participants, or others, are treated with respect and dignity.
Apply:
Qualified & eligible national citizens are highly encouraged to apply with their updated CV along with a motivation letter & expected salary in gross per month to the following email address, needsvacancy2017@gmail.com by 6th July 2023.
Women, ethnic minorities, and local applicants are highly encouraged to apply. No telephone calls will be entertained and this automatically disqualifies in the recruitment process. 
The Steering Committee of HPP will reserve all rights to make the final decision. Only shortlisted candidates will be contacted for the further recruitment process. The remuneration and other benefits package shall be as per NEEDS Nepal HRM policy & guidelines.
Other jobs you may like